In the past fortnight, equities across the globe traded mostly higher as rising prospects of easy monetary policy across the globe boosted gains. On the US front, hawkish comment by the US Fed Chairwoman, Janet Yellen, confirmed that the case for a rate hike in the coming months was strengthening, but provided little detail on Federal Reserve's next move.
With respect to the Euro area, there has been a slight pickup in Euro-zone's inflation rate as food prices have raised over the year, although the rate still lingered below the ECB's target level. Moreover, the Bank of Japan Governor at Jackson Hole meeting said that he won't hesitate to boost monetary stimulus if needed.
The Rupee appreciated by 0.56 per cent in the last fortnight after the RBI governor, in his foreword to the central bank's annual report for 2015/16, stated that the economy's prospects for the current financial year looked brighter than the previous fiscal year, but growth was still below potential. Moreover, heavy influx of capital into the domestic markets further acted as a positive factor for the currency.
Gold prices in the international markets declined by 1.24 percent while MCX gold prices declined by 1.54 percent in the past fortnight. Weak manufacturing data on the one hand raised concerns about slow industrial activity while initial claims for state unemployment benefits rose less than expected, pointing to sustained labor market strength. Investor focus was on the release on the US nonfarm payrolls report for August to see whether it will put the Federal Reserve on track to raise interest rates later this year. An upbeat payrolls report would reinforce the view that a US rate increase is likely before the end of the year. However, the payrolls report surprised many with less job additions. Also, holdings of SPDR Gold Trust, the world's largest gold-backed exchange-traded fund, posted the first monthly dip in four months in August creating pressure on gold prices.
LME Copper prices fell by 3.6 percent in the last fortnight and MCX copper prices declined 3.5 percent in the last fifteen days. Hawkish comments from the Fed members in the earlier part of fortnight saying the US central bank was close to hitting its targets for full employment and two per cent inflation, hurt demand for risky assets. Moreover, demand pick up continued to be a drag as customs data showed China's purchases of refined metal fell for a fourth month to 251,235 metric tonnes in July from 305,304 tons in June and 259,733 tons a year earlier, most likely due to weak summer demand and rising domestic output. Supply remains abundant as exports of unwrought copper and copper products from China, the world's top user of the metal, stood at 75,022 tonnes in July, a more-than-fivefold increase from the same month a year earlier. Also, persistent surge in LME stocks with stocks numbers increasing as much as 50 per cent at LME's Asian warehouses since mid-August, exerted pressure. Besides, the International Copper Study Group (ICSG) said in its latest monthly report that the copper market saw a deficit of 222,000 tonnes in the first five months of the year. ICSG said the deficit in May narrowed to 65,000 tonnes from a shortfall of 144,000 tonnes in April.
WTI and MCX oil prices declined 8.41 and 7.89 percent, respectively, in the past fortnight. Investors focused on the EIA inventory data, which showed a 2.3 million-barrel build in the US crude stocks in the last week, more than double what the market had expected. Inventories of distillates, which include diesel and heating oil, rose nearly 10 times as much as forecast. There were speculation that the Organization of the Petroleum Exporting Countries and other producers might agree to freezing production during September 26-28 talks in Algeria. That speculation has since fizzled, although Saudi Foreign Minister Adel al- Jubeir said last week that OPEC and non-OPEC oil producers were moving toward a common position on output.
Outlook
Gold prices will trade lower as the possibility of rate hike by the US Federal Reserve has increased at present. The investment demand has also dipped in the recent weeks which will act as a negative factor for gold prices in the coming fortnight.
The oil markets are filled with oversupplies on one hand and inventories remain high on the other hand creating bearish sentiments. Although, there are talks of price stabilisation by the OPEC and non-OPEC nations, the glut of inventories in the OECD nations is creating pressure on oil prices. Hence, oil prices will trade lower in the weeks ahead.
We expect base metal prices to trade higher as recent strike in Salvador mine in Chile's Codelco will be supportive. However, investors will be cautious ahead of trade and inflation data from China due later this week.
Agri Commodities
Rainfall progress during the last fortnight has been lower than the normal but the overall sowing progress during the current kharif season is encouraging. According to ministry of agriculture data released last week, total acreage in the country is at 1,033.99 lakh hectares, which is higher than sowing in the same period of the previous kharif season. The sowing area of pulses this kharif increased by close to 33 per cent and surpass normal sowing area over last 5 years. Similarly, area under rice and coarse grains too increased. However, cotton and sugarcane area is down this year due to drought and lesser profits respectively.
During the last fortnight, the prices of majority of agri-commodities traded lower, while the prices of maize, wheat and ref-Soy oil has gained a little, while the prices of turmeric, guar complex, kapas, soybean and sugar slipped the most.
Turmeric prices on the NCDEX were down by 16.2 per cent during last fortnight to close at Rs 6,868 per quintal due to slow down in physical and export demand coupled with forecast of favourable weather conditions in turmeric growing areas. The prices of other spices like jeera, coriander and cardamom were also down due to steady physical demand.
Edible oil prices have been steady in the past fortnight on reports of higher imports and muted demand from the stockists. The prices of CPO closed 0.6 per cent down while refined soy oil rose by 0.4 per cent. For the first half of September, government has raises the tariff value of crude soy oil and CPO compared to previous fortnight. Government fixes the tariff value every fortnight. Currently, the trend has reversed to sideways to down on corrections from higher levels.
Maize prices have increased by 1.6 percent in the last fortnight due to lower level buying by the market participants. Maize acreage is pegged at 83.2 lakh hectares in the country, higher by about 11.5 per cent (y-o-y). Though the acreage is high, higher rains in some maize belts of Madhya Pradesh, Uttar Pradesh, and parts of Bihar might affect the crop.
Soft commodities like Cotton and Sugar prices declined last fortnight on slowing physical demand and government interventions respectively. Kapas prices on NCDEX slipped 4.4 percent while MCX cotton prices dropped by 2.2 percent. As per latest estimate by government, cotton is planted in 102 lakh hectare in the country, down by 10.7 percent against 114.2 lakh hectare last year as on September 2.
Similarly, Sugar futures traded lower during the last fortnight as government imposed stock limits on sugar mills during the festival season until October-end. Moreover, to curb the speculation exchange has imposed additional and special margin. Now, the total margin has increased to 45 per cent for buy side and 15 per cent for sell side for all sugar contracts. Cane acreage as on September 2nd were down 7.7 per cent at 45.8 lakh hectare compared to last year acreage. The current area under sugarcane is also lower than the normal level of 46.2 lakh hectare for the period.
Guar complex closed lower due to less demand and good weather across Rajasthan. The acreage in Rajasthan, the biggest guar producing state, is continuing to lag behind compared to last year acreage. The acreage in Haryana and Gujarat also lower, however, limited export demand for guar gum is weighing on the prices.
Among oilseeds, Mustard and soybean seed traded lower on reports of above normal monsoon and anticipation of good harvest for oilseeds next season. The soybean is under pressure due to lower demand for seed crush as export demand for meal is lower this year. As on September 2nd, soybean is sowed in 112.3 lakh hectares, down around 2.7% lower from a year ago level. According to a survey report released SOPA, the overall condition of soybean crop in the country is "satisfactory" with over 30% of crop in good-to-very-good condition, and nearly 60% in normal condition. During the last fortnight, mustard prices are moving in sideways to lower as demand has not picked up for crushing.
Outlook
For the next fortnight, we expect edible oil prices to trade in positive zone due to pick up in domestic demand and increase in tariff values for the importing edible oil prices.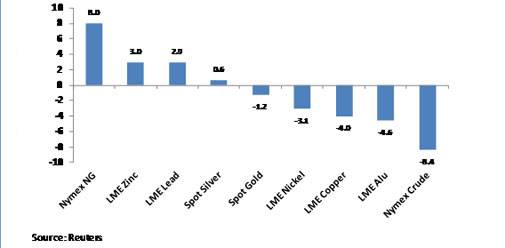 Soft-commodities like sugar and cotton may trade sideways to higher due to expectation of lower production in kharif season.
Guar complex may trade lower on higher acreage and steady demand. The prices of spices may trade higher on good festival demand and higher export demand.
The author is Associate Director, Commodities & Currencies Business, Equity Research & Advisory at Angel Broking
Disclaimer: The opinion expressed is for reference only.