Nirmalya Kumar, professor of marketing at London Business School, is one of the eight Indians in Thinkers50, a global listing of world's best business minds. In an interview with Alokesh Bhattacharyya and Anand J, he discusses new-age marketing mantras.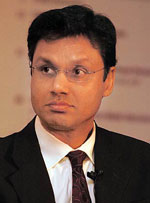 On the changing framework of marketing
When I started researching marketing, I found that marketing people rarely get on to boards of companies like CFOs, COO or CTO. The research for my first book on marketing and strategy asked this question. Marketing people, then, and even today, use a framework called the 4 Ps [product, price, promotion, placement]. And, the CEOs felt that the marketing people were not addressing issues strategic enough, cross-functional enough, bottomline enough for them to warrant their attention. The CEOs said the marketing people are working with the 4 Ps and that is tactical and can be dealt with at the divisional level.
So, I tried to bring in a framework that would be more strategic, more cross-functional and more bottomline oriented. I said we need to reconceptualise marketing using what I call the 3 V model: who is the valued customer, what is the value proposition and how are we going to deliver this value proposition to the valued customer through a valued network. Marketing could promise many things but marketing could not deliver anything to the customer.

On how companies are taking to the new framework
A lot of companies I know, like Telenor or Holcim, the 3 V model is the framework with which marketing is measured. Whether it is adding to the bottomline or not is a very complex thing to figure out. But what they found is that marketing has become more disciplined, more analytical, more strategic, more conscious of costs. By the way, I am not against the 4 Ps model, I just think it should be supplemented with the 3 Vs approach.

On India-grown brands and advertising
In India there are great brands and very good advertising. But, when people say whether there is a great bedrock for brands in India today, they are talking about brands developed in India and sold in the developed world. That is going to be very difficult. That is because to build a brand in the developed world, the budgets for branding and advertising are huge, and I don't see that happening out of India. When Indian companies look at that cost, they say it is easier for me to buy, say, Jaguar and Land Rover than try to build that out there. Indians then go in for acquiring the brands abroad rather than building it from scratch. Even an Infosys or Mahindra and Mahindra are business-to-business brands.

The more interesting thing is what someone like Harsh Mariwala is trying to do: build a brand in an emerging market. Companies that are trying to build a brand in America will need a huge budget and secondly they will require a long time lag of seven-eight years to do so. Indian companies find that the risk-reward benefits are against them and they are better off building business in India.
But Chinese companies are doing it differently. There are companies like Haier or Huawei that building brands in America because they have the financial muscle and have the long term outlook.

On the outlook for marketing in India
Marketers get most excited when there is a lot of growth. When there is a booming business, there is sales growth, and there is marketing to be done. This is a great time to be a marketer in India. Marketing people in India relative to the rest of the world are much more valued.

On the steps Indian marketers should take to be more effective: The problem with marketers is that it doesn't come naturally to them to think of costs; they say they are creative people. I think they should develop analytical skills. Secondly, they should learn about other functions. If you promise something as a marketing function, you should know how it will impact operations, manufacturing... And, the third thing is to think of strategic issues and not just think of pumping sales the next morning.