We are yet to find a winner. But it is not difficult to see who is losing on the ground due to the mind games that the brightest minds of South Asia have been playing for the past 68 years. People from both India and Pakistan continue to die, often those in uniform, but mostly people who barely earn enough to cover themselves.
The voice of businesses and plain economics continues to be snubbed amid the noise of bullets and shells. In the Russian city of Ufa, both India PM Narendra Modi and Pakistan PM Nawaz Sharif agreed to organise the first national security advisors (NSAs)-level talks to look for ways towards peace and increase the chances of trade. But uncertainty surrounds the proposed talks.
As things stand, Indian security advisor Ajit Doval is re-scheduled to meet with his counterpart Sartaj Aziz in New Delhi from August 23 to next day August 24. However, there is a high chance that the talks may be cancelled, especially after India cited deviation of the Pakistani establishment from the agenda agreed upon in Ufa.
India is sticking the to the agenda of terror and Pakistan wants unconditional talks on all topics of confrontation, including Kashmir. Pakistani High Commissioner invited Hurriyat leaders to meet Sartaj Aziz, knowing well that India cancelled the foreign secretary level talks because of this stance.
Traders and businessmen are bound to lose this battle. After Pakistan removed the Indian exports items from positive to negative list four years ago, it has done more than $4 billion trade every year. In 2012-13, it almost touched $5.5 billion. But still, because of the political uncertainty, they rely on Dubai or UAE, and now via Kashmir-to-Kashmir trade route connecting Srinagar with Muzaffarabad. In fact, J&K's chief minister, Mufti Mohammad Sayeed has also emphasised that business should be given a chance in Indo-Pak deliberations.
If the establishments on both sides get some time off from the tug of war, they would do well to address the legitimate grievances that businesses face. This includes the absence of a banking channel. There are limited options for insurance of products to be traded. Pakistan's Habib Bank and India's Punjab and Sindh Bank are willing to set up their branches in each other's countries, provided peace returns on borders.
Those who wish to disturb the peace between the two countries have to just swim across the Satluj & Raavi river and spread bullets. This is the route that terrorists responsible for attacks in Dinanagar, Gurdaspur and Udhampur apparently took.
But those who have to do legitimate business continue to take a detour via Dubai, before catching a connecting flight to Islamabad or Karachi. Indian low cost carriers-which are one of the best in the world-agreed to start Delhi-Lahore, Delhi-Islamabad, Delhi-Karachi, and Mumbai-Karachi flights. But the idea continues to be stuck in a limbo.
Businessmen hope that may be, in the near future Indian and Pakistani telecom companies join hands and allow roaming in each other's territory. The issuance of visas for businessmen continues to be a concern, even if they get it. India relaxed the visa policy in July first week and will now issue them to Pakistani businessmen with a certain credibility. Now, three-year multiple entry visa for 15 different cities (instead of one year multiple entry visa for 10 cities) has been allowed, but Indian businessmen still await this policy to be reciprocated by Pakistan.
India abandoned the idea of allowing each other's investors to put in their money in each other's stock market indices. Pakistan blocked India's plans to allow the SAARC countries to ply goods and passenger vehicles in each other's territory via SAARC motor vehicle agreement. India has now entered into a bilateral treaties with Nepal, Bhutan, Bangladesh and Afghanistan.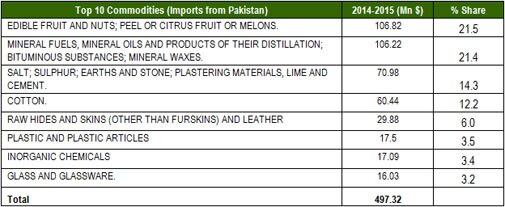 Pakistan is denying access citing the different domestic tax structures. However, the two countries are working on SAARC satellite project. India offered to sell 1,000 MW electricity connecting Amritsar with power-deficient Lahore. This was in addition to petroleum products from BMEL's Bathinda and IOCL's Panipat refineries, and sharing the import facilities for gas. But all these proposals are waiting for gunshots to stop.
Pakistan is getting $46 billion from China aid to build infrastructure, but how much of it will trickle down to ordinary Pakistanis and their domestic economy remains to be seen as China will execute most of the projects via Chinese companies only.
There has to be an acknowledgement of the fact that the biggest enemy of both India and Pakistan are not each other but poverty, unemployment and access to health and infrastructure. In November 2011, the UNDP's HDI report said that 53.7 per cent of Indians suffer from multi-dimensional poverty, while the number in Pakistan was 49.4 per cent.
In absolute terms, one third of our (India+Pakistan) population is earning less than $1.25 a day. The relationship between the two countries negatively impacts not just the 1.5 billion people living in this region, but also kills opportunities to do businesses which not only generate more money but also create job opportunities on both sides. And it doesn't take an economist to explain how they can help resolve and eradicate issues like poverty.