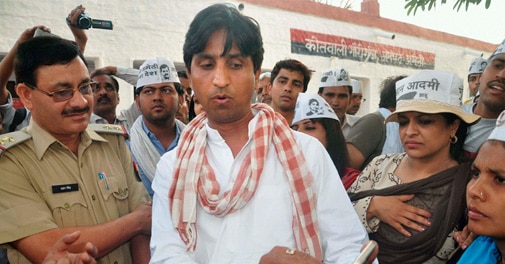 AAP leader Kumar Vishwas during a protest outside a local police station in Amethi. Photo: PTI
Aam Aadmi Party's poet-politician Kumar Vishwas is focusing on developing issues as he hopes to make a breakthrough in the Gandhi family bastion of Amethi in the ongoing general election. Business Today's Shweta Punj caught up with Vishwas on the campaign trail. Edited excerpts from the conversation:
Q. This is a Gandhi family bastion. Everyone here seems to want to vote for the Congress. There are only few symbols that the electorate seems to know here. AAP is making its debut in such a difficult constituency. What forms the cornerstone of your campaign and strategy?

A. Amethi tops from the bottom in almost all indicators. Only in infant mortality rate, it is in the top three. Even MGNREGA [Mahatma Gandhi Rural Employment Guarantee Act], which is Rahul Gandhi's pet project, Amethi is amongst the five worst performing districts. It is among the worst five districts in per capita income and education. Only 20 per cent funds allocated for the Pradhan Mantri Gram Sadak Yojana have been utilised so far. He [Rahul Gandhi] stands exposed here.
Netas are not available here. People here say we have to contact the leaders through power brokers and middle men. People have not met Rahul Gandhi. We have tried to get rid of this concept of a middle man. I am the most accessible leader, the most visible face among the new leaders. I have covered 1,150 villages so far. I have met people in villages. There are two generations of voters - the Rajiv Gandhi generation that still keeps an emotion for Rajiv ji. And then there is the generation that has voted once or twice, they are very angry with poor development. They want Internet and 3G. Every district around Amethi has 3G, but not here… I have 16,000 booth volunteers here, they are all local volunteers. I start at 6:00 am, have breakfast with the villagers. My target was to address at least 40 sabhas in a day. I travel in an open jeep.
Q. Will people of Amethi vote on emotion or development?
A. A lot of people could vote on the basis of emotion, but we have a development agenda and the youth is very angry on the district's poor track record. Fifty per cent of people don't want to vote for Rahul Gandhi. Their love affair with the Gandhi family is fading away. There is no hospital here, no cinema hall - I had a worker who got diagnosed with chicken pox, we had to take him to Sultanpur. There is no government college here. Schools are in a terrible state. I have moved to Amethi with my family. I own a house here. My children are going to school here. I have spent 40 nights in villages. That has appealed to people a lot. Rahul Gandhi stays in a guest house and visits Amethi like a guest.
Q. The Gandhi family brought a lot of industry here, but much of it is lying abandoned today. What will be your strategy to revive industry here?

A. There are no jobs for the youth. We will get in touch with the central government to revive the sick units here. We will bring industry that can employ the locals of Amethi, a triple IIIT [Indian Institute of Information Technology] is essentially for people outside Amethi. A CRPF camp also gets people from outside the district. Rail coach factories are also being made outside and even the painter is selected by the Railways. People of Amethi are not getting jobs. I have everyone below 45 years with me. It's those who are above 50 where it's looking difficult. They tell me that 'only Rahul will win'. They do get connected with me because I speak in Awadhi, that's a positive for me. There are villages that will vote for me in bulk, because they value access. I have a one-to-one connect with them. I know in developed areas the buzz for AAP is not as strong, that's because there is a class of beneficiaries that the Congress has created.