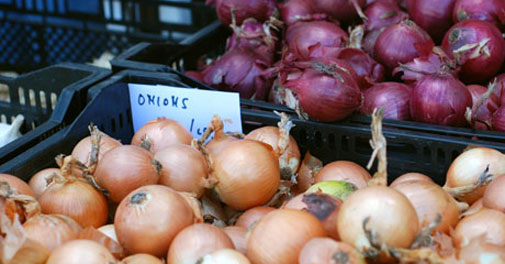 The arrival of new crops, cheaper imports and the Ganesh Chaturthi festival - during which many of the devout stay off onions - have still failed to cool onion prices.

Industry experts are perplexed by the trend. They hope there will be some relief next month when harvesting of a fresh onion crop begins in Maharashtra and Rajasthan. The two states account for one-third of the country's output.

October's nine day long Navratri celebrations - when too, onions are eschewed by many - are also likely to lead to a drop in consumption and prices.

"We are puzzled about this kind of spike in onion prices, " says R. P. Gupta, Director at the National Horticultural Research and Development Foundation (NHRDF) in Nashik. "There is no shortage. Harvest of kharif onion has been good in Karnataka and Andhra Pradesh and arrivals are taking place. India produces about 16 million tonnes of onion but consumes only 10 to 11 million tonnes," he adds.

Imports of onion have resumed after a two year gap, from countries such as Egypt, China and Pakistan.

"The landed price of the imported onions is in the range of Rs 25-30 a kg," says Gupta. "States like Rajasthan, Uttar Pradesh, Madhya Pradesh and Haryana have stocks," he adds.

Data with NHRDF show that arrival in key markets of Maharashtra has been erratic in the last eight to 10 days, which points to hoarding.

With a 244 per cent rise in price in August, onion was instrumental in driving August WPI inflation to a six month high of 6.1 per cent. So far, the situation in September has been no better.

In Delhi, the average onion price in wholesale markets has gone up from Rs 3,700 a quintal to Rs 5,000 since start of the current month.

In the retail market, onion bulbs are selling for Rs 75-80 per kg. Onion prices are all set to dominate the election agenda as states like Delhi, Rajasthan, Madhya Pradesh and Chattisgarh go to polls before the end of the year.

A remunerative domestic price and the imposition of a higher minimum export price have also slowed onion exports. In August 2013, exports dipped drastically to 29,247 tonnes compared to 156,165 tonnes in July and 150,512 tonnes in June. India exported 1.82 million tonnes of onions in 2012/13, earning around Rs 2,295 crore. In the first five months of current fiscal year, only 697,028 tonnes were exported.

Ashok Gulati, Chairman of the Commission for Agricultural Costs and Prices, says that the food security debate in the country is centered around cereals while other commodities such as vegetables take second position.

"We only wake up when there is a fire. Any price stabilisation effort requires stocks that the government can dump in the market to check prices. Since we don't have any buffer stock for onion, we can import and release them in the market at subsidised rates", he said.