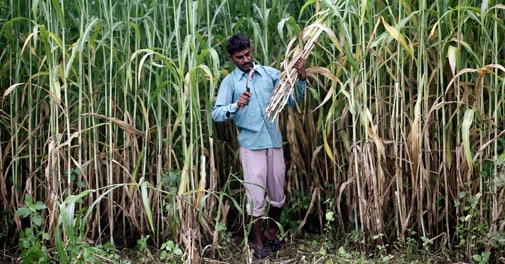 (Photo: Reuters)
The Uttar Pradesh government has issued notices to 52 sugar mills for not making payments to cane farmers and also lodged 60 FIRs against 43 sugar mills.
"As on July 15, 2014, the dues of the sugarcane growers of Uttar Pradesh for the current sugar season 2013-14 are Rs 6,737 crore," Minister of State for Food and Consumer Affairs Raosaheb Patil Danve said in a written reply to Rajya Sabha on Friday.
Sugar marketing year runs from October to September.
The cane price arrears are mainly on account of low realisation from sale of sugar, he added.
Danve said the Centre has advised the state governments/union territories to ensure timely payment of cane dues to the farmers and take action against the defaulting sugar mills.
"The government of Uttar Pradesh has informed that they have issued Recovery Certificates including the interest amount against 52 defaulter sugar mills and lodged 60 FIRs against the 43 sugar mills for the crushing season 2013-14," Danve said.
The Minister informed that the Sugarcane (Control) Order, 1966 stipulates payment of cane price within 14 days of supply, failing which interest at the rate of 15 per cent per annum is payable.
The powers for enforcing this provision are delegated and vested with the States/UTs administrations who have necessary field information, he added.
In reply to a separate query, Danve said the Centre in January notified a scheme envisaging interest free loans worth Rs 6,600 crore by banks as an additional working capital to sugar mills. The scheme has been launched to help sugar mills clear cane arrears.
"As per the information received from the nodal bank i.e. State Bank of India (SBI), loans amounting to Rs 5,914 crore have been sanctioned up to June 30, 2014 under the scheme. Out of the sanctioned amount, Rs 5,211 crore have been disbursed to sugar mills up to July 18, 2014," he added.
As many as 75 sugar mills in UP have got nearly Rs 1,780 crore.