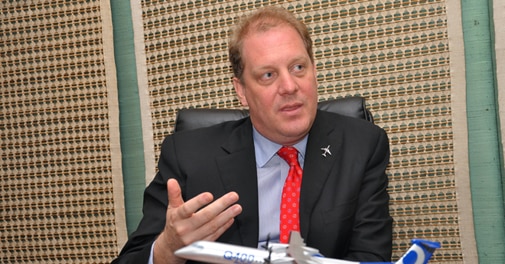 Toby Karlsson , Vice President, Sales, Asia-Pacific, Bombardier Commercial Aircraft.
Canadian regional jet manufacturer Bombardier says there are a plenty of opportunities in India. The regional jet market sees at least 20 to 30 orders coming in from India, established ones as well as start-ups, over the next two to three years as airline companies look for the right kind of aircraft to service the Tier II and Tier III towns.
Bombardier's rival Brazilian regional jet manufacturer Embraer clinched a big-ticket deal this month when it signed a $2.94 billion order for 50 Embraer E190s and E195s with start-up AirCosta to be delivered from 2018 onwards. The deal is the biggest order for the regional kind of aircraft from India.
The deal may have eroded the first mover advantage that Bombardier had, considering it was the first aviation company to sign up for the technologically advanced and silent turboprops used by the Q400s flown by budget airline SpiceJet. But Bombardier's Vice President for Commercial Aircraft Sales in Asia Pacific Toby Karlsson does not agree.
"If anything the deal is a validation of the assessment that the Indian market has plenty of room to grow and is essentially is a regional market," he says. "It is not lost opportunity for us. We clearly believe that with the number of trusted commercial discussions we are having and the right timing Bombardier will be able to announce deals in future."
"The outcome of the elections will be very important to determine if the consumer is confident or not," he adds.
Karlsson says India offers plenty of opportunity, where the right equipment type will help airlines to open up new sectors. But he cautions that India needs to upgrade its airport infrastructure and that the Indian airline industry need to pressure the government to open up more markets that essentially look beyond the narrow body jets currently deployed.
The Bombardier official says India has not reached its potential of developing itself as a hub and the government's policy to tax aircraft that have more than 70 -78 seats is a big hurdle to the growth of regional jets here and smaller narrow body aircraft type.
"The Indian government accepts that aviation is not luxury and is needed for growth. But the government should also have a national policy of fuel taxation," he says. Different states have different sales tax rates for air turbine fuel varying from four to 28 per cent and the higher ones challenging viability of airline operations.
Though SpiceJet has been able to open up regional routes in the south using the Q400, it has still not converted 15 of its options of the Bombardier turboprop to firm orders. Traditionally Indian airlines like Jet Airways and Kingfisher Airlines (now grounded) that flew the European manufactured ATR 72/42 have not been able to do much with this aircraft type on smaller routes.
Karlsson says it has nothing to do with the aircraft type but the fact that these airlines used the turboprop more under government policy compulsions to fly to smaller towns and not based on sound network planning.
"It is possible to achieve the lowest seat mile cost when you fly the Q400. People are relooking at the value of the turboprop aircraft."