His UB Group empire spans six listed firms (including United Breweries ) whose combined market value stands at a staggering Rs 22,850 crore. He acquired IPL team Royal Challengers Bangalore for Rs 464 crore and bought a Formula 1 team for Rs 610.2 crore, renaming it Force India. He owns 312-foot yacht Indian Empress worth Rs 450 crore, a fleet of vintage cars and a stud farm with more than 200 horses.

PROFILE:Vijay Mallya - No more King of Good Times

For all his flamboyance, instead to selling off some of these assets to tide over the current crisis, billionaire business tycoon Vijay Mallya is holding out a begging bowl to the Centre to keep the debt-ridden Kingfisher Airlines afloat.

The government has responded positively to his entreaties. But its overtures to stop the private carrier from being grounded have run into a ferocious headwind, with Opposition parties BJP and CPM scoffing at the idea of a bailout.

Kingfisher told to give operational plan

Bajaj Auto chairman Rahul Bajaj has also launched a scathing tirade against the proposal, contending that private sector companies should not be rescued by the government and "those who die must die".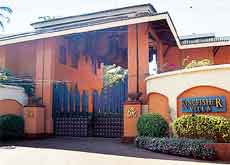 Mallya's airline is
seeking the government's help
in infusion of funds through banks at low interest rates, besides other concessions in line with what Air India is getting. It also wants 49 per cent FDI in Indian carriers.
Kingfisher suffered a loss of Rs 1,027 crore in 2010-11 and is reeling under a mounting debt of Rs 7,057.08 crore. The total market value of the group's six firms has plummeted by Rs 21,800 crore from their peaks in the past one year.
TRACK SHARES OF THE COMPANY


Bajaj boldly stated on the sidelines of the World Economic Forum in Mumbai on Sunday: "I am a proud private sector man and I don't see any logic of bailing out a private sector company, either for the sake of employees or customers. If Bajaj Auto gets into a mess, would you bail me out?"
He voiced his displeasure on the government's help to national carrier Air India as well and said it should be privatised.
Bajaj's comments came a day after PM Manmohan Singh said steps would have to be taken to help private sector entities if they get into difficulties.
Civil aviation minister Vayalar Ravi
, too, had said efforts would be made to help the ailing aviation industry.
Countering the government's stand, BJP spokesman and former civil aviation minister Shahnawaz Hussain said on Sunday: "The PM should instead have a bailout package for the aam aadmi (common man). All the same, the government should come out with a policy on sick industries."
Hussain, however, remained ambivalent on the issue of FDI for civil aviation. "Earlier, the government has not allowed FDI in the sector. We will wait for the government to clarify its policy on the issue and only then will we comment," he said.
The CPM, too, was against bailout. Party general secretary Prakash Karat said: "If at all the government takes any steps for a bailout for the private carrier, it should not be with public money." The criticism apart, Bajaj supported Mallya's view on the demand for a reduction in high taxes in the aviation sector. "We need to relook at taxation. All airlines are running on losses; everyone can't be inefficient," he said.
'Kingfisher urgently needs $400 million'


While Kingfisher Airlines was set up in 2005, it acquired India's largest low-cost carrier Deccan Airways two years later. After the takeover, Mallya had boasted in an interview to CNN's Talk Asia that Kingfisher had become India's largest private airline. If the UB Group head's airline is taken over now, it would indeed be an example of market forces at work.
A consortium of 13 lenders had taken a 23.37 per cent stake in Kingfisher after the carrier restructured some of its debt in April 2011.
In an unprecedented measure as part of the debt restructuring package, SBI and ICICI Bank converted Kingfisher's debt amounting to Rs 1,400 crore into equity at a 60 per cent premium on the prevailing market price. The current value of Kingfisher shares has crashed to a paltry Rs 19.45, which means the banks have lost a huge amount.
The entire restructuring also included a reduction in interest rates. The banks took a revenue loss of around Rs 500 crore when the debt was converted into equity.
The bankers of Kingfisher, who met in Mumbai on Saturday, are holding further rounds of talks on its debt restructuring.
Top government officials said the troubled private carrier may get support from public sector banks as finance minister Pranab Mukherjee had put in a word. But the government is in a fix as any incentive offered to Kingfisher would mean other airlines, too, would ask for the same.
Kingfisher is looking for additional working capital to tide over its cash crunch. It has approached lender banks for a reappraisal of working capital requirements following a surge in the price of jet fuel in recent months.
Last month, it axed its low-cost service Kingfisher Red to maximise revenues from full-fare flights. Top officials said the airline was also contemplating laying off a few thousands employees to stay afloat. On Sunday, Kingfisher cancelled 40 more flights taking the total to over 250 in one week and putting thousands of passengers to inconvenience.
Courtesy: Mail Today