In the grey zone
Shalini S. Dagar December 11, 2007
I normally don't plan my life. I take life as it comes," says Bangalore-based M.R. Sathyanarayana. A Senior Programme Executive with the All India Radio, Sathyanarayana, 58, is two years away from retirement.
Ask him about his post-retirement plans and Sathyanarayana says: "Not thought about it yet."
Sathyanarayana has no expectations from his children either. "I don't expect anything from my children, nor have I passed on any wealth to them, except meeting my obligation as a parent in getting them quality education." Is he financially secure? "Not yet. I don't even own a small plot of land or house in Bangalore, though I have been staying here since birth."
Taking life as it comes

This attitude of "taking life as it comes" is not unique to Sathyanarayana. It is pretty much the credo by which a majority of Indian men live. According to the BT-MaRS survey, only 30 per cent of the men polled said that they have started planning for their future. And over 40 per cent do not even know whether they would like to be employed after retirement.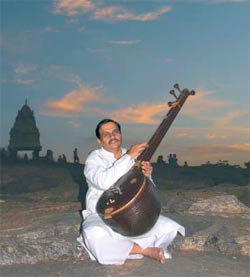 M. R. Sathyanarayana, 58
Senior Programme Executive, All India Radio, Bangalore
"I normally don't plan my life. I take life as it comes"
"It is said that in the mid-forties men pause, perhaps stop, and take a look at their life. But the study reveals that most of the 45-plus men of today have not applied that pause," says Raghu Roy, Chief Executive of MaRS.
It is not a surprise then that this segment of Indian men displays a high degree of uncertainty towards the future. It seems that the grey in their hair is seeping into other areas of their lives. The uncertainty extends from whether they will continue to work post-retirement to the level of support that they are likely to get from their children.Rajesh Shukla, Senior Fellow at the National Council for Applied Economic Research (NCAER), points out that the top reason for uncertainty stems from the insufficient attention that Indian families in general place on continued security of income. Till their mid-40s people are grappling with issues of acquiring a house, getting their children educated and clearing their responsibilities.
"Social security is an aspect that people do not worry about too much because the perceived risk is very low," says Shukla, adding that most men would not delay their car insurance, but may well default on the life insurance premium.Moreover, this is probably the last generation that started working in the pre-liberalisation days of the early '90s. Even as the younger generation is getting increasingly employed in high-earning, high-profile, private sector new service industry jobs, the older generation employed in the socalled earlier era jobs are seen gradually ceding ground to the younger lot on both economic and social counts.
"New professionalism is also bringing in new economic differentiation between older men and younger men," says Radhika Chopra, Reader, Department of Sociology, Delhi University. A specialist on masculinity, Chopra adds: "This differentiation is displacing hierarchy. The old assumed hierarchy of the elders being the people in power is almost being undermined by this emerging generation of professional high-earning youngsters. That is where the troubling uncertainty lies."
Demanding times
Add to it the demands of the new economy. "For many in my age group, much of the career time got spent in government jobs where there were no insecurities of the post-9/11 world. Today, just one event could impact a sector and lead to job lay-offs," says Hyderabad-based K. V. Rajasekher, a content writer with a head-hunting firm. Rajasekher, 50, hopes to continue being a content writer even after what are known as retirement years.
The new economy, however, is relentless. Deepak M. Satwalekar, Managing Director and CEO of HDFC Standard Life, says: "We forget this in a booming economy, when everybody has a job, but a few years ago, the uncertainty of job for the person above 40 was very, very high." Delhi-based Jeewan Sehgal, 45, vouches for the truth of the matter. "I have seen many friends leaving jobs with the confidence that they will get another but then finding it is difficult." Sehgal, who works with Mohan Exports, has already started planning but believes he is a decade or so away from financial independence.
Health, which is often the other concern as the years add on, is also taken care of at the Sehgal household with emphasis on regular checkups and a conscious focus on a healthy lifestyle. Sehgal, however, constitutes the astute minority.
Chennai-based C. Rangarajan, 53, is Assistant Vice President and Head of Ad Sales at regional daily Dinamalar. He has a wife and a college-going daughter. Though he has given some thought to financial planning, Rangarajan still feels exposed on health-related issues. "I have taken a health policy for my wife and daughter but don't have one for myself. I realised rather late that I would also require one—but not too many insurers look kindly at my age. At the moment, the family does not have health problems, but anything could crop up later," he says.
Come to think of it, this uncertainty prevails when average life expectancy is on the rise and most men expect to live longer than their fathers did. One of the statistics often cited by health industry experts is that every 60-year-old in 2020 is expected to live till the age of 80 years. It is no surprise then that most men want to continue to work after the usual retirement age. The survey, though, does not reveal whether it is out of economic compulsion or choice. Anecdotal evidence, too, seems to suggest a bit of both. Chennai-based V. Ramachandra Murthy, 47, Manager, Corporate Accounts at C. H. Robinson, a freight forwarding agency, is quite clear about the future. "After retirement, I plan to work and continue to work till I die." Kolkata-based B. D. Samadder, 59, who is Corporate Advisor with SPS Group of Companies, is equally emphatic: "Even if I retire from this company, I will continue to work as long as I keep well physically. And who doesn't want to earn even after retirement?" The pinch of inadequate social security is more sharply felt by those working in private sector companies, where the absence of a security net (mostly pension and health cover) is clearly visible. Sathyanarayana in Bangalore, for instance, hopes to supplement his pension with income from his other artistic pursuits to take care of himself and his wife. "Since my lifestyle is simple, I don't think I should have any problem post-retirement."
For private sector employees, therefore, the moment of reckoning is sharper. Satya Murthy N. S., 47, is a Systems Administrator with Bangalore firm CKC Pvt Ltd. He is not covered under any pension scheme. "I do not know what skill I have acquired over the years and where I will fit in. The question is whether I will get a job at all when youngsters with fire in their belly are grabbing jobs."
Southern discomfort
Kolkata-based Gopal Chandra Das, 50, too, wishes for some upskilling, though he feels he will manage with his current skills as well. Das, who is Financial Advisor & Chief Accounts Officer with Hooghly River Bridge Commissioners, a state government undertaking, says: "I wish I could get some special training to upgrade my professional skills and keep myself updated with new things."

However, what is clear is that most men do not want to foist themselves on their children in their retirement years. Murthy from Chennai sums up the thinking among most people when he says: "I don't expect children to support me because times are so difficult for them. If they stand on their own feet, it is enough." Murthy's two children are still studying. "I don't mind helping them out in whatever way I can apart from giving good education," he adds in good measure.

Indeed, the changing times prevent the likes of Murthy from being entirely certain of support from their children. As Roy of MaRS sums it up aptly: "These men may not be insecure, but they are definitely uncertain." The uncertainty as measured by the survey is higher in the southern region.

Though the reasons breeding uncertainty may be universal— a fatalistic attitude and low perceived risk—the accentuated ambiguity in the south seems to stem from more of the same traits. Yet, it is clear that this segment of 45-plus men has its own specific needs. Sehgal from Delhi points out that there is a shortage of products and services targeted especially at people like him. "For instance, commercial rentals would be a good investment option," he says. India currently does not have any financial products such as Real Estate Investment Trusts for such yield seekers. There are not too many housing societies too that cater to the needs of this population.

As HDFC Standard Life's Satwalekar says: "This generation is on a cusp where they have to adjust to changes in social structures. They need to be hand-held to help make decisions." Businesses that will cater to protection of the health and wealth of this ageing population will be rewarded when the demographic dividend too turns grey. Yet, for all we know, it may well be that the "can't say" majority is just in no mood to hang up their boots. Maybe these men are not frazzled by the uncertainties. Maybe with the hair dye comes renewed youth and energy.
Additional reporting by E. Kumar Sharma, K.R. Balasubramanyam, Nitya Varadarajan and Ritwik Mukherjee