Infused scotch, anyone?
Kushan Mitra January 5, 2008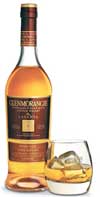 We give all these whiskies a little twirl (well, to be honest, more than a little twirl) in our palate; we imbibed all of them with a dash of cold water to bring out the full flavour, as good Scotch should be enjoyed. While we tend to agree with the dictum "each one to his own", the best way to enjoy these whiskies is with some really cold water— without ice or soda.
The Lasanta

Lasanta in Gaelic, the language of Scotland, means warmth, and this Glenmorangie is matured in Spanish Oloroso Sherry casks and leaves an explosion in your mouth. Some people may consider it a bit sweet, and it does have a citrus feel to it like a good sherry (with a hint of chocolate).
The others
mosimage Glenmorangie is not the only distillery to make special finish whiskies, though it is the most popular. Several other distilleries do "Special Finish" whiskies that may not be widely available. For example, you can get a delicious 15-year-old Ardbeg, which is an Islay Malt finished in a rum cask (£79 or Rs 6,320). Bowmore, another Islay Malt, is available in a 16-year port finish (£95 or Rs 7,600, but at 56 per cent alcohol by volume).
The Glenlivet French Oak Finish 12-year-old (£45 or Rs 3,600) is another wonderful (and not so expensive) whisky, though it is not as easy to come by as the Glenfiddich 'Gran Reserva' (£63 or Rs 2,520), a 21-year-old matured in Cuban rum casks.
*All 750 ml Glenmorangie. Available at select wine and spirits outlets in the mentioned cities
Other spirits are available at select dutyfree/spirits outlets globally. Prices may vary depending on bottle size and airport
This is not for purists. If, however, you want your whisky to be different, this will be a good bet, and particularly if you have guests who aren't exactly enthralled by Scotch, because this is quite different.
Prices*
New Delhi: Rs 3,236
Mumbai: Rs 4,101
Bangalore: Rs 3,667
The Quinta Ruban

This whisky, from Glenmorangie, is finished in port pipes shipped from the Quintas of Portugal and is possibly the nicest of the three new finishes launched by the distiller.
It has a full body and leaves a warm and spicy feeling. This is a lovely whisky, which one can enjoy at any hour. Our favourite.
Prices*
New Delhi: Rs 3,571
Mumbai: Rs 4,439
Bangalore: Rs 4,140
The Nectar D'Or

The third of Glenmorangie's new whiskies is finished in Sauternes wines barriques from Spain and is the most complex of the lot.
A sophisticated drink, it's best enjoyed on a clean palate, before a good dinner. This is taste-bud heaven—lemon and nutmeg with a ginger feeling leading to a lemon aftertaste.

Prices*
New Delhi: Rs 3,823
Mumbai: Rs 4,693
Bangalore: Rs 4,496