New Year bonanza
January 8, 2008
Ravissant's Silverware Collection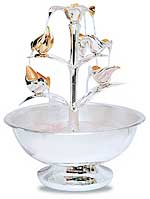 Ravissant, India's premier luxury brand, has launched its latest product from its exquisite festive silverware collection.
A sterling silver piece in the shape of a fountain with five birds seated among other nature's elements.
This unique concept lends a feel of luxury and class to the product, making it an ideal gift for your loved ones.
Price: Rs 4,50,000
Available at: Ravissant stores in Delhi
iPhone Cases from Louis Vuitton
Louis Vuitton, the world's leading luxury brand, is one of the first companies to unveil a family of iPhone cases. Designed in various emblematic lines of Louis Vuitton, the iPhone cases are available in a vast range of colours and materials, including Monogram canvas, Epi leather, Taiga leather and Alligator.
The case will perfectly match the iPhone shape, thanks to a sophisticated moulding process on the canvas and leather, allowing the phone to slide in and out of the case quickly and easily. The Taiga model will also include a carry belt function designed for business use.
Price: On request
Available at: The Oberoi, New Delhi
The Fall/Winter Collection from Sisley
The silver screen is the inspiration behind the fall/winter collection from Sisley. While the ladies can snuggle into faux-fur stole-jackets and shorts and minis over ribbed tights, the men's line almost has a polar touch: sports jackets, fur-edged hoods, padded jackets, and fully accessorised trousers.
Price: Women's range: Rs 699-Rs 13,000
Men's range: Rs 799-20,000
Available at: Sisley stores across the country
Zicom Fingerprint Lock
Presenting state-of-the-art biometric locks from Zicom that allow entry through fingerprint recognition.
These Fingerprint locks are ideal for homes, banks and offices and are available in brass and steel colours.
The locks can be 'locked' in three ways: through fingerprint, PIN or emergency key override, and are available in two categories: Fingerprint Executive Lock and Fingerprint Premium Lock.
Price: Fingerprint Executive Lock is priced at Rs 13,990 and Fingerprint Premium Lock costs Rs 29,990


Available at: Zicom retail outlets across the country
The Bridal Collection


The season of weddings is here, and Triumph International India has introduced its tantalising Bridal Collection, which flaunts the season's latest breathtaking creations in innerwear. Take your pick from a must-have array of the finest of fabrics, colours, and styles in lingerie.
Price:
Rs 1,000-2,500


Available at:
Multi-brand outlets across the country
The Winter-Wedding Collection from Tommy Hilfiger
Tommy Hilfiger has introduced a new range of watches for the winter-wedding season. The bold and elegant designs—The Modern Automatic Classics and the Rose Gold collection offer a sense of fresh style, underpinned by careful attention to quality and functionality.
Price: Rs 5,995-Rs 8,995


Available at: Select World of Titan, Tommy Hilfiger flagship stores and other multi-brand outlets across the country
Red and Whites@ Apartment 9
The Red and White collection@ Apartment 9 is an eclectic mix of style and variety. Vibrant in hues and perfect in aesthetics, the collection features element for homes that pursue indulgence. Have fun as you choose beautiful scented candles, hanging candle cases, colourful cushion covers, designer lamps and lights and much more.
Price: On request


Available at: Apartment 9 stores in Delhi and Mumbai
ClearChat Pro USB Headset from Logitech
Enjoy rich digital audio in complete comfort with the new ClearChat Pro USB Headset from Logitech. The new headset features proprietary laser-tuned audio drivers, an audio equaliser switch, and a noise cancelling microphone. It connects to the PC through the USB port, producing high quality digital audio, independent of the quality of the computer's sound card.
Price: Rs 2,995


Available at: Leading electronics stores across the country
'Sport Jackets' from Parx
Presenting the trendiest range of 'Sport Jackets' from Parx. Crafted in denims, corduroys and cotton, the jackets have that unique, contemporary look and are exclusively cut for you with elegance and panache.
The jackets are complemented with special style elements like patch pockets, contrast piping, and stitches to give you that true international look. Flaunt the elegant retro look with the denim jackets or make heads turn with the pigment washed jackets.
Price: Rs 3,199-Rs 4,699


Available at: Parx stores and other multi-brand outlets across India
Egle's "Bold & Imaginative Collection"
This collection from Egle is guaranteed to allure men with great designs, combining the retro and casual style. The shoes stand out for their dignified and detailed look, guaranteeing a feeling of delight and satisfaction. They are available in shades of mahogany, beige, auburn and chocolate.
Price: The collection is priced between Rs 3,990 and Rs 4,090


Available at: Leading retail outlets across the country
Compiled by Anumeha Chaturvedi