Seven iconic summer scents for men
Anushree Basu May 12, 2011
We bring you seven iconic summer scents for men that rule supreme. Splash on!
1.Dior Homme by Christian Dior
It blends masculine luxury with classic yet modern elegance. It has a unique powdery scent, built around masculine iris, with notes of lavender, amber, vetiver, and leather.
Price: Rs 4,934 (100ml)
2. YSL'S la nuit de L'homme
La Nuit De L'Homme is a complete fragrance-the soft and strong bouquets blend together beautifully to make this one a seductive, scent for the afterhours.
Price: Rs 3,364 (100ml)
3.Bvlgari Man
A fragrance of unadorned elegance, Bvlgari Man balances fresh, vibrant notes of citrusy bergamot with warmer tones of wood. At once classic, modern, and sensual, this everyday fragrance embodies masculine charisma.
Price: 3,543 (100ml)
4. Burberry the beat
An addictive, woody fragrance with pulsing energy, it embodies a blend of British heritage and edgy attitude. A polished gun-metal bottle, with an intense black check pattern, matches the 'rebellious dandy' style of The Beat.
Price: Rs 2,950 (50ml)
5.Lacoste challenge
Challenge combines the immediate punchy vitality of citrus and ginger aromatics with the richness and power of its woody base. It is sporty with an inherent raw sexiness.
Price: Rs 2375 (50ml)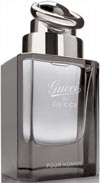 6. Gucci by Gucci Pour Homme
A signature for the modern Gucci man, it combines classic masculine appeal with cool, contemporary elegance. This iconic fragrance culminates both vision and tradition, encompassing Gucci's luxurious heritage.
Price: Rs 2,556 (50ml)
7. Dolce & Gabbana the one
This fragrance is dedicated to the quintessential D&G man: charismatic and seductive, elegant and sophisticated. He loves taking care of himself-he is a bold, modern hedonist who loves to take centrestage.
Price: Rs 2,467 (50ml)