Hot off the shelves
Anumeha Chaturvedi March 16, 2008
The season just got hotter with these brand new launches that promise to leave you begging for more.
Spring/Summer 2008 Collection from Corneliani


"The Seduction of Opposites" is the name of the Spring/Summer Collection from Italian brand Corneliani. They come in light and compact weaves in the most luxurious blends of silk, wool and cotton.
The collection marks a revival of the classic four-pocket jacket. The shirts look more royal than ever with perfect volume, brilliant cottons in self-colours or fine stripes, and white contrast collars and cuffs.

Price:
Rs 10,000-1,20,000
Available at:
Blues Clothing Company, South Extension, New Delhi
Clutches from Salvatore Ferragamo

The summer clutches from Salvatore Ferragamo are light, soft and expertly handcrafted.
They come in exotic metallic leather or fine Galuchat.
Snap up clutches in gleaming leather with tiny buckles, detachable chain straps, embossed trim and unique hardware for the perfect look.

Price:
Rs 30,000-40,000
Available at:
Ferragamo store at Grand Hyatt, Mumbai
The Souveran Series from Pelikan


The Souveran Series from Pelikan symbolises composure of strength and character. All models in the range feature Pelikan's unique differential piston filling system to ensure a large ink capacity.

Price:
Rs 6,000-45,000
Available at:
William Penn stores across the country
Sunglasses by Jean Paul Gaultier

The sophisticated, futuristic designs of the brand new eyewear collection from Jean Paul Gaultier includes new titanium models with innovative shapes and delicate side detailing. The cutting-edge style makes the collection as provocative as ever.

Price:
Rs 20,000 onwards
For enquiries:
+919871391399
ECCO Supercross for Women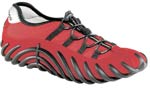 Supercross is part of the funky range of hip and trendy footwear from ECCO, the premium international footwear brand. ECCO Supercross is sporty, yet stylish and is made of full grain leather, suede and has a textile lining that lets the foot breathe.

Price:
Rs 7,390
Available at:
ECCO Concept Shop, Square One Mall, New Delhi, and leading footwear stores across the country
Mirari Jewels

Mirari's first birthday coincides with the launch of its brand new jewellery collection. It includes sugarloaf clusters with pear-shaped diamonds, bracelets and neckpieces, including the wildly extravagant necklace, Panchlara, inspired by the Mughal era.

Price:
On request
Available at:
Hotel Shangri-La, New Delhi
The Bedroom Collection from Elvy

The enticing bedroom collection from Elvy comprises stunning and slim designs, small intricate details like diamond pin tucks and pleated decorative pillows. Sleep like never before in the Oxford-style bedding in cotton tussar with poly blend.

Price:
The Sweet Dreams set is available for Rs 8,995 and the Ivory and Gold Duvet set is available for Rs 5,495
Available at:
Square One Mall, Saket, New Delhi
Wheat Beer from Erdinger Weissbier

Erdinger Weissbier, a world famous premium wheat beer imported from Erding, a small town in Germany, is now available in India. The Premium Weissbier (Alcohol: 5.3 per cent vol.) and the Dark Weissbier (Alcohol: 5.6 per cent vol.) are both now available in India.
Price:
Premium Weissbier Rs 100 for 330 ml; and Dark Weissbier Rs 130 for 500 ml
Available at:
Select liquor stores in Delhi
Moschino Sunglasses

The new collection from Moschino is characterised by symbols of peace, question marks, studs and leopard prints. All the glasses will have original designs, conceived for elegant women with a strong personality.

Price:
Rs 15,000 onwards
Available at:
Moschino Store, Taj Mahal Hotel Palace & Towers, Mumbai