Ticket to ride
Rahul Sachitanand March 17, 2008
March 10, 2008
Bangalore
The Golden Chariot, A luxury train run by the Government of Karnataka, runs into controversy before it can even get started from Bangalore's suburban Yeshvanthpur railway station. A group, calling itself (rather wordily) the Karnataka State Committee Against Alcohol Consumption, protests at the main entrance against alcohol being served on board in a special compartment aptly named Madira (meaning alcohol in Hindi). "We are ruining the country's and the state's culture by promoting alcohol consumption," screams an extremely vocal A.T. Babu, Convener of this until recently unheard of forum. Ten minutes after he and around 20 of his cohorts stage their very vocal protests, calling for Karnataka Tourism Secretary I.M. Vittala Murthy's head, they quickly disperse as the last passengers climb aboard the Golden Chariot.
The latest addition to India's luxury train circuit has been in the works for a couple of years now, but its launch has been delayed from the beginning of the tourist season (September) last year to March, just when summer is beginning to set in and foreign tourist arrivals are beginning to taper off. On board the Adilshahi coach (there are 11 coaches on this train, each named after a different dynasty that ruled the region), the amenities are much like a five-star room on rails. Each (admittedly cramped) cabin has a comfortable double bed (or twin beds), a flat-screen TV and ensuite bathroom packed with the usual collection of toiletries. There are around 80 people on the Golden Chariot's first commercial run, including 15 paid guests and an assortment of travel and trade executives and media personnel. "Travelling by rail and staying in such luxury will allow travellers avoid a lot of the hassles associated with poor roads and multiple hotel check-ins at each destination," says Sanjay Chhabra, Chairman and MD, Mapple Hotels, the hospitality partner for this project.
Karnataka's Tourism Department seems to have gone out of its way to make guests welcome on this train. At the start of the journey, they are welcomed with a song and dance performance, bouquets of pink roses and a lemon for good luck. On board the train, guests quickly head for Madira, the attached bar to unwind after battling through Bangalore's evening rush hour to reach the train.
Madira itself has a bar at one end and comfortable chairs and tables across its length for passengers to relax. The service is achingly slow, with the waiters initially taking 20 minutes to notice us sitting at one of the tables and another 45 minutes to serve us a couple of beers. However, few people at the bar (and at the restaurant car next door) are fazed, putting it down to the staff taking time to find their bearings on the first commercial run. "We're not too worried about the slow service; it's their first day and I am sure it will get a lot better," says seasoned traveller Nigel Triffitt, an Australian who works in theatre.
While the first night of the journey is spent getting a leisurely drink and dinner (much like Bangalore, last orders on the train is at 10.45 p.m.) and then hitting the sack. While the beds are extremely comfortable, some guests have to put up with temperamental air-conditioning in some coupes, but few complain, since the staff is working feverishly on this first run to try and sort out these niggles. "We will need two or three months to resolve all these issues, but should be smoothly operational before the tourist season this year," says S. Pradeep, a freelancer tour guide aboard the train. There are other shortcomings too; the wireless internet is not yet operational, a conference car will only be added in May and food service and quality oscillate alarmingly between sensational and pedestrian. Despite these issues, my fellow travellers appear nonplussed. "This is an all new experience for us and we have no complaints," says Matthias Liese, a German tourist.
While the Golden Chariot is priced from $240 (Rs 9,600) per person per night for a three-bed unit during the off-season (it costs $395 or Rs 15,800 for single occupancy during March-September) and up to $285 or Rs 11,400 and $485 or Rs 19,400 during peak season (October-February), officials say that these rates are reasonable, given the ambience and facilities on board. Aside from luxurious living quarters, the train has a compartment with a minigym, sauna and a masseur. These come at an extra cost. "This is a much more varied tour than the Palace on Wheels, which offers an overdose of palaces and forts," says Triffitt. The seven-day tour, starting in Bangalore, covers Mysore, the wildlife sanctuary at Kabini, the renowned temples at Belur and Halebid in south Karnataka and Badami and Hampi in the north. At Mysore, the tour begins with the historic town of Srirangapatna and then heads back to town to see Palace, Museum, Philomena's Church and a cultural performance at Rangayana, a local theatre. The cultural performance proves to be a big hit with foreign tourists.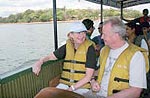 Unlike other luxury trains such as the Palace on Wheels and the Deccan Odyssey in Maharashtra, Karnataka's Golden Chariot will run all through the year and will look to domestic leisure and business travellers, too, especially when the conference coach is added. While tourist spots next door like Goa and Kerala are much visited by domestic tourists, most places in Karnataka remain off the radar. "The domestic market is taking off… tourists now want and will pay for luxury," says Chhabra. At the same time, he's also working with the state government to attract the meeting, incentive, convention and exhibition (MICE) segment to this train.
Day 2 proves to be more relaxed as guests head out of Mysore and drive for a couple of hours to the Kabini Sanctuary to get a glimpse of Asiatic elephants, gaur, sambar, an elusive sloth bear and an assortment of peacocks. Like other parts of this schedule, the train itself is split on scheduling, with veterans like Triffitt (who has been to game parks across the world) not overly enthused by the animals we see, but others leaning out of the safari jeep at the sight of an elephant family. "We will need to work on the schedule," admits tourist guide Pradeep. Minor hiccups notwithstanding, with over five million foreign tourists coming to India and well-heeled domestic tourists, too, loosening their purse strings, the Golden Chariot may have got chugging at just the right time.