People who made news
October 13, 2011
Down on Facebook
At 28, Divya Narendra has already started two social networks. SumZero, his latest project, allows hedge fund and mutual fund managers across the world to swap information about the companies they track. "We wanted to create an investment idea database that covers every company in the world, where all the content is user-generated," says Narendra. But it was his first start-up that brought him unlikely fame. Nine years ago, he started HarvardConnect, and his team hired a young Mark Zuckerberg to write their code. When Zuckerberg started Facebook, Narendra and his team sued, and the legal battle became the subject of the 2010 award-winning film The Social Network. While the legal battle continues, Narendra is now focusing on graduating from business school in 2012 and then moving to New York to start working on SumZero full-time. "I don't lose sleep over it," he says of the legal battle. "I was 20 years old then; I know so much more about launching a business now."
-
Anika Gupta
Red hot steel man
Vinod Jain, director of premium home accessories brand Magpie International, insists that design is in the brand's DNA. Perhaps in his own DNA, too. Jain thought of glamourising stainless steel after joining his family's industrial steel business 12 years ago. "My family was dealing in raw materials. We were not manufacturing products. I thought of making home accessories in steel as no one else was doing it," he says. Jain now has bigger plans of entering interior design by launching personalised home spaces like golf bars early next year. His Rs 70 crore company is growing 100 per cent year on year and was the first Indian company to win the prestigious Red Dot Design Award three years in a row.
-
Anumeha Chaturvedi
Happiest now
On August 29 this year,
Ashok Soota
launched Happiest Minds, his new IT services company. "I wondered a lot about what the new company should look like," he says. Since all technology differentiation has a finite lifetime, the only difference Soota could create was cultural. 'Happiest people, happiest customers' is now his goal. Soota, who co-founded the runaway success MindTree in 1999, but quit the company early this year, has been researching the idea of happiness for the past two years. And he realised that his new firm should look at enabling happiness, if not ensuring it, within the company.
-
Sunny Sen
Two hats, two briefcases
He always carries two briefcases to office - one with papers relating to India Cements and the other pertaining to cricket, his two passions. N. Srinivasan helped India Cements grow aggressively - from a capacity of 1.4 million tonnes to 14 million tonnes in two decades. His elevation as President of the Board of Control for Cricket in India, or BCCI, after fending off charges of conflict of interest - India Cements owns IPL team Chennai Super Kings - comes at a time when Indian cricket has hit a new low. Can his leadership help India regain those glory days?
-
N. Madhavan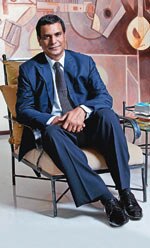 New platform
Srini Koppolu, 50, who left Microsoft in 2010 after 21 years, which included 12 spent building the software giant's India Development Center in Hyderabad, will now take over as Chairman of SETU Software Systems. On what drew him to the three-year-old start-up, Koppolu says: "I have known the two founders for many years and think there is a lot of business opportunity if some of its technologies can be productised." As an example, he mentions SETU's technology for social media monitoring, which could prove very useful for companies while launching product marketing campaigns.
-
E. Kumar Sharma