News that you may have missed last fortnight
May 8, 2013
Insecure Times:
The Supreme Court has questioned the Z-category security given to Reliance Industries Chairman Mukesh Ambani. His Mumbai residence Antilla (in pic) will be guarded by a swarm of Central Reserve Police Force personnel armed with AK-47 rifles. The monthly cost: Rs 15 lakh. Unlike others with similar security, Ambani himself will foot the bill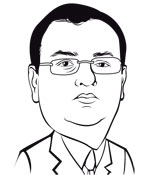 CORPORATE
Tata Sons Chairman Cyrus Mistry has a new 'A' team. The new group executive council (GEC) replaces both the existing group corporate centre and the group executive office. N.S. Rajan from Ernst & Young is the new group chief human resources officer. The other members of the council are Mukund Govind Rajan, who will oversee the Tata brand, communication, ethics and CSR, and ex-Bombay Stock Exchange chief Madhu Kannan, who will head business development and public affairs.
It is deal time for Bharti Airtel, the world's fourthbiggest mobile phone company by customers. Qatar has bought a five per cent stake in the telecom major for $1.26 billion. Bharti's profit has been falling three years in a row. India's inbound M&A now totals $9.83 billion so far this year, compared with China's $7.7 billion and Australia's $6.9 billion.
Infosys, under pressure to improve its performance, has tied up with New York-based IPsoft. The deal will give the software giant a headstart over rivals in the infrastructure management market, which is expected to be worth $140 billion by 2015.
Confirming the resurgent mood of the FMCG sector, Hindustan Unilever, led by CEO Nitin Paranjpe, has recorded double digit growth in the home and personal care business, and the foods business. The FMCG giant has reported 12.5 per cent increase in net sales and 17.7 per cent growth in net profit in Q4 of 2012/13 compared to the corresponding quarter of 2011/12. The outstanding performance has prompted parent Unilever to offer to pay $5.4 billion to increase its stake in the Indian arm to 75 per cent. It is the largest such deal in India's consumer goods sector.
Apple Inc wowed the debt markets with the largest non-bank bond deal in history, pricing a whopping $17 billion as it switches strategy. Just a week after announcing its first drop in quarterly earnings in a decade, Apple came to market with the deal to raise funds for a programme that will return $100 billion in cash to holders of Apple shares.
A group of telecommunications' carriers, including Vodafone Group Plc and Reliance Industries, will build an undersea cable system across the Indian Ocean to connect Southeast Asia with West Asia. The 8,000-km Bay of Bengal Gateway cable will link Malaysia and Singapore to the West Asia. It will also connect with India and Sri Lanka.
ECONOMY
Middle-income Asian economies enjoy better growth prospects than those in other parts of the world but they must improve government institutions and liberalise rigid labour and product markets if they wish to reach the level of developed countries, the International Monetary Fund (IMF) has said. India, the Philippines, China and Indonesia need to tone up their economic institutions while India, the Philippines and Thailand are also exposed to a larger risk of growth slowdown stemming from sub-par infrastructure.
The government has formally allowed Swedish furniture major IKEA to invest Rs 10,500 crore to set up single brand retail stores selling mostly home furnishing items. The global furniture major has also been allowed to run cafes and restaurants within its premises in India, but it cannot sell packed food items.
The civil aviation ministry has allowed Indian airlines to charge for services above the base fare. This will result in Indian fliers paying extra fees for carrying check in baggage, for one, in addition to paying for meals even in full service carriers such as Jet Airways. Passengers will also have to pay for preferential seating, carrying sports equipment and musical instruments, or even baggage they deem 'valuable', or using airline lounges.
$150 bn
The value of digitally influenced purchases by 2016, a five-fold jump from $30 billion today, according to a study by Boston Consulting Group. The surge in internet users from 125 million at present to 330 million in 2016 will ensure this spike in value.
$518 bn
Global advertising market by the end of this year. World advertising expenditure will grow by 3.9 per cent in 2013 and by five per cent in 2014, driven by internet advertising, according to ZenithOptimedia. Online advertising spending will overtake print in 2015. Online video and social media advertising are growing at about 30 per cent every year.
MARKETS
The Bombay Stock Exchange (BSE) has launched an Islamic equity index based on the S&P BSE 500 index, providing a new benchmark for Islamic investors in one of the world's largest stock exchanges. The new index comprises the largest 500 companies in the BSE, out of more than 5,000 listed, which fit Islamic finance principles which ban investing in gambling-related businesses.
Indian consumer confidence dropped in the first quarter of 2013 becoming lower than that of Indonesia due to the 'environment around them', according to a survey by market insights and information provider Nielsen India. The index topped the global list at 121 in fourth quarter of 2012.
Coming Up
The government plans to provide subsidy to 14-crore LPG subscribers directly into their bank accounts from October 1, using the Aadhar payment platform. Under a pilot project for LPG subsidy transfer, 20 districts in the country will be covered by May 15.
Finanace Minister P. Chidambaram, who has courted investors on visits to North America and Europe, is planning to take his roadshows to Australia and Qatar next, during May. He may not have an easy time explaining the scandal-rocked UPA regime's path to reforms.