Stocks that held strong amid sell-off and their future performance
Sowmya Kamath December 6, 2011
Market volatility and falling stocks have been on front pages of newspapers for the last one year.
Amid this gloom are a few shining examples of stocks that have
withstood market storms
and given stellar returns, stocks whose every fall was followed by a sharper bounce.
Stocks that fell most in 2008 offer good investment today

Stocks such as Gujarat Fluorochemicals, Amtek India, VST Industries, Bata India, Alfa Laval India, Tata Coffee, Kwality Diary, UTV Software Communications, Gitanjali Gems and TTK Prestige are the top ten among the
BSE 500 companies
that have returned over 60-150 per cent in the first ten months of 2011, bucking the broad market trend indicated by the Bombay Stock Exchange Sensex, which has fallen 14 per cent in the period. Each of these stocks is either a leader in its industry or has done better than peers.
Investing in realty? Go for cities with high growth curve
Consumer discretionary spending seems to be the one of the key reasons for the performance of a number of these stocks. Also, the ability of a company to deliver profitability remains at the heart of any stock's buoyancy. Another factor is the assets it holds, such as land, and free cash reserves.
"Stocks of companies which grow due to consumer discretionary spending or are immune to the global markets have been buoyant. Sometimes delisting expectation also helps," says Sunil Pachisia, president, Pratibhuti Viniyog, a brokerage.

The Shoe-ting Star: Bata
Bata India, which was trading at Rs 363 on December 31, 2010, almost doubled to Rs 724 on October 31, 2011. "Growth in consumer discretionary spending and margin expansion were the main triggers," says Rikesh Parikh, VP, market strategy, Motilal Oswal Securities. Brokerages such as Religare and Motilal Oswal expect the stock to touch Rs 750-870.
The company has expanded margins by closing unviable stores and is developing its property at Batanagar in West Bengal which will generate cash. The company has exited lower segments and launched more products in the premium category, besides new lines for women and children.
"We expect Bata to post Rs 130 crore profit this year, excluding the cash flow from the Batanagar property," says Parikh. The company reported a 47 per cent rise in net profit to Rs 30 crore in the September quarter. "We recommend buying on dips. It is fairly priced now," says Parikh.
---

Delisting Drums: UTV
UTV Software Communications has given 73 per cent returns in the January-October period. It has announced an exit price of Rs 1,000 per share for delisting. The stock is near the offer price and is likely to find support from any steep fall.
---

Exit Gains: Alfa Laval
Alfa Laval has given 89 per cent returns in the first ten months of the year. One reason is that the company has announced plans to delist shares from exchanges at a price of Rs 2,045 per share. The stock is near the offer price and is expected to find support from any steep fall.
---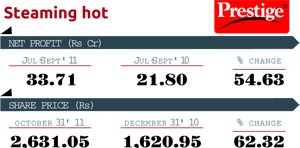 Steaming hot: TTK Prestige

The stock of Kitchen appliance maker TTK Prestige has risen 62 per cent from Rs 1,620 to Rs 2,631 in just ten months. The company makes pressure cookers, non-stick cookware, kitchen electrical appliances and gas stoves.
"An expanded kitchenware range, strong sales growth and expansion have made the stock attractive," says Pachisia. The company's proposed expansion in Gujarat is likely to be completed by the end of financial year 2011-12, says a B&K Securities note.
"In 2009, the company dropped the delisting plan, citing fund availability as a constraint, but some investors are hoping the company will delist in the future. This has supported the stock. The stock can be looked at from a long-term perspective. One can buy on dips," says Pachisia.
---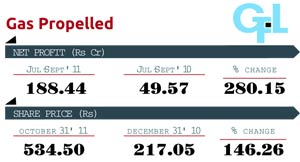 Gas Propelled: Gujarat Fluorochemicals
Gujarat Fluorochemicals is the top performer in the BSE 500 list. The stock has risen 146 per cent in the first ten months of 2011. The company is the largest manufacturer of refrigerants in India.
"The company has reduced expenditure. It now uses about 50 per cent hydrochlorofluorocarbon (HCFC22) it produces to manufacture PTFE, or polytetrafluoroethane. It exports the remaining HCFC22," says Sumit Shrivastava, executive research analyst, Satco Securities. He has set a target price of Rs 747 for the stock. "PTFE prices have risen in the last two-three quarters, which has increased margins," says Bhavin Parikh of Artham Advisory Services. While the stock is a good bet for long-term investors, it is better to buy on dips, says Shrivastava.
---

Glittering Gem: Gitanjali Gems
A leader in diamond and diamond-studded jewellery manufacturing and retailing, Gitanjali Gems rose 65 per cent in the January-October period due to rising demand for branded jewellery. The company also caters to the international markets. "Gitanjali had fallen in 2009-10 due to low demand, but when the markets recovered, it outperformed," says Laxmi Deepak, an analyst at MAPE Securities who has a target of Rs 634 for the stock by March 2013.
The company has made efforts to restructure and improve visibility among investors. Gitanjali, which had 40 subsidiaries, will have only three-four units by March 2012. "It's a good stock if you are looking to invest for the long term. Else, one can wait for a dip," says Deepak.
---

Smoking Hot: VST Industries
The stock of cigarette and tobacco manufacturer VST Industries has more than doubled in the first ten months of the year while peers such as ITC, Godfrey Phillips and Kothari Products have risen 13-60 per cent. The company has a vast land bank in Hyderabad. Its September quarter net profit rose 39 per cent quarter-on-quarter to Rs 33 crore.
"We expect the company to maintain growth in the coming quarters. We recommend a 'buy' with a price target of Rs 1,404 for medium to long-term investment," Firstcall India Equity Advisors said in a note.
---

Driving fast: Amtek India

The stock of Amtek India, a supplier of cast automotive components, has risen 113 per cent in the first ten months of 2011. Its peer companies such as Banco Products and Subros have fallen during the period.
"The company is doing well. The stock has low liquidity on most days. One should look at the coming results and then take a call on investing," says Pachisia.
---

Milking gains: Kwality Dairy

The shares of Kwality Dairy, a leading dairy product company, rose 75 per cent in the January-October period while its peers Nestle rose 12 per cent, GSK Consumer rose a little over 1 per cent while Hatsun Agro gave negative returns.
The company bounced from its year's low of Rs 65 in May. It reported a 135 per cent rise in June quarter net profit at Rs 14.6 crore.
"We expect the company to keep growing in the coming quarters also. We recommend 'buy' with a target price of Rs 215 for medium to long term," Firstcall said in its note.
---

Boiling Beverages: Tata Coffee

The shares of India's largest coffee producer and exporter have risen nearly 82 per cent this year. It registered a record turnover, profit before tax and profit after tax in the April to September period. Its six-month net profit rose to Rs 31.73 crore, up 90 per cent from the same period last year.
"The demand for coffee is rising. Also, people are experimenting with various types of coffee. Tata Coffee has been expanding its operations through various acquisitions and alliances," says Pachisia.
The company said its instant coffee division significantly improved its performance with higher production and sales in the first six months of financial year 2011-12 compared with the same period last year. "Tata Coffee is a good long-term investment. For people with an investment horizon of two-three years, it will be a good bet," says Pachisia.