Five corporate bigwigs unveil their well-crafted, high-voltage campaigns
Shweta Punj, Suprotip Ghosh, Sarika Malhotra and E. Kumar Sharma April 10, 2014
Five corporate bigwigs who have entered electoral politics unveil well-crafted, high-voltage campaigns.
NANDAN NILEKANI
Party: Indian National Congress
Constituency: South Bangalore
Total Assets: Rs 7,710 crore
THE GAME PLAN
>> Extensive road shows to connect with the electorate
>> Leverage social media in a big way
The trials of election campaigning are evident as Nandan Nilekani, Infosys co-founder and former chairman of Unique Identification Authority of India, settles down on a sofa looking visibly fatigued and considerably tanned in a crisp white shirt. It is 9:30am and the calm at Nilekani's understated home does not give away the frenzy of campaigning he is in the midst of.
"Campaigning is most emotionally and physically exhausting exercise. The closest that comes to this is the road show I did for my company (in the run up to the listing of Infosys on the NASDAQ) but even there we had weekends," he says, sounding a bit hoarse from speaking relentlessly for nearly 12 to 13 hours every day.
Nilekani literally begins his days at the crack of dawn, either at a park walking and chatting up with fellow Bangloreans or on a padyatra where he walks for several kilometers introducing himself to voters. While South Bangalore is largely an urban constituency, there are pockets where Nilekani is still relatively unknown.
Every minute spent on the campaign is accounted for.
"Everything that can be measured is measured in this campaign," says one of the three key strategists who have designed Nilekani's campaign as he gives out information on the campaign. "In the last three days we have done five padyatras, yesterday we walked 4.74 miles," he says and pulls out his smart phone and shows a map which shows all the spots in the city covered so far to avoid duplication. "We have to make the most of our limited time," adds Nilekani.
During campaigning senior Congress leaders, such as Ramalinga Reddy ask for votes on Nilekani's enterprenurial and clean record. "Mr Reddy has not lost a single booth ever, and that is quite impressive," says a close Nilekani aide. Pamphlets are being distributed seeking support for Nilekani and sending out the message that "Nilekani has enough money of his own and that he will not cheat the public of their due." Personalised letters from Nilekani have been sent to each household in the constituency, introducing him and giving out other details such as booth number.
Work on the campaign began almost six months ago even though his candidature was announced by the Indian National Congress only two months back. Besides the physical outreach, if you visit any website related to Bangalore, you are sure to see a Nilekani digital advertisement. Constant updates on Nilekani's Facebook page -which has 3.73 lakh thousand likes - and Twitter is used as a conduit to drive a personal connect with the digital audience. In fact, Nilekani used his Facebook page to settle the controversy around his comments on reservation in the private sector which he says were taken out of context.
Nilekani's campaign is primarily being managed by professionals in their twenties, many of whom have worked with blue chip companies such as Google and McKinsey. Mobile applications and targeted text messaging are being used along with volunteers on the ground and support of local leaders to reach out to the electorate. There are over a 1000 volunteers participating, designing applications and physically reaching out to voters. One such mobile application designed in the early days of campaigning is 'Hawk Eye' which combines all the data available publicly and with by civil society groups to give volunteers information they would need while visiting a ward - issues, the corporator who won and by what margin, how much of the allocated funds for the area have been spent, and so on.
Technology is clearly being leveraged in a big way. A youtube channel completely run by volunteers posts videos on Nilekani, a missed call campaign is on to solicit ideas from the public on a constitiuency specific manifesto, several blogs highlight the work done by Nilekani, professionals networking site LinkedIn is used to connect with professionals in the constituency and Nilekani's team uses WhatsApp for all communication.
"This time I will vote for Congress, Nandan Nilekani is a good man," says Kumar, a 37 year old businessman who runs a mobile phones store in JP Nagar in South Bangalore, as he stands outside his home with his family and looks on at Nilekani going in a truck waving as seasoned politicians do. A resident of this middle and upper middle class neighbourhood, Kumar has almost always voted for the Bhartiya Janata Party's five time winning candidate Ananth Kumar, but this time he wants to give Nilekani a chance. Meanwhile, just a few blocks away, in a Muslim-dominated rural neighbourhood, onlookers confuse Nilekani with their local Muslim leader.
"There are 18 lakh voters, managing a campaign is a huge logistical exercise. You have to understand the voter dynamics because here there is no second chance," sums up Nilekani as he gets ready for another meeting.
---
MEERA SANYAL
Party: Aam Aadmi Party
Constituency: Mumbai South
Total Assets: Rs 15.8 crore
THE GAME PLAN
>> Organise "Swaraj Baithak" - small gathering of people in different localities
>> Train and bus yatras, door-to-door campaigns, besides tapping into social media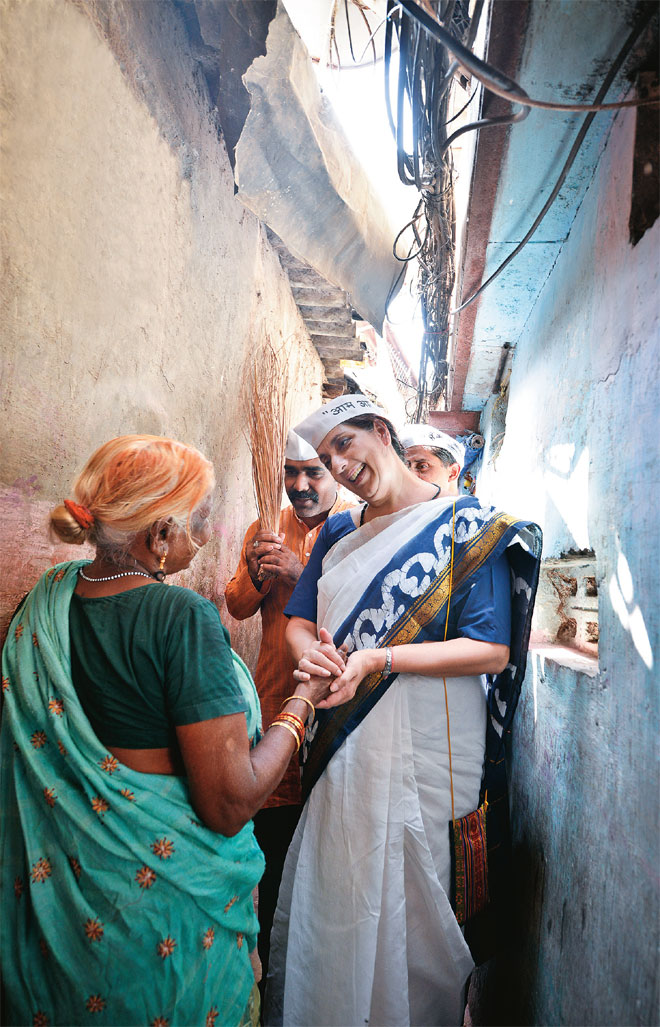 High profile former banker Meera Sanyal is taking the plunge into electoral politics again, this time as an AAP candidate from South Mumbai. For her the rough and tumble of politics is not a new experience. She had fought in 2009 from the same constituency as an independent and lost to Congress's Milind Deora.
Sanyal, former CEO and chairman of the Royal Bank of Scotland's India operations, is using her experience in managing large teams to chalk out an election campaign that is 'lean and easy to manage'. Her core team consists of people with diverse experience, from doctors to company executives. "A diverse team consisting of talented individuals, and bound together by a common objective, can move mountains by bringing much-needed change to politics," says Sanyal.
Sanyal has her own preferred mode of reaching out to the people. She calls it "Swaraj Baithak" - small gathering of people in different localities of her urban Mumbai constituency. This helps her in directly interacting with the voters and winning them over. She supplements this with the more mundane train and bus yatras, door to door campaigns along with the use of social media and the traditional media. "Each medium appeals to a different part of the constituency so we are using each channel as effectively as we can," she says of her strategy.
Vishwajeet Sangle is the man who organises every rally for Sanyal. Tall and lanky, he looks almost like a plainclothes policeman when in shades. Sangle has been recruiting people on behalf of Ma Foi Randstad - the multinational HR firm that hires people for large companies - in the past.
Dr Mona Patel Shah, an ophthalmologist by profession, is another key member of Sanyal's team. She is the convener of rallies in South Mumbai's slums and interacts with voters directly. At a recent "Swaraj Baithak attended by Business Today in a South Mumbai slum, Shah could be seen speaking in clear Marathi to 60-something Meenatai. She explained patiently to the Marathi voter how AAP will try and solve the problems of the voters in the constituency. "Such an entrenched system of subsidies and freebies is a very difficult thing to break," she says later, pointing out the challenges before AAP in brining in good governance.
Funding Sanyal's well planned campaign, however, remains a problem. AAP still depends on its hardcore supporters for funds. "All these movements take their own time (to mature)," says Shah. People like Rohan Hazare, the 30-something executive at ICICI-Prudential, are major fund raisers for AAP. Hazare, who came to his first AAP event in January this year, says he keeps in touch with the party events the way he keeps in touch with friends - through Facebook.
But Sanyal feels her campaign is striking a chord with the voters in South Mumbai and such problems won't prevent her from winning on May 16, when the votes are counted.
---
V.BALAKRISHNAN
Party: Aam Aadmi Party
Constituency: Central Bangalore
Total Assets: Rs 180 crore
THE GAME PLAN
>> Harp on the themes of corruption and change
>> Reach out to voters over phone and email
Another former Infoscion is trying his luck at the hustings, also from Bangalore. V. Balakrishnan, former chief financial officer at Infosys is contesting from Central Bangalore on an Aam Aadmi Party (AAP) ticket. Dressed in a pair of jeans and a bright orange kurta with the quintessential AAP cap, 'Bala', as he is popularly known, appears relaxed for a candidate who barely has a few weeks to influence voters. "I think 30 days are enough," he says.
Bala joined AAP on the first of January and subsequently announced it to the world on Twitter. Business Today met Bala when he was barely two days into campaigning and was in the process of putting his team together. Armed with over 40,000 party volunteers, Bala began his morning at 7:30 am by going on a bus ride to Whitefield, the hub for all IT offices in Bangalore. His campaign manager, a former army officer, Major Aditi Mohan, 39, with a decade of experience in managing logistics, has it all planned - from using social media effectively to chalking out his padyatras.
The party has a full database of the electorate with email ids and phone numbers which is being used for micro messaging. Meanwhile, Bala is using WhatsApp to send out personal messages. "When you work in a corporate your stakeholders are defined, building consensus is tough in a diversified group," he says.
You cannot do without a digital plan if you are contesting from Bangalore. Volunteers are managing the website "aapkabala.com" and ensuring presence on YouTube through advertisements and websites focused on Bangalore.
Bala's messaging is centred around corruption, change and swaraj (self-rule). "You need any more ideas, you need implementable solutions. Honest governance is missing. I think as an outsider I have an advantage since I have no legacy to defend," says the reluctant politician. In fact, Bala only thought about getting into politics after he saw the Aam Aadmi Party take shape. It took him time to convince his wife and family because "in middle class families politics is not the right cause," he says as he gets ready to address a group of women at the city town hall. As he and his party colleagues leave the building that houses the party office there is no bevy of cars or SUVs. Bala hops into his compact car with the AAP candidate from South Bangalore while others just hitch a ride to the town hall.
---
JAYANT SINHA
Party: BJP
Constituency: Hazaribagh
Total Assets: Rs 55 crore
THE GAME PLAN
>> Do weekly surveys of voters to finetune electoral strategy
>> Harness street theatre and social media in a big way
He is the latest entrant from the corporate world into politics but insists he is not a novice. Jayant Sinha, son of former finance minister Yashwant Sinha, is fighting from his father's constituency Hazaribagh on a BJP ticket. Jayant has impressive credentials - he is an MBA from the Harvard Business School and a B.Tech in Chemical Engineering from the Indian Institute of Technology, Delhi. But does that count in the cut and thrust of Indian politics? "Everything that you learn at management, applies very much in politics," he says. "When you lead organisations or people, it comes down to three things: character, trust, and inspirational purpose and this was taught extensively at Harvard."
Yashwant too asserts that Jayant is not a beginner in politics since he has been assisting him in his election campaigns in the past. Indeed Jayant was the campaign manager for his father in the 2009 election and in 2014 Yashwant is his campaign manager. "He has been standing by the side of the river, he has seen me go into it and swim. Jayant is not totally unfamiliar with the constituency, people and politics and has picked up very fast," he says. "He will be able to bring a fresh look. People who have been in politics for a long time are not able to bring any fresh thinking, any systemic improvement."
Jayant was Managing Director and Partner at investment firm Omidyar Network in his last corporate stint which ended in February this year. He has more than twenty years of experience in investing and strategy consulting and earlier was a part of Courage Capital Management, an investment advisor, and McKinsey & Company. "In investing the scarce resource is always capital and one has to look for the highest return. In politics the scarce resource is time. So you have to plan your time in such a way that you get the maximum possible payoff in terms of votes," says Jayant.
Jayant's team consists of a group of financial and sales professionals who have taken a break from work for a month and volunteered to be a part of the campaign. Also on board are 10 highly motivated youngsters from nearby villages, a full time accountant and a Hindi writer. A call centre has been set up for booth and supporter feedback. Yashwant's office in Demotand village has been taken over by Jayant's team which is working to make it a cutting edge campaign. Debriefs with Jayant happen past midnight to take stock of the campaign. The team does weekly surveys and random sampling of booths - on issues and voting behaviour - to chalk out future strategies. They have also using street theatre, targeted SMS and social media in a big way to their campaign.
The fundamental thing to understand is that a campaign is a massive exercise, points out Jayant. He cites the example of his constituency which has 1,800 booths. "We have ten party workers per booth. For sixty days we have to manage 60,000 people. All the issues of organisation, recruitment, management, motivation, monitoring and tracking come into play," says Jayant. In addition to management one has to be deeply involved in marketing and communicating with the media, he adds.
With 10 hour long padyatras and road shows and a couple of hours of sleep every day, Jayant is making his connect with the electorate. "I am enjoying every bit of it. I draw energy from being with people and provide them what they are looking for. That to me is very fundamental."
BJP workers stress that Yashwant and Jayant form an effective partnership. They cite the example of a booth management system introduced by the two in 2009. It was Yashwant's idea executed by Jayant. "After the election is over the booth committees become vikas samitees (development committtes). In their booth they come to us with five proposals on how they can improve things in the community. We have set up a computerized system to track those proposals and sanction capital through the MP local area development fund," says Jayant. "We have sent out 1,400 projects in the last five years. And that is why our booth committees have become permanent fixtures."
But Jayant clearly has his work cut out. He has to live up to the high expectations of the voters who constantly compare him with his father. "Sir ki baat hee alag hai (Yashwant is in a different league). His style of talking is very impressive," says Rishikesh Singh, 43, a BJP worker in the Ramgarh district of the Hazaribagh constituency. Singh's views were echoed by several others in the constituency to Business Today.
Ramu Saw, 52, who runs a kirana shop at Ramgarh in Hazaribagh district says he will miss 'Sir' (Yashwant). While he doesn't know Yashwant Sinha personally, he has followed his political career closely through newspapers. Saw says that the charisma of senior Sinha set him apart from his competitors. "Baap baap hai, aur beta beta. Unkey level tak aane mein samay lageyga," he says. (Jayant will take time to reach the level of his father).
Jayant admits that an area he will like to improve on is public speaking. Having spent nearly twenty years in the US, Jayant has communicated throughout his professional life entirely in English. "I am an effective communicator in English but the challenge is to become an effective communicator in Hindi."
Jayant thinks in English and has to speak in Hindi now, says Jayant's mother Nilima. The first time she heard him give a speech in Hindi was when he filed his nomination papers. "I was apprehensive whether his speech will click with the audience. I felt good about it as he was able to make his point clearly and he had a specific six point agenda to offer to the people of Hazaribagh," she says. "When we first came here people were a bit disappointed and wanted Yashwant Sinha to stand from here but after the nomination was filed and the speech the apprehensions of people were dispelled," she adds.
So what are Jayant's chances? "He is the new boy in the contest. A gift for the constituency. Others in the contest are old and have lost elections. There is no charm about them," says 78 year old Kashi Lal Agarwal who has worked very closely with Yashwant Sinha since 1989. We'll know soon whether Jayant was able to charm Hazaribagh.
---
JAYADEV GALLA
Party: TDP
Constituency: Guntur
Total Assets: Rs 580 crore
THE GAME PLAN
>> Highlight the specific plans for the constituency in his manifesto
>> Leverage his family's links with the region
Uppalapadu is a quite village near Guntur city in Andhra Pradesh. It is a little over 300 kilometres from the state capital Hyderabad. Known for its bird sanctuary, Uppalapadu had an unusual visitor on a recent hot March morning as Sowmya Boddu, 14 and her friends at the local Zilla Parishad school soon found out. A leader aspiring to enter the Indian Parliament from this region had come calling. "Thrilling," is how a beaming Boddu described to Business Today the brief meeting that she and her friends had with Jayadev Galla, Vice Chairman and Managing Director of Amara Raja Batteries who is contesting the Lok Sabha elections from Guntur. He is a candidate of the Telugu Desam Party, a party led by Nara Chandrababu Naidu, the former chief minister of Andhra Pradesh.
This ninth-grade student has never seen the head honcho of any company and never ever met anybody who could some day perhaps become a Member of Parliament. The meeting was an equally new experience for Galla, making his foray into politics in this election. Galla's mother, Galla Aruna Kumari, has been a state minister, but "...this is the first time that I am participating as a candidate and that too for a parliamentary seat," says Galla
Galla believes his learnings in the corporate world will stand him in good stead in politics as well. "We are in public service here but at one level a voter is no different from a customer. You need to know him or her well enough to deliver customised solutions for the target groups," he says. His core research team of 12 people - professionals, who are either his friends, well wishers or have worked with him at some point - conducted surveys of the region and mapped the 14 lakh electorate. The focus groups are women, youth, farm labour, senior citizens and professionals.
A key member of Galla's team is his friend Lankipalle Mahadeva Naidu. He has known the Galla family for a long time and runs his own packaged mineral water company. An expert in supply chain management, he is playing a role in helping Galla move his men and material effectively. "In a sense, this is like a start up and will need all the elements of branding, supply chain and people management," says Galla.
Based on the SWOT analysis of each target group, Galla has worked on the strategy for the polls. "If for Amara Raja Batteries the baseline is 'make your batteries last long, really long', in my case, it is 'mundu adugu' (Telugu for a forward step) with the promise being 'if you vote for me you take a step forward' and along with this, my vision is 'a job for every home'", says Galla, the former chairman of the Andhra Pradesh chapter of the Confederation of Indian Industry (CII). As part of his game plan to reach out to the different constituents of the electorate, Galla has drawn up a manifesto for Guntur, including specific plans for each of the seven assembly segments falling within it.
Clearly Galla's team seems to have done its homework well. He may not be aware that Sowmya Boddu aspires to become a doctor but his manifesto does point out that there are "146 (10 per cent) schools without drinking water in this constituency. Female literacy rate in Guntur District is about 60 per cent however only 30.3 per cent of the women are working. Improving the conditions of the schools and providing skills training will contribute to the overall upliftment of women and the girl child."
On the ground, Galla is hoping to leverage his family links with the region. His father-in-law is Krishna, one of the Telugu cinema's top heroes of yesteryears who hails from the Tenali mandal of Guntur. Krishna's son and Galla's brother-in-law Mahesh Babu is today one of the biggest stars of the Telugu cinema industry.
But Galla has also been in the news recently for the wrong reasons. A Central Bureau of Investigation court has ordered a probe against Galla, his mother and wife for alleged encroachment of prime government land in Hyderabad. Galla though dismisses the case as politically motivated.
(Follow the authors on Twitter: @shwetapunj; @suprotip; @sarikamalhotra2; @EKumarSharma)