Remastered joy
Bibek Bhattacharya May 12, 2008
THE COMPLETE MOTOWN SINGLES
1959 TO 1971
This is a mammoth undertaking. The first and the most successful of all independent music labels was launched in downtown Detroit in 1959. Over the next decade, Motown would go on to become an iconic hit-making machine, patenting its sound of soul-pop with such brilliant songs that the "Motown sound" would enter the dictionary. The label's '60s output is so vast that it couldn't possibly fit into a single box-set. Instead, you have year-by-year collections of all the singles issued by the label. Thus, you get the hits everyone knows, from Dancing In The Streets by Martha and the Vandellas to I Want You Back by The Jackson Five, as well as countless unknown gems. As each year is represented by a six-CD set, it's an insane task to try and collect all, unless you are a collector. For your money, buy the 1965 set, when Motown ruled the pop charts and the songwriting team of Holland-Dozier-Holland was in its prime.
Hip-O Select

THE ROLLING STONES
Beggar's Banquet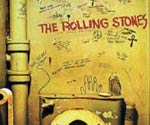 When this seminal album was released in 1968, it captured the imagination of protesting youth all over the world. Millions rocked to the teasing, baiting, dangerously anti-establishment barbs in the image-defining Sympathy For The Devil and Street Fighting Man.
Beggar's Banquet is the distillation of the finest rock-'n'roll from the '60s. Early CD versions lost the original mix of the sound resulting in a flat lower-fidelity recording. With the development of the Super Audio CD (SACD), ABKCO (the publishing company holding the rights to all its '60s albums), has re-mastered and released the album in its original glory, along with the rest of its '60s catalogue.
ABKCO Records

THE SMALL FACES
The Small Faces
This was a true cult band. Although the band released only three proper studio albums, each is a classic, none more so than its debut album. The gifted singerguitarist Steve Marriott dominates the album, full of loud guitars, feedback and some truly moving white soul singing. The band's heroes were soul legends like Sam Cooke, and Booker T and The MGs. This remastered version of this album, featuring tracks like Shake, What'cha Gonna Do About It and Sha La La La Lee improves the sound over the thin-sounding original CD versions. If you've heard the original vinyl version of the album, you'll be surprised how faithful this recording is to the original.
Decca Records