Bullion, crude to trade lower in the coming fortnight
Naveen Mathur December 29, 2014
Non-Agri Commodities
On a fortnightly basis, global equity markets traded on a positive note on account of favorable economic growth data from the US hinting towards signs of progress in the world's largest economy. Optimistic economic data from other major global economies acted as a positive factor. However, less volatility was observed as major markets were closed on the eve of Christmas and for Boxing Day holidays.
The
Indian rupee
depreciated by more than 1.5 per cent on account of dollar demand from oil companies and importers. Further, foreign investors booking profit ahead of the New Year contributed to the downside movement in the currency. However, selling of dollars by the central bank prevented a sharp fall of the currency.
In the past fortnight, spot gold prices declined by 2.25 per cent and MCX gold prices declined by 0.5 per cent. Markets remain worried that the US Federal Reserve may remove the phrase "considerable time" before raising interest rates.
As per market expectations following the US Federal Reserve's signal that it remained on track to raise interest rates in 2015. Investor holdings in exchange-traded funds backed by gold were the lowest since 2009, and $7.68 billion has been wiped from the value of the funds in 2014, indicated towards falling investment demand for the yellow metal.
Strong US growth data lifted the dollar, and gold prices were vulnerable to more losses as appetite for risk boosted equities. The US economy grew at a 5 per cent clip in the third quarter, its quickest pace in 11 years and the strongest sign yet that growth has decisively shifted into higher gear.
International spot silver prices also traded negative by 5.71 per cent and MCX silver prices declined by around 3.6 per cent in the past fortnight. The dollar index is at its highest point in the last nine years. Good economic data from the US is resulting in the strengthening of the dollar, in turn exerting downside pressure on silver prices.
LME Copper prices plunged by 2.7 per cent during the last fortnight owing to rising supply concerns as China showed copper output gaining 3.1 per cent in November from the previous month, hitting a record for the fourth straight month.
In addition, China's new home prices fell again in November as the market continued to defy government efforts to revive it. Also, US home resales tumbled to a six-month low in November after two straight months of strong increases.
However, an upbeat assessment of the US economy and a promise to be patient in raising rates by the Federal Reserve, robust GDP data for Q32014 along with return of risk appetite in the markets after Russia managed to stabilize its ruble and oil prices restricted sharp fall. MCX copper prices fell by 2.5 per cent in the last fifteen days in line with weakness in the international markets.
WTI and Brent oil prices lost have declined by 5.33 and 3.88 per cent in the past fortnight while MCX oil prices also lost its value by 2.5 per cent in the same time frame.
Bearish trend continue in this commodity as the oil markets are filled with ample supplies with bleak demand scenario. The minister of Saudi Arabia who oversees the world's largest exporter of crude said in an interview that even if the price of oil fell to $20 per barrel the kingdom would do nothing to arrest the decline.
The comment is the latest signal that the largest oil producer is unlikely to cut production in response to a massive drop in prices. Although the US GDP is growing at the fastest rate of economic growth in 11 years it did not offer any respite to falling prices. Oil prices tested new lows after US data showed crude inventories unexpectedly rose by 7.3 million barrels last week to their highest December level on record.
Outlook
We expect gold and silver prices to trade lower in the coming fortnight as the US GDP growth of 5 per cent in the third quarter will provide room for the Federal Reserve to raise interest rates sooner in 2015 exerting downside pressure on prices.
Crude oil will continue its weakness as Saudi Arabia is reluctant to cut its output whatever may be the price. This indicates their interest towards acquiring market share and put a break on growing shale supplies in the US.
Base metals are likely to trade lower in the coming fortnight owing to estimates of weak manufacturing data from China and the US, world's biggest consumers. Also, persistent demand concerns from China will continue to drag prices lower.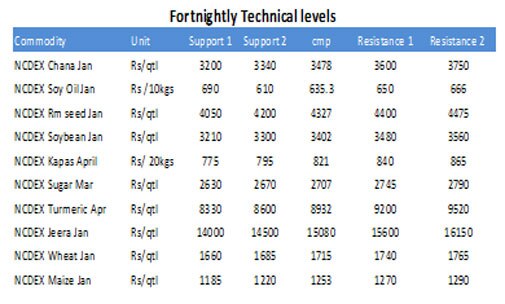 Agri Commodities
Chana: - In pulses counter we saw a sharp appreciation on NCDEX Chana in the last fortnight. In the fortnight prices opened at 3080 levels and during the fortnight price had made a new contract high of 3495 levels. However it touched the low of 3121 levels. We have seen in the starting of the fortnight due to speculators enlarged positions amid a firm trend at spot market on rising demand. In the mid of the fortnight we have witnessed high prices Amid report of decline in sowing area and crop output this year, future of chana appears bullish. We have notices liquidation in physical market as the arrival of imported yellow chickpeas. We have noticed India imports dried peas and chickpeas from Australia and Tanzania and the total import figure for the year 2014-15 stood around Rs 1.10 lakh metric tonne, much less than 2.76 lakh mn tonne the previous year.
As far as concerned about the sowing of the crop, it has been very sluggish during the current rabi season. Area covered only 75.15 lakh hectare which is 16% lower than the same period previous year. The Department of Revenue in consultation with the Ministry of Agriculture proposes a 10% import duty on gram or generally referred to as chick peas or chana.
For further movement the data of crop and the figures of acreage will provide the direction to pulses prices. However domestic demand will provide support to the prices of Chana.
Edible oils: - We saw a sharp increase in domestic edible oil segment due to 5% increase in customs duty on crude oil and refined edible oil. In the international markets the prices has improved due to the Chinese demand projections. However global Soybean production is projected at a record 312.8 mt in Dec 2014/15 up 9.6% compared to 2013/14 estimates. During the month there is gain in production data for Canada, Ukraine and Paraguay. Global oilseed production for 2014/15 is projected at a record 530.7 million tons, up 1.8 million tons from last month. Global oilseed ending stocks are projected at 104.1 million tons, up 1.1 million from last month and 23.5 million above year-earlier levels.
Traders are also expecting that US. Export demand prospects are improving and at the same time cold weather in the US is boosting demand for animal food.
Sugar: - We have witnessed a range bound movement in the sugar prices. The sugar output as on 15th Dec 2014 stood at 42.25 lakh tons a rise of 46.9% higher as compared to last year. 442 sugar mills have started crushing of the cane as against 426 mills in the same period previous year.
With sugar production all set to outstrip demand for the fifth year in a row and huge carry-over stocks, the outlook for 2015 appears no different. Not only the domestic surplus, the industry is also worried that Brazil, the world's largest producer, could shift more sugarcane for sugar output than ethanol in view of steep fall in global crude oil prices
We are expecting that sugar prices will trade on a negative note due to commencement of crushing of sugarcane in UP and ample supplies of sugar carry over stock in physical market and bumper global output.
Spices: - Last fortnight we saw a huge momentum in spice segment. Jeera has witnessed a high volatility due to drop in acreage by about 44% in Gujarat, fresh export demand and flat arrival in the physical market. Continuously Geopolitical tension in turkey and Syria diverted the demand towards India for export inquiries.
Turmeric also bounced in the fortnight due to good quality of arrivals and demand from north India due to starting of marriage season. As per trade sources that crop in Nizamabad and Maharashtra might be 12%-13% lower, which may support the prices. Dhaniya traded on a mixed to negative note on sluggish trading activity and reports of record sowing in Gujarat. As per the market traders arrival of the commodity in the market stood at 2.5 lakh tons as against 12 lakh tons in the same period previous year.
We are expecting spices segment will trade on a positive note on account of Export inquiries in Jeera and good demand in Turmeric. Dhaniya will trade as same in mixed note on expectation of good supplies and lower levels demand.mosimage