India's 20 most wired
May 12, 2008
Can information technology be transformational? Without doubt, yes. And here are 20 examples to prove it. Among them: a poultry firm that's using IT to lower costs and get to the market faster; an eye hospital that's handling a flood of patients without breaking a sweat; an IT institute that's wired to the core; and even an NGO that's using DVDs to take quality instruction to village schools. Like last year (this is our fifth listing of Most Wired Companies), we spoke to a variety of technology experts and vendors to compile the list of 20 most savvy users of IT in the country. Companies or institutions that have featured in any of our previous three listings were excluded, and those with the most imagination—and not necessarily the biggest IT budget—selected.
Mundra Port
Global gateway on the West Coast
Most shipping lines dread dropping anchor at Indian ports. Reason: turnaround can take days compared to a few hours in other ports elsewhere in the world. But at Gautam Adani's Mundra Port in Gujarat, big companies such as Maruti Suzuki, HPCL, IOC and Tata Power are queuing up to do business. What's unique about this new generation, allweather private port is its fully-mechanised and efficient cargo handling facilities. "We have implemented IT solutions like Integrated Port Management System (IPMS), which provides operational information on various activities of the port on a real-time basis," says Rajeeva Sinha, Director, Mundra Port & SEZ.
The 10-year-old port also offers a single-window clearance to customers. In fact, systems like IPMS allow management to monitor and initiate intervention on a continuous basis to improve efficiency. "The IPMS is dovetailed into our ERP system. This dovetailing allows us to capture all activities and plan in advance for procurement and expansion," explains Sinha.
The port's USP is its fast turnaround of ships. Equipped with eight multi-purpose and four container berths, the port helps ships discharge 25-30,000 tonnes in just two-and-a-half days whereas many other ports take more than a week to do so. "We are handling more than 28 million tonnes a year and have plans to handle 50 million tonnes by 2010," says Sinha. The port is also building a dedicated car terminal for Maruti Suzuki that will allow the car maker to load 4,000 cars in an hour (currently it takes half a day to a day at other ports). It looks like India's first world-class port is in the making.
—Anand Adhikari
Asian Paints
A colour for every one
How messy could be the business of selling paints to retail consumers? Extremely, if the number of potential colour shades that customers could ask for is as much as 1,500. No wonder then, India's largest paint company is leveraging information technology to connect better with its customers. "From investing in back-end IT we are now investing heavily in IT that touches our customers," says Manish Choksi, Chief, Corporate Strategy and IT, at Asian Paints. The company's most recent initiative, barely six months old, is to arm its 'territory sales in charge' (TSIs) with PDAs and laptops so that the paint maker connects directly with consumers. "TSIs are now connected to the company on a real-time basis to source or transfer information on a secure platform," says Choksi. The PDAs, which run on Bharti's GPRS network, have connected all of Asian Paints' 550 TSIs with its 19,000 retailers.
For 'large project' sales, where the customers are hotels, builders, or housing societies, the company has provided TSIs with laptops as they need full scale technical data, pricing, quotation letter etc., while talking to a customer at the site. This real-time information transfer also allows the company to map all the opportunities in the market in terms of demand for a particular product. The company has a tie-up with Reliance Communications' CDMA network for data transfer since the quantum of information to be accessed is much more for project sales. Such automation has already been done in about 15 key cities, but Choksi says the idea is to push it across the country.
—Anand Adhikari
Axis Bank
Virtual banker
Northern highway, 63 Mountain Brigade Headquarters, between Changu (Tsomgo Lake) and Nathu-La Pass, Thegu, Gangtok." As you may have guessed it, Thegu is best known as a base for the Indian Army's 17th Mountain Division, but over the last four years, it has earned a name for being home to the world's highest altitude automated teller machine—from Axis Bank. At 13,200 ft above sea level, it beats the State Bank of India's ATM at Leh, which is 11,500 ft, by several hundred feet.
India's third-largest private bank, Axis Bank (formerly UTI Bank) has been using IT to good effect. For instance, its 2,674 ATMs account for 90 per cent of all transactions that take place in savings accounts. Its ATMs also allow customers to pay LIC premium or buy mutual funds. "ATM installation has become a routine affair for us," says V.K. Ramani, President (IT), Axis Bank. Now, Ramani is more excited about mobile banking.
"We have a customer base of 7 million, where 25-30 per cent have already opted for mobile banking services," reveals Ramani. The bank, which has 670 branches, is conducting pilot tests for more mbanking solutions to cope with the 30-35 per cent growth in demand for m-banking (money transfer is not yet allowed). Ramani is also pushing i-banking because he wants to cater to the bank's younger customers. But IT at Axis Bank isn't about just convenience; sophisticated analytics tools help it keep its bad loans at near zero.

—Anand Adhikari
Bescom
Powering Bangalore on
It is quite easy to give up on a sector that is hijacked by politics of populism. But Bangalore Electricity Supply Company (Bescom) is not just holding on, it is pushing itself hard to squeeze out as much efficiency as it can. In 2007-08, for instance, the state-owned utility earned Rs 275 crore more by selling the same amount of energy as the year before. How did Bescom do it? Its executives say the utility's focus is on reducing T&D (transmission and distribution) losses and increasing metered sale. Last year, Bescom, which serves eight districts, including Bangalore, cut its distribution losses to 17.5 per cent from 23 per cent in 2006-07. In the case of Bangalore, the figure is already down to 9 per cent—one of the lowest in the country.
If Bescom is turning around in a sector notorious for bankrupt utilities, it's because it constantly upgrades technology where it can. It has, for example, adopted programme logic control (PLC) to segregate agriculture load from non-agriculture load under its rural load management scheme (RLMS). The PLC restricts supply to irrigation pump sets but ensures supply to rural homes. At another level, the utility uses real-time remote automatic metre reading (RRAMR) to constantly monitor consumption trends among 'High Tension' consumers and high-end 'Low Tension' consumers. This checks tampering too. Besides, energy audits at the point of distribution transformers and high-precision metres at the consumer end have kept a tab on thefts, while spot billing and easy payment options like ATP (any time payment) kiosks have improved collections.
Bescom's next leap? It has set out to automate power supply for the whole of Bangalore. Once that happens, the average interruptions in the city are expected to drop from 84 hours per year per feeder to four hours per year per feeder.
That should be one bright spot in the city's otherwise gloomy infrastructure scenario.

—K.R. Balasubramanyam
Central Board of Direct Taxation
Taxman's new tool
High growth rates have helped. Changes in attitude have also helped. Above all, information systems and technology have helped the most." That's how Finance Minister P. Chidambaram started on his tax proposals in his Budget 2008 speech and went on to announce tax cuts. So indirectly, Indians have computerisation to thank for paying lower taxes this year.
Computers are not new at CBDT, which oversees a taxpayer base of almost 30 million. The organisation took its first steps towards becoming 'e-enabled' over a decade ago, when it started using IT for relatively simple tasks such as making digital records. However, saddled with hundreds of millions of files, digitisation was a massive challenge for the department. Instead of trying to bite off everything at once, CBDT started with digitising its records and is now connecting all its offices. The exercise has taken more than 11 years and Rs 500 crore in investment.
But as Nipun Mehrotra, General Manager, Global Technical Services, IBM India explains, the main aim of the work undertaken at CBDT (by IBM) is to properly network the organisation. "CBDT is a huge organisation, you have 745 offices spread over 510 cities working under 33 commissariates, and almost all the data was isolated. It was impossible for the government to study the data properly," says Mehrotra. Armed with data and analytics, CBDT has turned into a money-spinner for the FM.

—Kushan Mitra
Digital Studyhall
Beauty in simplicity
While the country waits for universal broadband to deliver quality education through the internet, here's an NGO that is physically distributing digital video content to expand the reach of quality education to underprivileged children. Says Urvashi Sahni, co-founder, Digital StudyHall (DSH): "We digitally record live classes by the best grass roots teachers on different subjects and distribute them on DVDs to schools in semi-urban and rural areas."
Nothing hi-tech about it, but the fact is DSH is using technology innovatively to address a pressing problem. DSH, which started operating in July 2005, works on a hub-and-spoke model, where the resource-rich urban school in the hub records and dispatches DVDs every second day to the resource-poor village and slum schools (the spokes). Says Sahni, 53: "As of today, DSH runs hubs in four cities—Lucknow, Kolkata, Pune and Dhaka—covering approximately 30 schools and over 6,000 students across different areas in Maharashtra, Uttar Pradesh, Kolkata and Dhaka." Each spoke school is given at least a TV and a DVD player.
At last count, DSH had accumulated more than 550 recordings of lessons in English, maths, science, environment, Hindi, Marathi, and Bengali catering to students from standard I to VIII. "Deployment of DSH has not only helped students but also the teachers in rural schools to improve their knowledge," says Sahni, who co-founded DSH with Randy Wang, a friend and former colleague at UC Berkeley. With financial support from Microsoft Research, University of Washington and National Science Foundation, DSH expects to go places.
— Manu Kaushik
Eicher Motors
Wired up for a fight
A few years ago, the country's third largest maker of commercial vehicles decided that it needed to smoothen out its system if it had to make a dent in the duopoly (of Tata Motors and Ashok Leyland) that reigned in the commercial vehicles market. But spread out over four manufacturing units, 49 offices, 142 dealers and supplied by 308 vendors, the company realised the task would be Herculean. To get round the problem, Eicher decided to host application.
"While all our dealers and vendors are hooked into the network, we realised that network connectivity would be difficult since several of our dealers are located in remote local areas," explains Ajay Khanna, Head of IT at Eicher.
The company innovated with the Eicher Portal for Information and Collaboration (EPIC), a company-wide portal that deploys both internal and external processes onto a light web-based server that allows users (dealers, vendors and sales teams) in far-flung locations the ability to log into the company's system. It has deployed a unique Executive Information System (EIS) which automatically picks up trends and data from the system whenever it is required. While Eicher could not quantify benefits that have accrued in manufacturing processes, it says the time taken for employee-centric processes is down by 40 per cent.
Besides improvements in workflow, Eicher has managed a reduction in manpower. "But we still have a long way to go," Khanna admits, "technology is constantly evolving and the worst thing is that there is often little stability." Eicher is currently working on a pilot project with radiofrequency (RFID) tags for inventory management. "I believe we can make our systems the best in the industry," he says. Ultimately, Eicher's objective is to become more competitive in the marketplace.

—Kushan Mitra
Genpact
Tech with human touch
It's an industry made possible by Information technology, so it comes as no surprise that Genpact, India's largest BPO, uses technology to not just improve productivity and business but also to make life easier for its hard-to-retain employees. "Our transport management system—Wheels—sends SMS to our employees informing them of times for pick-up and drop and everything else that they need to know about office transport," says S.V. Ramana, Chief Technology Officer, Genpact. "That's using technology to provide human touch, in addition to optimising routes and bringing efficiency in utilising our cabs."
Parichay, an online employee reference system, has helped Genpact cut recruitment costs by 40 per cent —another instance of technology dovetailing smoothly and profitably into human networks. There is, of course, the online learning management system for ensuring that employees learn efficiently the skills they need to perform their jobs.
Deploying Dialler, a technology that puts in waiting the phone calls where the customer is not ready to take the call, has helped the company save 30 per cent in costs of bandwidth usage, says Ramana. Given that it operates in a 24/7 environment, Genpact has built a lot of redundancy into its network. For example, it has been using two different gateways (Mumbai and Chennai), multiple carriers (BT, AT&T, Cable & Wireless), and multiple service providers (Bharti Airtel, Tata Tele, VSNL, and BSNL). "What all that means is that we minimise downtime," explains Ramana. Surely, that's one more thing its customers like about Genpact.

—Kapil Bajaj
GMR Hyderabad International Airport
Fly by wire
There is cute, there is CUSS and there is an AODB too. Talk tech solutions and the list of abbreviations seems to go on at the newly-built Rajiv Gandhi International Airport in Hyderabad. "The airport—operational since March this year—deploys an integrated solution that captures any transaction happening in and around the airport, including data collection from air traffic control (ATC) and stored in Airport Operational Database (AODB)," says Viswanath Attaluri, Chief Commercial Officer, GMR Hyderabad International Airport Limited (GHIAL). CUTE, he explains, is 'Common User Terminal Equipment', meant to increase or decrease the counters based on the requirement.
This reduces the service time per customer. And CUSS is 'Common User Self Service', a multi-airline link available at kiosks (to put it simply, any airline can use one of the kiosks and a passenger could technically key in the flight and other details and get a print-out of the boarding card).
Then there are different flight information display systems. For instance, there is an intelligent public addressing system that allows area-specific announcements. "The technology solutions that are being implemented at this airport are a first for India," says Attaluri. While that has cost 8 to 10 per cent of the total project outlay of Rs 2,478 crore, GMR officials claim hi-tech has helped them reduce average check-in time for passengers by 10 to 15 per cent. In a country where most of the older airports are in a state of chaos, GHIAL's hi-tech environs come as a blessing.

—E. Kumar Sharma
ICICI Direct
Direct to D-street
From the time it was set up in 2001, online trading player ICICI Direct has had a meteoric growth. Today, it has 15 lakh accounts and, on an average, it does 3.5 lakh transactions every day. To do transaction volumes of that magnitude, it is imperative to have a high-quality IT infrastructure supported by an equally dependable backend as well. "The reason for our dependence on IT is simply because it is the most efficient way of creating, communicating and delivering value," says ICICI Securities' Executive Director, Anup Bagchi.
ICICI Securities reaches the retail segment through its brands, ICICI Direct and ICICIdirect.com. Bagchi outlines four key components in the online trading story—having financial literacy, giving out advice, executing transactions and finally making sure there is settlement. "All these existed earlier and it was important to bring them all together. Without the internet and IT, it would have been impossible," he says. ICICI Direct gets across to 385 cities, although getting across to Tier 3 and Tier 4 cities is a problem due to poor last mile connectivity, says Bagchi.
Much like banks, ICICI Direct is looking seriously at the next big opportunity: mobile trading. "If the security issue can be handled, then mobile could overtake the internet as far as small content goes. This could be for something like the price of a stock or the value of a portfolio," says Bagchi. While ICICI Direct's current growth looks quite alright, Bagchi says that the challenge going forward will be one of synchronisation. "Everything has to work well together," he says. But the good thing is, over time, the firm's IT backbone has only become stronger.
—Krishna Gopalan
IIIT-B
Learning on the move
T. Lakshmi, a recent student at International Institute of Information Technology Bangalore (IIIT-B), would rush to Chennai every second week to visit her doctor. She had health problems requiring visits to Chennai off and on. But as a student, she could ill-afford to miss classes and lose a year. What bailed her out of her crisis were the classroom lectures her institution had recorded and digitised. Thanks to technology, she attended her lost classes online and came out with flying colours in the exams. She now works for Oracle in Chennai. "We always see how technology can help all the four aspects of learning— lecture, library, lab and life—and integrate them," says S. Sadagopan, Director of IIIT-B.
Starting this year, IIIT-B's entrance exams have gone online. And so have its admission processes. If there is one aspect of IIIT-B's affairs that is still not in the realm of online, that's semester exams. Sadagopan has already experimented with it, but does not seem keen on denying his students the experience of conventional exam.
IIIT-B students are lucky in more ways than one. The laptops that they carry treble up as a digital library, lab, and a virtual classroom with recorded lectures accessible at the click of a mouse. After their course too, they walk away with a marksheet that's protected with the latest 2D barcode, introduced this year. That will spare their employers the tortuous verification process—they can simply verify the mark sheet online. What's next on Sadagopan's mind? Well, he is working on taking placements online from next year.

—K.R. Balasubramanyam
IRCTC
A ticket to ride
Guess who runs the country's largest e-commerce website? Here's the surprising answer: it is the government-owned Indian Railways Catering and Tourism Corporation (IRCTC).
The portal—www.irctc.co.in—is an online rail ticket reservation platform for booking two types of tickets— i-Ticket and e-Ticket. In the case of i-Ticket, when a customer books a ticket, it is printed from IRCTC's operation centre and subsequently delivered to the user's home or office in over 200 cities across the country within 24 hours. For e-ticket, customers can book rail tickets online on making payments either by credit cards or debit cards and print it at home. IRCTC also offers net banking facility to users who have their accounts in one of more than 27 partner banks for direct debit payment. "Online ticketing has caught on," quips Nalin Singhal, Managing Director, IRCTC, adding that queues at railway stations for tickets would be a thing of the past in the next couple of years.
Currently, the website is doing transactions averaging Rs 47 lakh a day. Around 78,000 tickets are booked every day, out of which more than 10,000 are printed and dispatched daily. "We are expecting the overall sales to grow at over 200 per cent year-on-year," says Singhal. In order to reach out to customers who do not have credit cards or access to internet, IRCTC is pushing mobile ticketing. Additionally, IRCTC has tied up with Sify to make online railway ticketing services available at cyber cafés on cash payments. The world's largest railway network under one management is, clearly, no laggard when it comes to technology.
—Manu Kaushik
Jindal Steel and Power
A ladleful of tech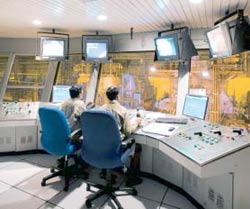 Concern for survival and the desire to go global seem to have sharpened Jindal Steel & Power's instinct for technology. "You cannot survive in the steel industry in the long term without leveraging the state-of-the-art-technology," says Vikrant Gujral, Vice Chairman and CEO of the Rs 3,500-crore Jindal Steel and Power (JSPL), whose recent acquisition of a $2.1-billion (Rs 8,400 crore) Bolivian iron ore mine project made quite a splash in the steel industry.
So, the company has been investing in better steel-making technologies. It makes, for example, 20-metre rails, the world's longest, and is the first to produce in India the hot-rolled parallel flange beams (H-Beams) and columns in medium and large sizes, both in technical collaboration with JFE Engineering Corporation of Japan.
JSPL has also found a way to convert India's highash non-coking coal into coal gas, which is as good as having natural gas, thanks to a technical arrangement with Lurgi of South Africa.
Gujral says JSPL has been going full steam ahead with automating its steel production apart from deploying IT systems (like SAP's ERP) across other functional areas, such as inventory management, marketing, finance and HR. "The Level II automation that we are deploying in our steel plants will give us real-time control of our operations," he says.
—Kapil Bajaj
Madras Cements
Goodbye gut, hello fact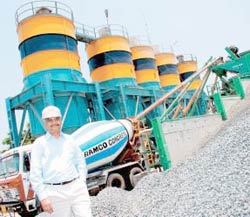 When you place an order with Madras Cements, you get an immediate SMS confirming the order quantity. And soon afterwards you get another SMS detailing the quantity dispatched, the truck number and also the cell phone number of the driver—all handled by the company's ERP system. "Every company has an ERP system but we customised ours to such an extent that, today, all our operational parameters are captured real time thus enabling evidence-based decision making instead of gut feeling,'' says A.V. Dharmakrishnan, Executive Director, Finance, who also heads the company's information technology initiative. Under his guidance, the flagship company of the Rs 3,000-crore Ramco group, also considered to be one of the lowestcost manufacturers of cement in the country, has further leveraged technology to bring about a significant transformation in its operations.
Today, the company has not only achieved enhanced quality but also significant operational and distribution efficiency, which has resulted in an annual savings of Rs 60 crore—a whopping 18 per cent of the company's annual profits of Rs 338 crore in 2006-07. No wonder, management guru C.K. Prahalad chose to feature the company's IT backbone elaborately in his latest book The New Age of Innovation.
—N. Madhavan
Manipal Education
Education anywhere
Over 150,000 students attend classes at the universities of the Manipal Education and Medical Group across the country and overseas in places such as Dubai and Antigua. But as the group looks to extend its reach beyond the brickand-mortar classroom, it is using technology extensively across its network. Sikkim Manipal University, for example, has some 120,000 students taking 50-odd distance education courses from across the country, leveraging some 500 learning centres. "To us, distance education is flexible education across a wide range of subjects. These are delivered in a distance mode using the support of over 500 learning centres," says Anand Sudarshan, Managing Director and Chief Executive Officer of Manipal Education.
The group provides a blended pedagogy, including physical material, local coaching and then it uses technology in two areas, first by using EDUSAT-based VSAT (very small aperture terminal) to beam lectures and finally using the internet to expand its reach. "We want to set up e-communities to enhance the collaboration between student communities," says Sudarshan.
Then, Sikkim Manipal University, Gangtok, uses technology for its examination and testing requirements, covering tests for 120,000 students, on average four or five subjects, totalling around 600,000 tests. "If you have to effectively administer this, you have to go online," says Sudarshan. Sikkim Manipal University has just kicked off this initiative with a round of around 5,000 tests, but plans to eventually cover all students.
Sikkim Manipal University has also put in place technology to enable correction of multiple choice questions and judge essays online. But, as Sudarshan says, building technology infrastructure is the easy part; leveraging this to enhance scale and quality is the challenge.
—Rahul Sachitanand
Moser Baer India
Replication revolution
Some 250 million movie CDs and DVDs are sold in the country every year, and an estimated twothirds of them are pirated. Expect the numbers to drop, courtesy optic media manufacturer Moser Baer India, which has started selling such discs at rockbottom prices of Rs 30 to Rs 69—that's less than the Rs 50-100 range for grey market prices. "If you have to take on movie piracy you have to back yourself up with technology and give consumers a high-quality product," Ratul Puri, the company's Executive Director, told BT recently.
How does Moser Baer do it? It has invested in a high-speed, six-colour disc and paper printing system that allows it to replicate, print and pack discs and deliver them within 24 hours. The system is extremely versatile. The Noida-based company claims that it can fulfil small orders of less than 100 discs and big orders of over 100,000 discs depending on demand.
The system keeps master files of all 10,000 Indian titles that Moser Baer has the rights to and can produce any disc at any time. "We do not have much time to produce the discs, therefore, we invested in a set-up that is not just versatile and fast, but high quality," says a company executive.
The technology, which supplier HP's head of imaging and printing business calls the best installation his team has ever done, has allowed Moser Baer to build a sizeable entertainment business. Last year, it raked in Rs 160 crore in revenue, and the company expects that the home entertainment business will outpace the industry which should hit Rs 1,000 crore by 2010.

—Kushan Mitra
ONGC
Drilling it in
The Indian Oil Exploration and Production (E&P) industry has not been the most IT savvy. So, when ONGC, India's largest public sector E&P company, started delivering in 2004 on its Promise Initiative, an effort to implement 21 IT, telecom and communications projects, it was a landmark leap into the future. "Except for large computing power that's deployed in exploration and production, ONGC had been slow in leveraging IT and telecom. So, Promise Initiative was conceived in 2002 to fill that gap by leveraging IT on an enterprisewide basis," says M. Thyagraj, Executive Director (Infocom), ONGC.
All 21 projects (except for the final phase of Supervisory Control and Data Acquisition or SCADA project) under the Promise Initiative, which cost about Rs 700 crore since 2002, are complete, pitchforking ONGC into a select league of IT-savvy E&P companies. "Today, our SCADA system allows us to start or stop production at a site with the press of a button," says Thyagraj. "We have been focussing on best-in-class IT systems in three areas—field operations, commercial, and geophysical and geological (G&G) functions," he adds.
Thyagraj is already working on ONGC's next long leap in IT—a 10-year blue-print to have IT-ready people, IT-ready business technologies, IT-ready infrastructure, and IT governance.
—Kapil Bajaj
Suguna Poultry Farm
Anything but bird brained
Suguna Poultry faces twin challenges to remain profitable. Its unique business model of contract farming—it sells live birds, eggs and processed meat worth Rs 2,020 crore (2007-08) without owning a single poultry farm—and a market scenario where both input costs and end product prices cannot be more volatile, calls for superior management with strong emphasis on information technology. "We have connected 233 locations, including our branch offices, breeder farms, hatcheries, feed mill so as to ensure seamless flow of information," says S. Karunanithi, DGM-IT of the company. Information from 15,000 contract farms regarding the health of each farm, mortality of the birds, feed intake etc., are captured and processed by the ERP system every day. Plans are afoot to make this real time by offering handheld computers to the field officers who visit the farms every day.
IT also facilitates procurement decisions so as to keep costs down and helps get new-born chicks faster to the broiler farms (in less than six hours). Suguna's business may be poultry, but it takes more than a bird brain to run it.
—N. Madhavan
Sankara Nethralaya
A sight to behold
One hundred and twenty surgeries and 1,500 outpatients. That's the daily traffic at Chennai-based Sankara Nethralaya. And if the doctors and support staff handle the load without breaking a sweat, it's thanks to the eye hospital's state-of-the-art IT systems. "The objectives of Sankara Nethralaya are fourfold,'' explains Akila Ganesan, General Manager. "These are patient care, community service, education/training, and research, and we have deployed IT in each one of them." The most important service that the hospital offers is tele-ophthalmology through five mobile vans operating in villages—two each in Karnataka and Tamil Nadu and one in Maharashtra.
These vans are linked to the central hub via satellite to enable patient-doctor conferencing largely for second opinions in complex cases. The hospital is currently implementing an electronic medical records system that would also allow online patient appointments.
—Nitya Varadarajan
Passport office
Turning over a new leaf
Every working day, the 28 regional passport offices across India receive an average of 25,000 applications—that's over six million a year.
And as anybody who has a passport would know, getting one isn't the easiest of things. Not only is the documentation elaborate, but processing and police verification take time, too.
Until three years ago, it took the RPOs an average of 45 days to issue a passport; last year that time came down to 20 days, and by later this year it could come down to just three days (plus time taken for police verification).
The secret behind the passport office's growing efficiency: adoption of information technology. Just the sort of change citizens expect of e-governance projects.
—Kushan Mitra