Small finance banks will face huge challenges. Here's why
Anand Adhikari May 14, 2015
One of them, Sri Jayalakshmi Automotives, is a car dealer from Hyderabad. Another company, Elite Green Pvt Ltd, is an Ahmedabad-based foodgrain supplier and exporter. A third, Jainco Projects, is into construction in Kolkata. A fourth, also Kolkata-based financial company, Ashika Global Securities Pvt Ltd, had one of its subsidiaries, Ashika Stock Broking Ltd, banned from trading by the Securities and Exchange Board of India (SEBI) in 2010 for alleged market manipulation.
The 72 applicants for small finance bank licences are a mixed lot, indeed, a good number having had nothing to do with banking before. They hail from areas as diverse as Tiruchirapalli (Tamil Nadu), Aluva (Kerala), and Sikar (Rajasthan). Small banks are Reserve Bank of India (RBI) Governor Raghuram Rajan's latest initiative to further financial inclusion by creating new banking models. Their purpose, apart from mobilising deposits, is to provide credit to sections currently unable to access it sufficiently from the big commercial banks - small business units, small and micro industries, small and marginal farmers, self-employed individuals, especially those in semi-urban and rural areas. They will be different from payment banks - another recent Rajan idea - which are merely an additional vehicle for savings. Small finance banks will also lend - although only to specified sections - and sell mutual funds, insurance and pension products.
The RBI has set clear guidelines to ensure the proposed small banks have the right focus. With a minimum capital of Rs 100 crore, they will have to direct 75 per cent of their credit to the priority sector - primarily agriculture, small industry, small business, micro credit, education and housing. The sector's ambit may be widened to include agri-infrastructure, agri-processing, health care, sanitation, drinking water and renewable energy. The central bank has also stipulated that 50 per cent of the small banks' credit portfolio must comprise loans of Rs 25 lakh or less, so that small borrowers become a priority. "We're making sure that whatever gaps remain in coverage, be they of regions or products, are covered by these new entities," said Usha Thorat, former RBI Deputy Governor, at a recent financial inclusion seminar. She heads the four- member external evaluation committee which is screening the applicants.
The small banks will not be exempt from the statutory liquid ratio (SLR) and cash reserve ratio (CRR) stipulations that other commercial banks are subject to. But considering the higher default risk of the customers they have to target, they will be allowed to set their own lending rates, which are likely to be higher than those of the big banks.
Challenges Galore
"India is over-banked but under-served," says Vishwavir Ahuja, CEO and Managing Director of RBL Bank (the erstwhile Ratnakar Bank). "There is huge opportunity." But there are huge challenges, too. Nowhere in the world so far have small banks been a roaring success. In the US, where they are called community banks, a few are doing well, such as State Bank of Texas and Prins Bank, but overall they hold less than 15 per cent of the country's total banking assets.
As for developing countries, the Committee on Comprehensive Financial Services for Small Businesses and Low Income Households, headed by RBI central board member Nachiket Mor, had noted that such banks, though numbering in hundreds, had not increased financial inclusion significantly in countries such as Nigeria and Tanzania, while in places like the Philippines and Ghana they needed intensive, subsidised upgrading to survive. "The jury is still out on Mexico, but risks are apparent," the report added. "Supervisory capacity has been overwhelmed by many small institutions, leaving weaknesses uncorrected."
There have been small banks in India for a long time, but their impact has been limited. There are the dozen-odd old private banks such as The Catholic Syrian Bank in Kerala (started in 1920), Nainital Bank (1922) or RBL Bank in Ratnagiri (1943) which were left alone when their bigger counterparts were nationalised in 1969, but their share of deposits and credit advances in the overall banking system is less than five per cent. Urban cooperative banks (UCBs) have an even smaller share of 3.5 per cent, while the regional rural banks' (RRBs) share is three per cent. Moreover, most of them have built their businesses by lending to wealthy traders and not to the sections Rajan has in mind for the new small banks. Indeed, some of them were also largely focused on traders from specific communities.
The only entities lending to the sections the RBI seeks to target are the microfinance institutions (MFIs). Though this sector, too, has had its problems, notably due to a stringent law regulating its activities passed by the Andhra Pradesh government in 2010, which had the inadvertent effect of encouraging its borrowers to default in large numbers, it has since recovered and is engaged in the very task the RBI wants small banks to perform. Not surprisingly, of the 72 applicants, 18 are microfinance institutions seeking to turn into small banks. "The hope is that there will be a positive bias towards MFIs while awarding small bank licences," says Alok Prasad, CEO of MFIN, a regulatory body for MFIs which has RBI recognition.
Non-banking finance companies (NBFCs), a good number of which have also applied, have similar hopes. Among the applicants, for example, is Chennai-based Equitas Holdings Pvt Ltd, which offers credit to micro and small enterprises, buyers of used commercial vehicles, apart from microfinance and housing finance. "A small bank fits nicely with our business model," says P.N. Vasudevan, founder and Managing Director. "We'll use high-level technology and keep our operational costs low to create a winning business model. Our customers are the kind who would not have access to the banking system. But for us, they would have ended up taking loans from moneylenders."
But small banks, apart from extending credit, will also have the job of mobilising deposits. This requires inspiring immense trust. Neither MFIs nor NBFCs have experience in this aspect. "Building a retail deposit portfolio is a big challenge where existing public and private sectors banks have an advantage because of their strong brands," says Prasad of MFIN. Besides, the Jan Dhan programme has ensured that almost every adult now has a savings bank account, though the majority of accounts opened under it are "zero balance" ones. People may well prefer to deposit whatever savings they accumulate in the accounts they already have than open new ones. There are also worries about how stringent regulation will be, given that it has fallen short in many other countries. "Is the regulatory apparatus ready to monitor, supervise and guide small finance banks?," says a private banker who prefers not to be named. "We are creating a new category of banks without cleaning up the existing ones, especially the UCBs and RRBs."
Fierce Competiton
The new small finance banks will also face competition. Mahindra Finance, for instance, an NBFC, with revenues of around Rs 5,000 crore and profits of nearly Rs 1,000 crore in 2013/14, has fashioned its business model to concentrate on lending to farmers and the non-salaried. "Financial inclusion should not be a diktat, but should emerge out of a commercially viable model," says Ramesh Iyer, its CEO and Managing Director. "The financial product should be designed based on the borrower's projected cash flow and not on what he earned in the past. He should be provided flexibility in repaying his loan."
Some of the old private banks like RBL Bank are also sprucing up their acts, installing the latest technology, drawing away talent from leading private and foreign banks and expanding their footprint nationally. They could well also emerge as the new small banks' rivals, too. "The origins of banks like ours may have been niche, but our current strategy is not niche," says RBL's Ahuja, who was himself formerly CEO of Bank of America. "Almost 60 per cent of our business are in the smaller cities. Our entire architecture is low cost and low frills, but at the same time enabled by technology. We do everything from Rs 50,000 to Rs 10 lakh in terms of loan ticket size."
Even the big private banks are showing more interest in non-metros than before. Around 90 per cent of the new branches HDFC Bank is setting up, for instance, are in semi-urban and rural areas. To keep costs low and yet target priority sector segments, it is planning technologically enabled branches with just one person taking care of it. ICICI Bank is also working on a similar model. (No doubt, whether semi-urban and rural customers will take to so much technology without a human interface remains to be seen.) Lastly, existing MFIs are also competition, more so with the Centre setting up the Micro Units Development Refinance Agency (MUDRA) Bank, which will provide refinancing support to MFIs.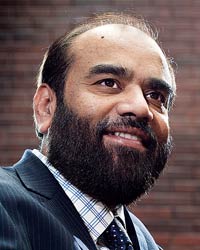 Big Question
How many will ultimately get licences? The RBI's track record while choosing is one of immense caution. Last year, of the 25 applicants for new commercial banking licences, including some top corporate houses, only two - Bandhan Financial Services and IDFC Ltd - qualified. Clearly, those without adequate experience will be eliminated, with the RBI having set down 10 years experience in banking and finance as an eligibility norm. "There are many who are unaware of the rigour, prudence norms and supervisory framework of the banking sector," says another banker who does not want to be named. "They are attracted by the significant premium value of owning a banking licence."
Many feel the RBI will give preference to local players. It will also seek to rectify the lopsided nature of banking penetration in India, where deposits and credit extended in the eastern, northeastern and central regions are much lower than in the West and the South. (See Where the Gaps Lie.)
Success for those granted licences will depend on how well they play the niche card. "The new small banks will have to be niche to be successful in the crowded financial services space," says Piyush Singh, Managing Director (Financial Services) at global consulting firm Accenture. "But the niche will have to be in terms of customers or products. If niche is merely geographical or in terms of market, the bank will fail."
{blurb}