India's best SMEs: Braving the Odds
Taslima Khan September 19, 2015
Headquartered in Rajkot, Gujarat's bustling engineering hub, Atul Auto is a medium-sized company manufacturing three-wheelers. The company, over the past three years has grown its turnover from Rs 350 crore to Rs 490 crore this year. But it has not been easy. Growing competition, falling margins, rising costs and slackening export markets have all been making the fight to survive tougher by the day.
However, Jitendra Adhia, Director-Finance at Atul Auto, figured out a difficult but viable way out for the company to keep sailing. Three years ago, the company made a conscious decision to go debt-free, so it does not have to depend on banks for any of its credit requirements. That was the only way out to meet competition and maintain bare margins. "The market leader (Bajaj Auto) in three-wheelers operates at an EBITDA of 30 per cent whereas we operate at 11 per cent," says Adhia. "At such margins, if I were to afford a bank loan at 14 per cent, I would not make any profit."

Atul Auto's challenges practically define the current situation with respect to small and medium enterprises, or SMEs,in India, which, at an estimated 26 million enterprises is the country's biggest employer, after agriculture. While working on the special feature "India's Best SMEs", Business Today conducted a survey on 15,040 companies falling under the turnover limit of Rs 500 crore. These include both listed and unlisted companies operating in diverse sectors ranging from textiles, power, agriculture, IT&ITES to trading and financial services besides others that have declared their financials at least over the last three fiscals, 2011/12 to 2013/14 (see How We Did It). The data we arrived at reflects the trends inherent in Atul Auto's case.
While the total interest expenditure has increased from Rs 41,867 crore to Rs 57,957 crore, the rate of growth of interest expenditure has come down from 21.27 per cent to 15.53 per cent. What we can infer from this is that most SMEs' exposure to bank credit is falling. The same trend is also reflected in a recent report by the Reserve Bank of India, which states that while the growth of bank credit to industry, in general, has slowed down, it has declined to an alarming 10 per cent for micro, small and medium enterprises - from over 21 per cent in the previous year.
High cost of credit is the most important reason why some small companies are being forced to think of reducing their exposure to bank loans. "If you add up other bank charges, such as processing fee, collateral requirements for loans upwards of Rs1 crore besides other costs, the total cost of credit actually turns out to be about 17 per cent. This is exorbitant for small companies and sucks out their bottom lines," says Sanjay Bhatia, Managing Director of Delhi-based packaging company Hindustan Tin Works, who serves as Chairman of the MSME Committee at industry body FICCI.
Besides the onslaught of high credit costs, the data from BT's survey reveals falling rate of growth of income and severe profitability challenges for SMEs. While total income has increased from Rs 7,23,779 crore to Rs 7,43,822 crore over the past three fiscals, the rate of growth in percentage terms has dipped from 9.15 per cent in 2011/12 to a precipitous 1.20 per cent in 2013/14. Also total net profits over the corresponding period have fallen from Rs 8,699 crore to Rs 7,924 crore.
There are multiple factors at play here. Out of the 15,040 companies, 724 companies operate in the real estate sector, which include companies operating in infrastructure-related verticals like cement and steel. "Real estate is one sector that has typically performed badly in the last three years. The huge confusion on the land bill coupled with land issues has hampered growth prospects," says Bhatia of FICCI. "Other sectors like auto have continued to grow."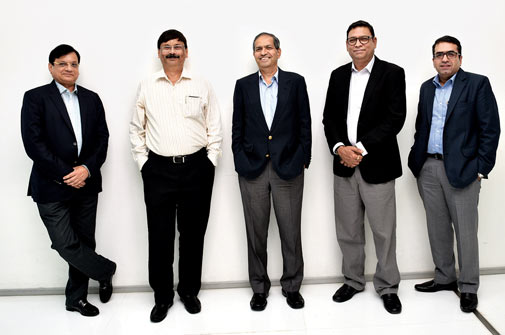 Also, although the total contribution of the SME sector to exports is around 42 per cent, companies under Rs 500 crore have significant exposure to export businesses. "Exports have been slowing down quarter-on-quarter, owing to disturbances in West Asian countries, while demand in European markets continues to slow down," says Bhatia. Data from the survey falls in consonance with the overall slowdown in exports. The total value of exports from the companies increased from Rs 93,528 crore to Rs 1,02,402 crore, but growth cooled down to 11.24 per cent (in 2013/14) from 15.35 per cent in (2011/12)
Falling levels of profitability by far remains the most significant worry for the SME sector. Besides high cost of credit, power and cost of labour, input prices, have escalated as well. Since most inputs are sourced from large companies, small companies enjoy very little bargaining power. Also these companies are usually not the market leaders in their segments and, hence, cannot dictate prices in the market. The only way to survive is to keep a strict control on costs while maintaining product quality to meet their sales targets.
New regulatory compliances are also proving to be an added cost for SMEs. As per a recent regulation, companies with upwards of Rs 1,000 crore turnover, Rs 500 crore net worth or Rs 5 crore profits need to shell out two per cent of their profits on corporate social responsibility activities. "These are the kind of regulations that affect the financial health of companies," says Bhatia. MSME industry associations are lobbying with the government on several issues to make the business environment better for SMEs. The biggest of them all is the problem of delay in payments from large private companies and PSUs, which get their supplies from these SMEs. While companies are required to repay bank loans in 60 days, receivables from large companies take as long as 120 days or more, without any interest payment. This is one of the major factors affecting working capital.
---
How we did it
This is the sixth Business Today Best SME Survey. The survey was carried out through an online questionnaire published on BT's website, and printed forms were also distributed with the magazine and to SMEs across the country. The data processing was validated by Grant Thornton. Listed and unlisted companies with total revenues less than or equal to Rs 500 crore in 2013/14 were eligible to apply. In addition, BT dipped into the CMIE Prowess database to pull out numbers of companies that fit the revenue benchmark. This was done so that good companies with audited data are not missed, even if they did not apply for the awards. The three years of the study were 2013/14, 2012/13 and 2011/12. In all, data of 15,040 companies was crunched. Companies that did not make any profi ts in any one of the three fiscals, and whose latest, audited financial year results are not available, were eliminated.
For the rest, we measured three-year average growth of revenue, profit and net worth, three-year average PAT margin, and three-year average ROCE. Each company was scored on the basis of these parameters, and the scores were combined in equal weightage. Then the companies were divided into three groups by revenues - less than or equal to Rs 100 crore, Rs 101-250 crore and Rs 251-500 crore - and further into four segments - agriculture, manufacturing, services and trading. Then, each company was scored on how far it outperformed/ underperformed the median for their segments. For the Global Business Excellence award, growth in exports and share of exports to total income of the company were considered.
We also have two special awards - for the best woman leader and for innovation. The top companies in each category were presented before a jury for the fi nal decision on the winners. The jury comprised Anil Bhardwaj, Secretary-General, FISME; Vivek Kulkarni, Managing Director, Brickwork Ratings; and Mahendra Swarup, Managing Director, Avigo Capital. Vikas Gambhir, Director, Business Risk Services, Grant Thornton, provided technical support.
---
Also, FICCI is pushing for restoration of the two per cent interest subvention scheme for exporters, which was pulled out recently. Besides, it wants the ambit of companies classified as MSMEs to be expanded from Rs 10 crore turnover to Rs 25 crore turnover so as to enable more small companies to avail government schemes. If this proposal is implemented, more SMEs will be able to take bank credit, since banks go by the MSME ministry classification of micro, small and medium enterprises to disburse credit under various schemes. Currently, roughly five per cent of India's SMEs have access to bank funding.
The good news, however, is that this fiscal, as announced by MSME Minister Kalraj Mishra in March, the Centre has allocated Rs 3,300 crore for implementing a special programme for developing infrastructure related to MSMEs and for implementing various schemes for this sector.