Precious, base metals to trade higher due to delay in Federal Reserve's rate hike
Naveen Mathur September 22, 2015

Non-Agri Commodities
On a fortnightly basis, the global equity markets remained under pressure owing to number of global developments that prompted the traders to place safe bets. From the US front, the Federal Reserve decided to leave the federal funds target range unchanged at 0-0.25 per cent. The policymakers also indicated towards an uncertain outlook for global economic growth which can hamper the long term inflation target. From the EU front, European statistics agency revised growth in the first quarter from 0.4 per cent to 0.5 per cent. Moreover, the second estimate of gross domestic product for April-June growth also got revised from 0.3 per cent to 0.4 per cent which infused optimism in the market.
The rupee appreciated marginally by 0.01 per cent in the last fortnight owing to continuous selling of the greenback by exporters and banks at the back of low
crude oil
prices. Domestic markets traded positive on account of positive IIP and inflation numbers for July which prompted the traders to ignore weak Chinese data. Market discounted the fruitful meeting over weathering the global economic turbulence between PM Narendra Modi along with other top representatives of corporate India. The US policymakers kept their borrowing rates unchanged which acted as a positive factor for the rupee.
In the past fortnight, spot gold prices traded higher by 0.6 per cent while MCX gold prices declined by 1.2 per cent. The upside was seen as a result of weakness in Chinese markets along with uncertainty ahead of the FOMC statement. Also, Fed's decision to hold rates steady between 0 - 0.25 per cent, supported gains.
However, gold has failed to attract strong investor interest as a safe haven despite the recent weakness in stocks due to worries over the Chinese economy, showing that the metal is struggling to find direction outside US monetary policy.
US payrolls data failed to provide clarity on the timing of a Federal Reserve rate hike. Meanwhile, weak investment demand and physical demand from India and China also acted as a negative factor.
International Silver prices surged by more than 2 per cent while MCX silver prices jumped by 1.7 per cent in the past fortnight. Price rise is in tandem with gains in gold prices. Weakening dollar coupled with rising base metal prices acted as positive factors.
LME Copper prices continued their positive momentum for the second consecutive fortnight with prices gaining 3.6 per cent as supply disruption concerns showed up after the London-listed commodities trading and mining giant Glencore said that it would suspend operations at two copper mines in Zambia and the Democratic Republic of Congo, withdrawing about 400,000 tonnes out of the market.
Further, Freeport McMoRan will chop around 68,000 per tonnes both next year and in 2017 by suspending its Miami mine in Arizona and reducing output at both its Tyrone mine in New Mexico and its majority-owned El Abra mine in Chile. Also, the metal gained support from China's Ministry of Finance statement it would roll out a "more forceful" fiscal policy to stimulate economic growth, such as allocating more funds for infrastructure projects and tax cuts for small businesses. Further, uncertainty regarding US rate hike could not restrict gains. MCX copper prices surged by 3.4 per cent in the last fifteen days despite Rupee appreciation.
In the past fortnight, WTI gained marginally while Brent crude oil prices declined by around 1.5 per cent respectively. MCX crude oil prices declined by 1.2 per cent owing to Rupee appreciation. Crude oil futures have been under pressure from concerns about swollen inventories, high global production and the increasing likelihood that Iranian barrels will return to export markets even as slowing growth in China threatens demand.
Also weighing on Brent was the growing potential for Iran to flood the oil market with more supply as the Obama administration gained further congressional support in its campaign to lift nuclear-related sanctions on Tehran crude exports. Weaker Chinese equities and record North Sea crude production data added to global oversupply concerns. However, decision by the Federal Reserve to keep its benchmark interest rate unchanged at near-zero levels along with bullish supply data from EIA restricted sharp fall.
Outlook
We expect precious metals to trade higher in the coming fortnight as rate hike has been deferred the recent FOMC meeting. However, weak physical demand from Asia along with falling investor interest will cap sharp upside.
Reluctance by the OPEC nations to cut its crude output, slow growth in China and weak demand from Euro area are possible factors for crude oil to trade lower in the coming fortnight. Please add if possible.
We expect base metal prices to trade higher as decision by the Federal Reserve to hold rates steady between 0 - 0.25 per cent will be supportive for dollar denominated commodities. Also, supply disruption concerns following earthquake in Chile will buoy the red metal. However, gains are likely to be short-lived as the Federal Reserve has made clear that it intends to raise rates by year-end.
Agri Commodities
The monsoon rains in September is less by 42 per cent of normal rain as Northern and western pars along with Uttar Pradesh remaining close to dry in September. For the season, the rainfall deficit reached 16 per cent below its normal rainfall. Meanwhile, government has just released its first advance estimates for 2015-16.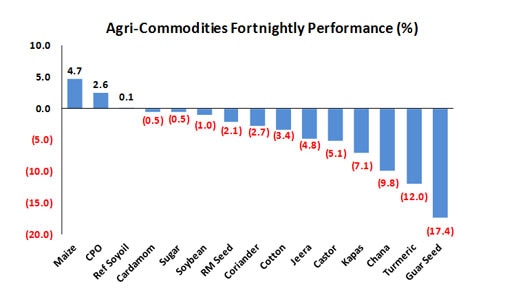 The price of chana declined in spot as well as futures during the last fortnight. The most active chana October NCDEX contract slipped about 9.8 per cent to close at Rs 4,560 per quintal as the speculators have offloaded their buying positions after Exchange imposed additional margins and special margins for all chana contracts. Moreover, the prices have also recovered about 6.1 per cent from its low of Rs. 4,299 per quintal.
Since the prices have declined, there is every possibility of good demand in spot market on limited supplies. Further, the government has extended the duty free import of chickpea, or chana, until this December to ensure remunerative prices to farmers and encourage them to plant the crop. Recently, government has set the target of 9.5 million tonnes of chana production for 2015-16, which was only 7.17 million tonnes last year.
Soybean traded on negative note but was mostly sideways on reports of good production estimates in the country as well as in the US. The dry weather across Madhya Pradesh was favourable for maturing pods of soybean. The active NCDEX Soybean October closed lower by 1 per cent last fortnight to close at Rs 3,218 per quintal. However, in CBOT, the soybean prices rose about 2.39 per cent during the fortnight to close at $8.875 per bushels levels on evidence of strong Chinese demand for the crop. Some suspect that the USDA may be overstating yields this year amid industry reports of lower than-expected results from early harvests. In latest USDA report, global soybean production lower to 319.6 mt compared to 320 mt last month.
RMseed prices during last fortnight dipped 1.5 per cent to close at Rs. 4,268 per quintal mainly due to weak oilseed market and subdued demand for rapeseed meal export. As per the latest SEA data, export of mustard meal during August 2015 reported at 49,788 tonnes compared to 8,645 tonnes in July. However, the exports were lower by 57.7 per cent during first five months of 2015-16. Recently, reports of China's subsidy change for rapeseed may decrease the crop in about 30-35 per cent area; this may boost rapeseed exports to China.
During last fortnight, NCDEX Ref. Soy oil October contract closed almost flat at Rs. 568.25 per 10kgs or 0.1 per cent higher. During the fortnight, the prices have declined by 1 per cent and then recovered about 1.6 per cent on reports of duty hike by the government. As per the Central Board of Excise and Customs notification the customs or import duty on edible oil in all categories increased by 5 per cent. Duty on crude edible oil increased from 7.5 per cent to 12.5 per cent and on refined edible oil from 15 per cent to 20 per cent. The soyoil imports during in current oil year (November 2014 - August 2015) crossed 22.6 lakh tonnes compared to 15.72 lakh tonnes last year, an increase of 6.88 lakh tonnes or 43.8 per cent. However, in CBOT, the soyoil prices for the most active December contract dropped about 1.80 per cent during the fortnight to close at 26.25 cents per pound.
The CPO prices during the last fortnight traded on positive note to close 2.6 per cent higher at Rs 389.7 per 10 kg. The prices have touched Rs 397.50 levels on anticipation of import duty hike and then dropped 2 per cent on profit booking. According to latest data released by SEA, the import of palm oil in August declined by 1.66 lakh tonnes or 20 per cent compared to imports in July. Meanwhile, the palm oil prices in Malaysia increased by 3.5 per cent during the last fortnight due to weak ringgit and sustained buying by traders, despite data showing higher production and inventory levels. According to Malaysian Palm Oil Board, palm oil output in August increased 12.9 per cent to 2.05 mt while end-stocks climbed about 10 per cent in August 2.49 mt compared to previous month.
Among softs, Cotton prices during last fortnight lost 3.4 per cent to close at Rs 15,770 per bales on MCX due to expectation of bumper crop this year on good rains in drier regions of Maharashtra and Gujarat in September and weak international market. However, according to the Ministry of Agriculture, sowing of cotton is reported lower by 8.4 per cent at 115.2 lakh ha as compared to last years' sowing.
Further, in its first advance estimates, the government, predicted cotton production at 335.1 lakh bales (of 170 kg each) which are lower by 19.7 lakh bales than its production of 354.8 lakh bales during 2014-15. Similarly, ICE cotton also plunge by about 4 per cent to 60.55 cents per pound levels from 62.62 levels during the last fortnight. The fall is due to concerns about world economic growth and demand for cotton export to China. According to latest USDA report, the production estimates in the US increased while the world production to decrease by 9 per cent at 23.65 mt compared to last year production. Moreover, the world consumption to increase for fourth consecutive year and ending stock is going to decline in 2015-16. The cotton trade is expected to reduce this year.
The NCDEX Sugar declined by 0.5 per cent to close at Rs 2,474 per quintal. During the fortnight, the price dropped to Rs, 2,404 levels and then surge about 3 per cent as government relax the export norms, which could hasten export from India coupled with pickup in festival demand. In a recent development, government notified the mandatory export of 4 million tonnes (mt) of sugar for the 2015-16 season (October to September), which will help take pressure off prices by reducing domestic stockpiles. Internationally, ICE October Sugar futures have declined about 2.75 per cent last fortnight, on good Brazilian output and India's export strategies may glut sugar in world market.
During the last fortnight, spices complex traded on negative due subdued demand for export and expectation of good output for the next season. Turmeric plunge about 12 per cent on NCDEX due to expectation of better production on revival of rains in dry southern peninsula while jeera and coriander declined by 4.8 per cent and 2.7 per cent respectively on subdued demand for exports. Cardamom also dropped by 0.5 per cent but seems to be steady on good demand and heavy arrivals from the third pickings.
Outlook
We expect chana prices to trade sideways to higher on lower level buying as it has dropped to lowest for the October contract last week. Good demand and expensive imports too support prices while speculative activities may be limited, as Exchanges has imposed sizable additional and special margins on both sides.
Soybean and ref soy prices may trade sideways to negative for next fortnight on expectation of weak global soy market, poor soy meal exports from the country and ample vegetable oil supplies. While, mustard prices may trade sideways on anticipation of weak oilseed market on excess supplies of vegetable oil. However, meal demand for export may surge mustard prices in domestic market, as there is concern over supplies.
Crude Palm Oil may trade sideways to negative on expectation of weak international demand coupled with rising production and inventories in Malaysia. While in domestic market, increase in import duty may not affect prices, as there are already sufficient stocks with traders.
We expect cotton to trade sideways to lower due to expectation of higher production prospects and weak export demand. While sugar may, trade with positive bias on improved demand and fear of El Nino, which may affect sugarcane, crops around the world.
We expect cardamom to trade sideways to positive on good arrivals from third pickings and good export demand. Jeera and coriander prices may trade sideways to higher on expectations of good export demand in coming months against the dwindling supplies.
Turmeric prices may trade sideways to higher on good upcountry demand and lower level buying however, forecast of widespread rains in southern peninsula may increase production outlook for next year.