For service robots, sky is the limit
Nidhi Singal October 18, 2015
TECH TOTS
This April, Tokyo's Mitsukoshi department store 'employed' a new, special receptionist for a few days. Aiko Chihira was a presentable young woman with fair skin and reddish hair, dressed in a traditional Japanese kimono. She welcomed visitors with a short introduction to the store in Japanese, and also communicated in sign language. She moved and displayed facial expressions like a human would. Umm? 'like' a human?
No, we haven't gone bonkers. You see, Ms Chihira wasn't human. 'She' was actually a robot - an android developed by Toshiba. A pre-programmed script provided the introduction, and a system of 43 motors enabled the facial expressions and body movements. It was quite basic in terms of functionality, but the company has bigger plans. "The android is a prototype that we will continue to develop towards achieving a service robot able to assist people in the fields of welfare and healthcare," says Hitoshi Tokuda, Chief Specialist, Research & Development - Divisional Marketing Strategic Office, Toshiba Corp. "We will also integrate Toshiba's wide-ranging technologies in areas such as sensing, speech synthesis, speech recognition and robotic control to realise a more sophisticated social robot by 2020." Meanwhile, this July, an entire hotel staffed by robots opened in Japan, but more on that later.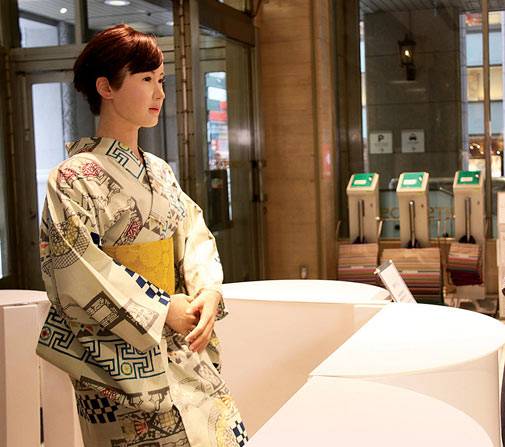 Closer home, India is not unfamiliar with service robots, albeit not close to being as glamorous as the Japanese. For instance, underground water tanks are not easy to clean - the entire tank needs to be emptied of water. Gujarat-based Gridbot has developed a robot that enters underground tanks and cleans the water by sucking out all the filth through a pump. In this process, almost no water is wasted. Gridbot also makes robots that can clean AC ducts, inspect huge structures without the need for scaffolding, clean high-pressure water, chemicals or steam pipes in power plants, and so on. A company official BT spoke to says that recently, Gridbot's Amdavad robot helped Tata Power's Mundra plant save Rs 2.5 crore a day, when it dislodged a wooden log stuck in a high -pressure pipe.
If you thought service is one area where humans would always dominate and robots would have no role, you have another think coming. Robots have moved on from being mere arms in manufacturing plants doing repetitive work to doing jobs that you would normally associate with humans. They can conduct complex surgeries, provide disaster relief, fight wars, dispose of bombs, clean rivers, milk cows, harvest strawberry, take customer queries for mobile phone operators, perform room service in hotels? the list is long, and expanding.
And so is the market. According to the International Federation of Robotics or IFR, about 134,500 new service robots for professional use with a value of $18.9 billion will be installed from 2014 to 2017. Robots for defence applications will account for 54,000 of these, and milking robots, about 28,200 units. Interestingly, IFR says that over a 12-year period till 2008, only about 63,500 service robots for professional use were sold. But the next five years saw sales shooting up to about 100,000. Clearly, demand is rising worldwide.
The sky is the limit
The possibilities of service robots are practically endless. In India, robots are being used in nuclear reactors, search and rescue operations, trash picking, river cleaning, bomb disposal and much more. Bomb disposal robots, for instance, are being increasingly put to use. These robots can defuse bombs with humans controlling them from a distance. Even if the bomb explodes, no life is lost. One such robot is Daksh, developed by the Defence Research and Development Organization. Daksh is a fully automated, battery operated, remote controlled robot on wheels whose primary role is to handle bombs.
Robo surgeons are being used to conduct surgeries where robots replicate the surgeon's hand movements, while minimising hand tremors. Surgeon thus can operate with enhanced precision, dexterity and control even during the most complex procedures. The first such surgery in India was conducted using the da Vinci surgical robotic system at the All India Institute of Medical Sciences, where A robotic pelvic anterior exenteration surgery was performed on a 50-year-old woman cancer patient. According to the All About Robotic Surgery, the da Vinci surgical system is being used in more than 80 per cent of prostrate surgeries in the US.
Since then, robotic surgery has been implemented at other top hospitals in India, including Apollo and Kokilaben hospital, but in developed markets things have reached the next level. A doctor in Canada, for instance, performed a colon operation using the robot surgeon Zeus, without being present at the operation theatre.
Robots can also be used to clean rivers, a particularly needed feature for India. Delhi-based OmniPresent Robot Tech has designed a Ro-Boat - a river -cleaning robot - that aims to clean rivers such as Yamuna and Ganga. Equipped with GPS and sensors, Ro-Boat has cameras and video analysis capability to detect pollutants like plastic, chemicals and heavy metals in water. It can also suck out water and filter it. "India has been trying to clean rivers for the past 30 years but not much progress has been made," says Aakash Sinha, founder and CEO of Omnipresent. "We have done trials in Yamuna and other rivers, and propose to clean a river in a particular state in a six-month time span. Usually, one robot is deployed for a river area of 1 km. We may need to deploy our drones along with the robots as they will be able to guide the robots in the right direction for cleaning debris and trash."
"One of the big drivers for me in this space is ecommerce," says Aftab Malhotra, Chief Revenue Officer and Head of Product at Bangalore-based virtual advisory platform GrowthEnabler, "Companies such as Flipkart and other ecommerce players are investing heavily in distribution and warehousing. I think the demand for service robotics is going to accelerate dramatically."
Service robots are also used for many other purposes. In 2014, Sabre Autonomous Solutions used two robots for maintenance duties on Sydney Harbour Bridge. Stockbot of Pal Robotics walks the aisles in shops or warehouses to check inventory at night.
Then, Henn-na Hotel in Japan is the world's first hotel that is fully operated by robots. Much like Ms Chihira, the hotel has humanoid robots developed by Kokoro at the reception that greet Japanese -speaking guests. These female robots have realistic facial movements and body language. The guests check in by interacting with a console and the robot's voice recognition software. There's also a dinosaur receptionist, but we'll leave that aside for now! The room service, concierge and housekeeping functions are also run by robots.
Paris-headquartered Aldebaran Robotics has created NAO, a 58-cm tall humanoid robot that is used for education. NAO robot is a friendly and intelligent companion who can be programmed to understand your daily needs. Its interactive applications and interface make it a great teaching tool. It has been used in more than 70 countries in computer and science classes in primary schools and universities. The company has also designed Pepper, a humanoid that can communicate with voice, touch and emotions. Pepper was created for SoftBank Mobile, a phone operator in Japan, to interact with customers in stores.
Santa Clara, California-based Savioke, too, has created autonomous robot helpers for the service industry. The company leases Relay, a robotic butler, to hotels where these robots are used for room service. Relay can navigate through the hotel and use the elevator. It can provide room service on its own. It uses a pair of RealSense R200 cameras as its eyes, and also carries depth-sensing sensors.
In China, robots are replacing chefs and waiters for cooking food and delivering dishes. These robots move around tracks in the hotel and can continue to work for five hours after being charged for two hours. Robot Restaurant in Harbin, China has a staff of 20 robots that cook, serve and even say hello to the guests. Although there is human staff, soon robots will be capable of running all the tasks without human support.
Of course, service robots are equally useful and in demand for personal, household use, too. There are healthcare robots like Care-O-Bot, which can monitor blood pressure and detect whether someone falls down, very useful for elderly folks living alone. There are robots that can vacuum-clean your home, mow your lawns, clean the windows, and serve you food. "There will be a massive demand for branded home robotics such as Roomba or home help or companion robotics in Indian households too," says Malhotra. IFR data project that household robot sales globally would reach 23.9 million units in 2014-17, with an estimated value of $6.5 billion.
As the years go by, do keep an eye out for the friendly robot next door. As for your job, well...