Inside the world's best restaurants
Rashmi Uday Singh June 24, 2008
Are you one of those who will settle for nothing but the best when it comes to food? Travel with us, then, to the finest restaurants on Earth as we set out on an unforgettable gastronomical journey.
From a doubtful and sceptical beginning, I have now turned into a believer, a convert to the Foodie religion. It all began with the cynical "will these so-called gourmet Meccas turn out to be merely overpriced, overhyped and overdecorated restaurants?" Today, however, all I can say is that if you love food, then you owe yourself this romance—at least once in your lifetime. My teerthyatra to our modern-day temples of food can only be labelled as a divine experience.
Come, careen down hairpin bends on steep cliffs hanging over the Spanish Riviera, ferry across the placid blue sea to an island in Stockholm, or take a train out of Paris and stay overnight in a gourmet Mecca where the Michelin-starred chef shot himself. P.S. Do remember, though, that to get a taste of heaven requires not just a lifetime of determination, good deeds, advance planning (booking months ahead) but also a wallet blessed with plenty.
Which infidel said getting into heaven was easy? Here it is then, my road map to pure gastronomic pleasure, the latest on the greatest restaurants, from the divine to the simply heavenly.
1. el bulli
Where: Montjoi, Costa da Roses, near Barcelona, Spain
Meal: e200 (Rs 13,200) per person
You tell me, if this isn't a pilgrimage, what is? My heart pounds to the rhythm of the Grand Elipsos train as it speeds overnight from Paris to Barcelona. Rated the world's best restaurant for four consecutive years by the World's 50 Best Restaurant Academy, elBulli is quite difficult to reach. In Barcelona, I pop into Gaudi's unfinished cathedral, take a train to Figeras (to pay homage at Salvador Dali's museum), zip in a cab to the Coast of the Roses and check into a hotel just before dinner time.

While travelling to the restaurant, my cab clings to winding roads and hairpin bends soaring on cliffs above the heart-stoppingly beautiful blue ocean. And the immaculately perfect elBulli (strangely enough, named after bulldogs) materialises like a vision. It is open only from April to September and bookings are hard (very hard) to come by. It seats only 50 people (but has 46 chefs) and has a wait list of almost two years to get a table.


How do I define this? Alchemy? Transcendental gastronomy? This is where Ferran Adria coaxes science to copulate with imagination and deliver brilliant surprises in texture, temperature and taste—33 courses, served in beautiful ways. Be prepared to have your taste buds seduced, cajoled and your intellect teased. Even the names of the dishes ('Flowers cotton', 'Liquid Wanton of Mushrooms', 'The Wool 2007') do not prepare me for the ricochets of taste. Flavours are distilled into new textures, be it with the 'Cotton Nymph' (cotton candy filled with Thai veggies) or the caviar that explodes with melon flavour on your palate. Ferran Adria makes the familiar look unfamiliar and the unfamiliar look familiar. I will never be the same again.
2. Bernard Loiseau
Where: Saulieu, France
Meal: e200 (Rs 13,200) per person
He shot himself and sent shock waves through the culinary world. Books documented this culinary history when brilliant chef-owner Bernard Loiseau ended his life because he thought he was going to lose a Michelin star. Six years later, the stars are intact, his menus in place, his feisty widow Dominic ensures that every detail of the Relais Chateau Hotel (which houses the restaurant) is impeccable and the place is still as much on the gourmet route as ever. I take a two-hour picturesque train ride out of Paris to this sleepy town in the Burgundy district. That Soup of Jerusalem Artichoke is pure Loiseau: vegetables, water, salt, a drop of hazelnut oil and artichoke chips.

Current Chef Patrick Bertron's Porcini Toast is a simple toast with only one ingredient but five different textures of porcini marmalade, pine nuts, fried porcini and peeled porcini, and then a little salad. I've deliberately described only the vegetarian dishes since the Rabbit Bone Stuffed with Foie Gras and the Turbot and that dessert of chocolate and orange, piled in delirious delight, would take reams of paper. Eat here to know what a perfect meal is.

3. LeBernardin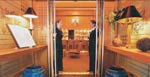 Where: Le Bernardin, 155 W 51st St, between 6th Ave and Broadway, New York, USA
Meal: Three-course lunch $64 (Rs 2,750); four-course dinner $107 (Rs 4,600) per person
Tasting menu: Six-course dinner $135 (Rs 5,800), with wine pairing $220 (Rs 9,460); seven-course dinner $180 (Rs 7,740), with wine pairing $320 (Rs 13,760) per person
I make my own rules as I go without reservation to the restaurant that is acknowledged as "near perfect" and "the best in New York city" for over two decades by the World's 50 Best Restaurant Academy—a remarkable feat in the fickle, trend-conscious arena of New York. I must admit that I am a bit self-conscious when I walk into this high-church of reverently prepared seafood. It boasts of a judiciously restrained décor in the woodpanelled hall. I sit in silence and revel in the menu divided into three types of seafood dishes (almost raw, barely touched and lightly cooked).


Deft interplay of textures mark the Sautéed Cod and the Roasted Garlic Cream (with its sharp flavour of chorizo oil set off by the rounded one of broccoli). I can't resist trying the "pre-dessert" (you read that right) of milk chocolate cream served in an egg shell. It's divine. I meet Chef Eric Ripert, who hasn't let all the accolades and stars go to his head. I eat my pre-dessert, the salt bites through the sweet preparing me for THE dessert: dark chocolate, ganache and flourless cake with sprinkled salt and olive oil. The best value lunch I've ever had in my life. NOTE: It's closed for lunch on weekends.
4.Tetsuya's

Where: 529 Kent Street, Sydney, NSW, Australia
Meal: $200 (Rs 8,000) per person

An American food critic suggests that you book a table at this Sydney restaurant the day you are born. He's damn right. Once you get here, allow plenty of time and leave plenty of room for the magic of the 14-course meal. My ever-smiling and pudgy friend Tetsuya Wakhuda does not cook. He "composes flavours" and enhances a classic French technique based on the Japanese philosophy of natural seasonal flavours. I sit in his sprawling twin-levelled Zen temple of timber and marble with its cool black and white interiors, waiting for the 14 dishes, suitably married to wines. From his signature dishes like Ocean Trout, Grilled Wagyu with Lime Juice, and Blue Cheese ice cream with Sauterne Jelly—it is an experience everyone should be blessed with at least once.
I fall in love with the 50-something Tetsuya who started off as a restaurant dishwasher and now creates a meal that is an artfully constructed sequence of miniatures. Time stands still as I go from one creation to another—from the tangy Gazpacho with Spiced Tomato Sorbet to the signature dish of Confit of Ocean Trout served with unpasteurised trout roe. I end my meal with an Orange, Honey and Black Pepper Sorbet.
5. l'Arpege
Where: 84 Rue de Varenne, 7th Arondissement, Paris, France
Meal: Nine-course menu $495 (Rs 21,280) per person
To begin with, I can't get my eyes off the good looking, blue eyed, cigar-toting chef, Alain Passard. He drives in with vegetables (which he grows in his own garden) and then I watch the (understandably) drool effect he has on the slim and stylish Parisian women, as they come in with their miniature dogs (dogs are allowed here.) Then, I have my best vegetarian meal ever, in this small, exclusive, Michelinstarred Parisian restaurant. It's a simple, 30-seater pear wood-panelled restaurant. "I work the flame to avoid evaporation of essences, and dance to keep the luminosity and transparency," says Passard, one of the world's youngest Michelin-starred chefs. Once the meal begins, it is a symphony that carries me away. The translucent ravioli's silken pockets plumped with mushrooms kill me softly. He does specialties like Couscous of Vegetables and Shellfish, Lobster Braised in Wine and Braised Monkfish in a Mustard Sauce. But it is his passion with vegetables that he elevates to levels unequalled by any other chef in the world. May he continue to interpret flavours, preserve the aroma and reinvent a new universe of vegetables

6. Alain Ducasse Plaza
Where: Alain Ducasse Plaza Athenee, Avenue Montaigne,Paris, France
MEAL: A Plaisir de Table menu for e240 (Rs 15,840) and a Collection de Saison option for e360 (Rs 23,760) per person
What can you say (which has not already been said) about this guy who is a true super-star? Twelve Michelin stars and 36 restaurants to his credit and Alan Ducasse delivers a seamlessly perfect "Ducasse's luxurious haute cuisine" experience in the stylish Parisian Plaza Athenee (where I stayed recently). It's a starry experience in every sense of the term. Luxury drips in 10,000 Swarovski pendants that dangle from the ceiling of the restaurant.


Clementine-colour tablecloths and unique Corian cream-and-orange chairs with pull-out trays weave glamour here, as do the deft little touches, like the trolleys wheeled in with pots of fresh herbs for making tea infusions. But when chefs Alain Ducasse and Christophe Moret's masterpieces started arriving, I relax. I start with a heavenly Amuse-bouche of a Langoustine in Lemon Cream with Iranian caviar. Plenty follows—Breton Lobster in Apple, Quince and Spiced Wine, Saddle of Lamb with Sautéed Artichokes… the list goes on. The finale of Rum Baba à Monte-Carlo almost has me giving a standing ovation.
7. French laundry
Where: 6640 Washington Street, Yountville, California, US
Meal: Nine-course menu $300 (Rs 12,900) per person
I pause a moment to smell the fragrant roses (literally) in the garden, then walk through the patio of the rustic turnof-the-century cottage (which used to house a steam laundry). All around me, California's lush Napa valley weaves its wine magic. I am in this tiny town of Yountville, which has become an internationally-known destination, thanks to this restaurant I am going to walk into. In the small and intimate dining rooms, candles glimmer and the atmosphere is serious. The tall and dapper Chef Thomas Keller excels himself.

I can never forget the dish called Oysters and Pearls. It melts and explodes with a haunting intensity. I get intoxicated as the memorable 16-course meal winds its way (with outstanding wines). I had no idea that salt served on the table could spin such alchemy. I sprinkle four different kinds of salts, and each one raises the crescendo of taste with each bite of the foie gras. The buttermilk sorbet, cilantro and Sultana-curry sauce—all delight me. And yes, you just have to keep space for the four desserts, including the unique Coffee and Doughnuts. What is it about? You figure that one, I can't tell you everything, can I?
8. Iggy's
Where: The Regent Hotel, Singapore
Meal: Lunch $115 (Rs 3,560);
Dinner $195 (Rs 6,040) per person
Let's begin at the end—the dessert. It's a Vanilla Pannacota with Candied Tomatoes and Basil ice cream. Now, just in case you are thinking that these jaded food-writers need shocking dishes to activate their over-exposed palates, let me tell you that more than me, it was my TV cameraman (who is not welltravelled) who loved the taste of the Vanilla Pannacota. Everything surprises here. We fly up in the gilded bubble lift of the Regent Hotel to this restaurant. It's tiny (28-seater), wood-panelled and serves tasting menus. But are they delicious? Like the dish simply called Tomato, where the unbelievably sweet essences of the Japanese Seito and Momotaro are distilled in a clear liquid, which fills the mouth with intense tomato flavour. And that Foie Gras Crème Brulee is a masterpiece. It's a treat to meet the sommelier owner, Ignatius Chan, who hand-picks his wines and marries them to exciting perfection.
9. Oaxen Skargardskrog
Where: Off Stockholm, Sweden
Meal: Tasting menu 1,350 Kroner (Rs 9,450) per person
The little island in the archipelago beckons, as our ferry takes my host, myself and his car across. It's a treat being escorted by Sweden's most well-respected food editor Lars Peder Hedberg. He gallantly takes me to Sweden's finest dining experience: an island, a spectacular meal paired with wines in a white, intimate bungalow. After the meal, there is no need to go home. Check into Ms Florence's Cabin (the name of the recently set-up ship with bedrooms) and enjoy the sleep, which only a good meal can gift. "Magnus Ek's art of cooking has matured into an exceptional technical and gastro-intellectual level,

where the details dazzle," explains Lars. How can I forget the egg (of isomalt), which I crack open and truffle cream oozes out as we eat it with caviar in a jelly of distilled rockweed and pate of rabbit? Outstanding turbot with burnt butter (they use a lot of it in Sweden), a cheese platter with goat's milk cheesecake in burnt bay leafs—they are all a masterly balance of textures and flavours. The dessert excites as much with its Raspberry Flambéed Chocolate Baba with goat's milk ice cream, Praliné of Cocoa Bean and raspberry jelly. My only regret is that we cannot check into Ms Florence's Cabin and snooze.
10. Cut
Where: Beverly Wilshire, 9500 Wilshire Boulevard, Beverly Hills, CA, U
Meal: $250-500 (Rs 10,750-21,500) per person
Who could ever imagine that a steak-house (no matter how fabulous) would be near the top of a global list of restaurants? But here it is, the ultimate winner of a symbol of Hollywood dining. I have eaten here twice. Each night, every sexy, sleek square inch of this restaurant bristles with style and star power. The legendary high-priest of cuisine, Wolfgang Puck's Michelin-starred restaurant delivers a seamlessly perfect contemporary twist to the classic steakhouse experience. And he has the likes of Tom Cruise, Britney Spears and others eating out of his hands.

John Mariani of Esquire rightly raved: "By the time I was halfway through my meal at CUT, I knew this was the best new restaurant to open in the US this year." The Japanese Wagyu beef from Kagoshima is the high-point of bliss here. Choose your sauces (my favourite is Wasabi Yoku Kochu butter) and sides (bone marrow, too) first. I order the Rich Bone Marrow Flan, Kobe Beef Short Ribs slowly cooked in cocotte for eight hours and the delicately charred Nebraskan Sirloin. All this is paired with sensational wines by the master sommeliers. The Mille Feuille with McGrath strawberries is a refreshing end to that macho high-protein meal.


P.S. I still have plenty left over in my favourites list. It spans all kinds of fare, from the lustrously coiffed Pierre Gagnaire's scallops with liquorice to Spanish Chef Andoni Luis Aduriz's Mugariz, whose ingredient-driven cuisine is not for the faint-hearted (cod cheek and tripe stew)—and my stylish modern Japanese favourite Nobu. Also, my other hero, Gordon Ramsay, who may have been brusque when I dined with him in Singapore but what a meal I had in his restaurant in London! I could also go on and on about Dolce & Gabbana's Gold in Milan. And I could also tell you all about my favourite "Off the Eaten Track" tours (hole-in-the-wall eateries) around the world. Oh! How I love them—basic, throbbing, pulsating, cheap and cheerful. But that's another story.
Rashmi Uday Singh, one of India's best known food critics and author of several books on food, is chairperson,
Central Asia Region, of the London-based "World's 50 Best Restaurant Academy"