Is ISB better than the best?
E. Kumar Sharma June 24, 2008
In slideshows
From BT archives
Andrew Siu Kai Poon remembers his days at the Indian School of Business (ISB) fondly. The first international student at the school, he graduated with the inaugural batch in 2002. A native of Hong Kong, Poon was nominated and sponsored for the course by Citibank Hong Kong, where he worked as Assistant Vice President (Strategic Planning) before joining ISB's first batch of 128 students. He returned to Citibank and quickly moved up the corporate ladder to Vice President Regional Deposits Head for the Asia Pacific Region, Citibank. Last year, he joined Egon Zehnder International, a leading executive search firm that specialises in senior-level executive search, board consulting, management appraisals, and talent management, as a consultant.
Poon, who is based in Hong Kong and specialises in the financial services sector in Greater China & East Asia, says: "At ISB, I was able to understand the Indian region and build connections with the powerful alumni network (not just his batchmates, he has also built connections with students of subsequent batches). He now leverages several of those connections in his new role as "the corporate world is looking for Indian and Chinese talent", he says.
Poon is not alone. Career progression and alumni network are just two of the yardsticks that propelled it to the FT list of Top 100 global B-schools (it ranked 20th) making it the first, and only, Indian school to make it to that iconic list. The other elements that helped it get there were average salaries, research work and publications.
Disclosing the news of the ranking to students in late January this year, ISB Deputy Dean Ajit Rangnekar, said: "We have scripted our version of the T-20 victory." The entry into the list, he feels, is all the more significant as the school happens to be the youngest school to have made it to the list. "The FT ranking has led to a lot of interest in the school," says M. Rammohan Rao, Dean of ISB.
Rao has always maintained that what sets the school apart is in the rigour and intensity of the course. It offers a wide array of over 70 electives across five leading focus areas in the programme: Analytical Finance, Entrepreneurship, Strategy & Leadership, Operations and Information Technology Management and Strategic Marketing.
"ISB feeds us with candidates with relevant experience, background and interest that match our unique requirements even though we are quite open to non-standard talent that could also fit our needs," says Prabir Jha, Global Chief of HR at Dr Reddy's Laboratories, which regularly recruits from ISB.
One-year wonder
Interestingly, unlike the rest of the Indian top-rung B-school universities, ISB offers only one-year residential courses (several B-schools like the IIM-A and IIM-C have started offering such courses recently)— the reason it doesn't feature on BT's list of India's Best B-schools, which considers only those schools that offer two-year programmes. Also, unlike its Indian peers, but like many leading American and European B-schools, like Wharton School and London Business School, it admits only students with prior work experience (the minimum requirement is two years, but the average experience of students is five years). "This is important as it means students have the ability to relate to the real world and are able to compress the learning cycle time," says Kavil Ramachandran, Associate Dean, Academic Programmes.
This also means that at least some of its students are married, and a few also have children. The school offers separate quarters for married students and there are separate activities designed to keep the family and children engaged on the campus. "My baby is just 13 months old; this is an important development time for him and my wife is able to spend time with the baby," says Samuel Kuruvilla, who quit Fidelity Business Services, a mutual fund house, where he was an analyst programmer, to enroll here. On an average, each batch comprises 20 to 25 per cent married couples, which means the 440-strong current batch at ISB has 80-100 married couples staying on the campus.
All you want to know about ISB
The Indian School of Business has established itself as one of India's top B-schools in a very short span of time.

Established: July 2001(first batch starts on campus with 128 students)

Batch size: 440 currently (95 per cent domestic students)

Course fee: Rs 16 lakh (fee not different for international students, but it has to be paid in dollars)

Entrance criteria: GMAT, written essay and interview

Average salary of incoming batch: Rs 7,19,000 per annum (domestic) for Class of 2008

Average salary of outgoing batch: Rs 19,00,000 per annum (domestic); $144,812 (international) for the same class

Expansion plans: Awaiting Punjab Government approval to open a new campus in Mohali. Reaching full capacity of Phase I in Hyderabad next year with a total class strength of 560 students
Focus on research
Its focus on research is its major USP, and ISB is building on its strengths by setting up "centres of excellence" in this area. In March this year, its Centre for IT and the Networked Economy received an endowment of Rs 35 crore from venture capitalist Srini Raju, former Executive Director of Satyam Computer Services. Following the contribution, Ravi Bapna, Executive Director of the Centre, told BT: "We will use the interest income from the endowment to attract global faculty and students from partner schools around the world." The other benefit: it will allow key team members to focus on value creation rather than on resource mobilisation.
The Centre's mission is to encourage innovative thinking and on maximising the benefits of information and communication technologies (ICT) to business and society. Says Raju: "To be a top-class institution today, B-schools have to not only impart knowledge but also create it. Here at the ISB, there is a commitment and a clear plan on encouraging original research."
Ironing out the glitches
The FT ranking has given the school a lot of international exposure, but it has also helped the ISB management turn the spotlight on itself, and thrown into stark relief some key weaknesses. Among these are the relatively low proportion of international students, resident faculty strength and quantum of research. "Four more teachers will join us in three months, taking the strength of the resident faculty to 30. Then, in the next batch, we hope to increase the share of international students to about 8 per cent (from 5 per cent at present)," says Rao, adding: "We need to focus more on research and also have to publish more papers."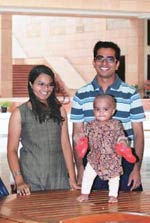 The issue of a stronger permanent resident faculty, in particular, is a cause for concern. Although the school has been able to attract high quality visiting faculty, its inability to build a strong permanent faculty is slowing down its plans of offering strong PhD programmes (It does not offer PhDs at present). A comparison will be in order here.
IIM Ahmedabad, for instance, has 75 resident faculty members for a batch strength of around 250. By this yardstick, ISB should have about 120 permanent teachers for its 440 students. But, IIM-A does not have visiting faculty, which is quite strong at ISB. So, all things considered, ISB still needs a permanent resident faculty strength of at least 50.
"We have comfortably crossed the challenge of attracting high quality resident faculty," says Ramachandran of ISB. "Now that our faculty strength will cross 30, we will have the critical mass to start designing a world-class PhD programme," he adds.
Talk to students and they point to some of ISB's unique strengths. "Given the massive diversity of students and the wealth of experience they bring with them, there is lot of learning outside the classrooms," says Dr Shankhabrata Bagchi, a triple gold medalist in MBBS and an IPS officer (he topped the National Police Academy, Hyderabad, in 1998). He is on a one-year sabbatical from his service and has not yet made up his mind about his future career path.

Future perfect
In 2010, ISB will be reaching full capacity with a student population of 560, marking the end of its Phase I expansion plans. Rao says that ISB is already planning a second campus at Mohali. "We expect to receive approvals from the Punjab government soon, and hope to have the campus operational by 2011," he says. At Mohali, ISB is planning to start with a batch of 140 students and gradually ramp this up to 350 over five years.
So, how do the recruiters view the school? "Our intake from ISB has been increasing each year and last year it increased by 12-15 per cent," says Rajan Kanagasabai, Head of Talent Acquisition Group at Satyam Computer Services. Or as Jha of Dr Reddy's, which gets a significant part of its lateral hires from the school, says: "When looking at lateral hires, we have our leadership pipeline in mind. Here, the global character of ISB students— many of whom have studied or worked abroad—is a huge advantage, as 80 per cent of our revenues come from overseas markets and 20 per cent of our workforce comprises non-Indians."
Recruiters are also willing to pay top rupee (or dollar) for ISB graduates. The average domestic and international (annual) salaries bagged by the Class of 2008 (the latest batch) were Rs 19 lakh and $144,812 (Rs 62 lakh), respectively.
But such statistics are incidental to Rao's scheme of things. Ask him where he sees ISB five years from now, and pat comes the reply: "Have several campuses and rank among the top 10 B-schools of the world." ISB is already into Stage II of the journey.