Bhopal: A beautiful little boomtown
Kapil Bajaj August 21, 2008
For a city that has suffered the world's worst industrial disaster, industry is again holding the promise of jobs and economic development. Twenty-four years after leaking poisonous gas from a Union Carbide factory traumatised Bhopal, the capital of Madhya Pradesh is becoming the expanding urban hub of a region that is attracting large investments in manufacturing.
A series of investors' meets organised by the state government, the latest of which was held in Gwalior in July 2008, has resulted in MoUs that promise investments worth Rs 3,64,000 crore across MP.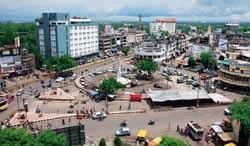 "Conservatively, even if 30 per cent of the MoUs signed so far result in investments, we will see an inflow of Rs 1,09,200 crore, comparable to the state domestic product (SDP) of Rs 1,10,000 crore," says Praveen Garg, Managing Director, MP State Industrial Development Corporation.
As a result, industrial areas like Mandideep and Budhni, which surround Bhopal, are attracting thousands of crores of rupees of investments. Thousands of acres of land are being acquired in the Mandideep-Budhni belt to cater to the expansion of existing units and for greenfied projects. The area is already home to companies like P&G, HEG, Fujitsu, Eicher Motors, Lupin, Crompton Greaves and VA Tech Hydro. And Bharat Heavy Electricals, the power equipment maker whose Bhopal unit was set up in 1956, is the pioneer of industrialisation in the region.
"Manufacturing in and around Bhopal accounts for Rs 8,000 crore of annual production, of which 50 per cent is exported to developed markets like the US, Japan and Europe," says Rajendra Kothari, Resident Director, PHD Chamber of Commerce and Industry. New investments in Mandideep include those from textile major Vardhman Group, which, last year, commissioned a 30,000-spindle yarn-making unit. It has also acquired over 800 acres of land in Budhni to set up a composite spinning, weaving and processing unit as well as a cogeneration power plant.
Fact file
Area: 308.14 sq. km
Population: 2.8 million
Main industries: Power equipment & ancillaries, engineering, vegetable oil extraction, food processing, auto components, pharmaceuticals, textiles
Average household income: Rs 1,65,210
Power surplus/deficit: None
Public transport: Mini buses, autorickshaws
Source: NCAER, state government
Kothari says Bhopal and its suburbs are morphing into something like a "Greater Bhopal", but the government, unfortunately, has not yet drawn up a holistic plan for the entire region.
Advantage Bhopal
"The greatest advantages of Bhopal and its suburbs are the easy availability of power and peaceful industrial relations," says S.K. Tiwari, Senior Manager (Engineering), HEG, a large graphite electrode exporter, which is a part of the LNJ Bhilwara Group and one of the oldest denizens of Mandideep.
Adds Sanjay Khandelwal, President of the Association of Industries, Mandideep: "Compared to other parts of India, Bhopal offers cheap land, excellent road and rail connectivity with almost all economically active parts of India, and skilled manpower." Bhopal also has a sound educational infrastructure— it is home to the Barkatullah University, National Law Institute and the Indian Institute of Foreign Management. It also has at least 20 engineering colleges, though the quality of technical manpower they churn out falls short of requirements.
Bhopal's central location and good connectivity prompted FMCG major P&G to shut down several of its plants in the country and make Mandideep its logistics hub in 1991. "That resulted in huge savings and proved that Bhopal could be an excellent distribution hub for companies," says Kothari.
Rajesh Khare, President of Industries Association, Govindpura (an industrial area of Bhopal), says Madhya Pradesh offers arguably the cheapest land for industry in India. Result: large chunks of farmland are being purchased by industry in and around Bhopal. The city has other advantages. Bhopal's interesting topography, consisting of lakes and hills, segment the city into natural enclaves, and prevent it from degenerating into yet another urban disaster a la many other Indian cities. It also has a mild climate, reasonably good infrastructure and is considered a peaceful and pleasant place to stay in, says M.N. Buch, former Chief Planner of Bhopal.
Growing consumption
With a population of about 2.8 million, an average annual household income of Rs 1,65,210, and average annual household expenditure of Rs 1,28,836, Bhopal has recently been designated a "boomtown" by National Council of Applied Economic Research (NCAER). Others in the club include Surat, Kanpur, Jaipur, Lucknow, Nagpur and Coimbatore. Bhopal's "spending propensity", measured as the share of household consumption expenditure in income, was found to be the highest of the 20 cities featured in the NCAER survey though its household income growth was the lowest.
The evidence of rising income and consumption can be found in Bhopal's buzzing marketplaces, restaurants, hotels and auto dealerships. "A lot of consumption is being driven by credit card and other loans," says Khare.
Bottlenecks
Kothari of PHDCCI says Bhopal needs to upgrade services like transportation and healthcare to support the surge in investments in manufacturing. Mandideep's Inland Container Depot (ICD), which opened a few years ago, has yet to reach the economies of scale that will make it useful to the surrounding manufacturing units; the roads are also poorly maintained.
Bhopal is also experiencing a lot of unauthorised or poorly planned development, rues Buch, the former urban planner, who also believes that the state government should encourage R&D-intensive, non-polluting industries such as IT and biotechnology. Khare, meanwhile, fears that corruption in the government and rampant commercialisation are the greatest threats to the promise that Bhopal has of becoming a great city.
These are issues that the current and future governments must address. For now, Bhopal is shedding the image of being a 'babus' city' (so called because of preponderance of government employees in its population) and donning the colours of city favoured by modern business.