Primary market goes to sleep
September 4, 2008
There is a discernible slump In the primary market. The volatility and range-bound trading in the secondary market has badly hit sentiment in the IPO market as well. Between February and August this year, the BSE Sensex shed 30 per cent. Only 25 small IPOs hit the market during this period, raising Rs 4,345 crore. The corresponding period last year saw 65 IPOs raising Rs 32,993 crore. There's more bad news. According to data compiled by Prime Database, over 500 companies have now put their plans to list on the backburner. Says Prithvi Haldea, Chairman & Managing Director, Prime Database: "Earlier, for any company, the only hurdle was to get the SEBI approval. Once the company received the approval it would approach the market. But this is not the case anymore."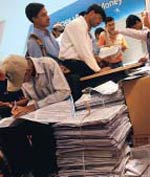 Recently, as many as 22 companies, which were planning to raise Rs 16,539 crore, have allowed their approvals to expire. These include big names such as Reliance Infratel (Rs 6,000 crore), Jaiprakash Ventures (Rs 4,000 crore), UTI Asset Management (Rs 2,000 crore), MCX (Rs 600 crore) and Acme Telepower (Rs 1,200 crore).
Generally, a company is mandated to enter the market within 90 days of receiving SEBI approval. At present, there are around 32 companies that have filed their red herring prospectus with SEBI and are awaiting its approval. However, experts feel most of them are likely to end up deferring their IPO plans as well. This list includes some big names like Adani Power (Rs 5,630 crore), Future Ventures (Rs 2,660 crore), Bharat Oman Refineries (Rs 2,400 crore), NHPC (Rs 1,670 crore) and Oil India (Rs 1,400 crore).
Says Haldea: "The demand for new paper is obviously very weak in a market like this; when there are no buyers for listed stocks, whichhave a proven track record, why will any one risk his money in the primary market?" What's more, the lukewarm response of FIIs to new issues has further hurt sentiment.
Points out Donald D'Souza, President, India Infoline Investment Banking: "Typically, for any large IPO, FIIs are the biggest subscribers. But over the last 4-5 months, the response of FIIs has been lukewarm at best."
Experts now feel that the government could take the lead in reviving the primary market. Says Haldea: "Divestment and IPOs from PSUs at attractive prices could pull back investors easily. Once the momentum starts, the sentiments will improve. We have seen this happen in the past." In the meantime, though, companies are likely to shy away from the IPO market, preferring to raise capital either through debt or private equity.
—
Manu Kaushik