Mahindra's new growth engines
Suman Layak October 2, 2008
When Pawan Goenka quit his job at General Motors to join Mahindra & Mahindra (M&M) in 1993, it had 50 people working on product development. Today that number has gone up to over 1,000. Goenka needs each and every one of them. That's because the automotives and farm equipment major has four new product platforms under development, all of which are slated to hit the launch deck in the next two years. M&M will invest Rs 5,000 crore over the next three years on products and manufacturing.


Even as M&M charts through troubled waters of high raw material costs, high crude prices and interest rates, and sluggish demand growth, the man at the helm, Anand Mahindra, is staying focussed on his automotives strategy. M&M's core focus is to be a global player in utility vehicles (UVs). Around that core, Mahindra is branching out into virtually every conceivable auto-segment, either with international partners in tow or via acquisitions. Let's start with buses and trucks, for which M&M has a joint venture partner in Navistar International, the third largest truck manufacturer in the US. For cars, M&M has a joint venture with Renault. The latest entry has been in two-wheelers, where joint venture Mahindra Kinetic (Mahindra holds an 80 per cent stake) has bought the scooter manufacturing assets of Kinetic Motor and got a licence to use the brand.
"As far as two-wheelers are concerned, we believe it cannot be lumped together with our automotive business, and deserves a focus on its own. Hence a new sector has been established to house it, and it will independently design its strategy. While there are obvious competencies we possess in the mobility industry, and obvious synergies with both our automotive and farm equipment sectors, it is not simply an expansion of a core focus area," says Mahindra, Vice Chairman & Managing Director of the company that was cofounded by his granduncle and grandfather.
To consolidate that lead, M&M is set to unleash the Ingenio, a new MUV platform, by end-2008 (the name of the vehicle has yet to be finalised). With the Ingenio, M&M wants to play in the market that's dominated by the Toyota Innova. "The MUV segment is almost one-third of the UV segment and we did not have the ideal product for it," says Goenka. The product will fill up the gap. The Ingenio will have higher engine power for its weight compared to the Scorpio. "It will be a people carrier, so the stress is on design and comfort. A large market will be the BPOs that need to transport their employees to and from home," adds Goenka.
That there's a lot hinging on the Ingenio is evident in a recent research report from Indiabulls, which says that any delays in the launch of the Ingenio could emerge as a major risk factor for the company. Goenka, for his part, is confident of launching it before December 31, 2008. This isn't Mahindra's first tryst with the MUV market. A few years ago it launched the Voyager van, which was developed with the help of Mitsubishi of Japan. But sales never took off perhaps because M&M didn't quite get the price-value equation right.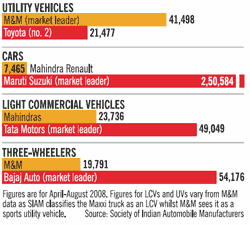 M&M eventually did get it right with the Scorpio. Launched in 2002, the high-performing and exquisitely-designed vehicle not only did wonders to the company's bottom line- today the vehicles on the Scorpio platform account for roughly 30 per cent of M&M's profits-but also to M&M's brand image. M&M is now attempting to recreate the magic all over again with an all-new Scorpio platform, which is expected to be ready by 2010.
M&M's design and development skills aren't restricted to the Scorpio but extend to less-glamorous segments as well. One such category is the pick-up (which can be configured to carry goods or passengers). "We have already launched a 3-wheeler pick-up and will also come in with a new 4-wheeler pick-up platform next year (currently M&M has pick-ups built on the Scorpio platform)," says Goenka. "It will be somewhere between a sub-1 tonne pick-up and a 1.4 tonne pick-up."
Adds Mahindra: "We have consistently said that as far as fourwheelers are concerned, we will enter into the non-utility vehicle segments only with partners." The Navistar joint venture, which M&M tries to look at as a separate business, is developing heavier bus and truck platforms. It is likely to enter the 40-49 tonne range of trucks. Then there is the passenger car play with Renault. Mahindra markets Renault's Logan through a joint venture and the two companies are talking about bringing the entire range of Renault products to India using the same distribution route. The next likely launch will be a hatchback from the Renault stable, the B90.
Global Furrows, M&M will make tractors for overseas markets at Chinese cost structures.

In August, Mahindra & Mahindra (M&M) announced the acquisition of Yancheng Tractors, the third-largest tractor manufacturer in China, through a joint venture. The transaction added 25,000 more tractors to the company's annual capacity of 1,50,000 for 2007-08. That addition appears good enough to make M&M the world's largest tractor maker, ahead of Deere & Co. of the US, which sold 1,60,000 tractors in 2007. Deere's latest capacity is, however, unknown, so it may be premature to anoint M&M with pole position. In value terms, however, there's little comparison. M&M had $1.2 billion (Rs 4,800 crore) of global sales from farm equipment in 2007-08. Deere & Co. (which owns the John Deere brand) had global sales of $24 billion (Rs 96,000 crore) last year, of which 51 per cent was from farm equipment.

However, the Chinese acquisitions have brought something more than numbers for M&M. One is the ability to make tractors of higher power—up to 125 horsepower. The American companies sell tractors with 300-400 horsepower, while in India the market is largely limited to below 80 horsepower. The other benefit for M&M is that it can make tractors for overseas markets at Chinese cost structures. Anjanikumar Choudhari, President, Farm Equipment Sector, M&M, says: "There is a 5-20 per cent price advantages on raw materials in China. With material costs making up 70 per cent of the cost of a tractor, it is a significant advantage".

The big picture for automobiles is complete with the recent foray into two-wheelers. The company has created a separate division under Anoop Mathur as the Head of the division. A former Executive Director with Hindustan Lever, Mathur joined M&M a year and-a-half ago as an advisor to Mahindra. Once the two-wheeler venture was announced, Mathur was designated as President to head the business. Other than the acquisition of Kinetic Motor's brand and assets, M&M has also bought an Italian design house, Engines Engineering, which specialises in designing two-wheeler engines. There have been reports of M&M being interested in another Italian two-wheeler company, Malaguti. However, with the Kinetic acquisition yet to be completed, M&M is not revealing its strategy for this segment, yet. Mahindra says: "Engines Engineering is a specialist in the two-wheeler field, but like all automotive engineers, they have a passion for four-wheeled animals as well. Hence, we will use them wherever in the Mahindra ecosystem that we see fit."
Goenka's new platforms
The automotives CEO has many irons in fire.


Ingenio: The MUV will be launched by the end of 2008

New SUV: A new platform for the Scorpio will be launched in 2010

Mini-truck: Launch of a new mini-truck/small pick-up is slated for the third quarter of next year

Trucks/buses: Slated for next year
Along with diversifications into new automotive segments, M&M is also stretching its wings into more and more geographies, via exports. The company soon hopes to have the US on its exports radar. Europe is already a strong market, as are South America and Africa. M&M exports completely knocked-down (CKD) kits to Brazil and Egypt for assembly. It exports completely-built-units (CBU) to Chile, South Africa and Australia. "With every succeeding product our export percentage will go up. Out of the 3,000 Scorpios we sell every month, around 500 are exports. That is 15 per cent. With Ingenio the percentage will be higher-we hope to take the Ingenio to the export market within a year and a half of the India launch," says Goenka.
Purring along
M&M is managing the slowdown well

M&M is in the midst of firming up its game plan for selling its UVs in the US. It will launch a pick-up truck first, followed by the Scorpio in 2009, in that market. The company has narrowed its choice down to two locations for assembly. Distributors Global Vehicles USA Inc. is in the process of setting up a chain of 350 dealers for M&M. "We expected to be a niche player in the US. But the economic downturn and high oil prices have opened up opportunities. The smaller pick-ups that we will offer are now in-demand, compared to the larger pickups that are popular in the US," says Goenka. He adds that while Indian cars are aligned with European regulations, US rules are different. For example, instead of a single-stage air bag, which is mandatory in Europe, in the US, M&M will have to install a two-stage air bag (single-stage air bags control one detonator, two-stage air bags control two detonators).
Specifications on seats and brakes are also different in the US. "While we are making these adjustments I am getting mails from people in the US who are eagerly awaiting our launch. It is heart-warming and we are very positive on our US entry," says Goenka. If M&M makes a mark in the West, life would have come full circle for this one-time General Motors whiz kid.