For women, by women
October 2, 2008
Microfinance Institutions (MFIs), in India and elsewhere, work mostly for poor women—those labouring in the informal sector, those who are self-employed and those who need a bit of help to become self-employed and survive. But, as the sector grows bigger and bigger, managements of MFIs tend to be dominated by men for a variety of reasons. BT picks out six outstanding women who are at the top of their organisations. Almost all of them are highly qualified and could have ended up as whitecollar professionals, but were drawn into microfinance.
G. Padmaja Reddy
40, Managing Director, Spandana Sphoorty Financial

Organisation's key objective:
To be the leading service provider.
G.Padmaja Reddy almost had to wind up her first venture in 1998 but was saved at the last minute with a loan from the Friends of Women's World Banking. Today, Spandana disburses about Rs 10 crore a day. Recently, when it wanted to raise Rs 200 crore, it got the money from PE players, through word of mouth, in 15 days. Spandana is now the secondlargest MFI in India with 1.8 million loan accounts, covering eight states. Its aim: to be present in 15 states with 5 million clients and have loans outstanding of at least Rs 5,000 crore within three years.
—
E. Kumar Sharma
Renana Jhabvala
66, National Coordinator, Self-Employed Women's Association

Organisation's key objective:
To widen the scope for microfinance at SEWA.
Getting to know Renana Jhabvala is a gently enlightening process, like the subtle screenplays of Ruth Prawer Jhabvala, her more famous writermother. The National Coordinator of SEWA has postgraduate degrees in Mathematics (Harvard University) and Economics (Yale University) and would have done her PhD had she not been hooked by SEWA's work. Over the years, she has helped set up many cooperatives of women. She has also been doing work in policy advocacy and formulation. "Offering small loans to people doesn't help. You need a lot of other things," she says.
—Kapil Bajaj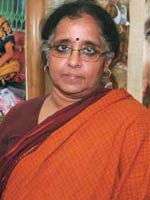 Vijayalakshmi Das
55, Chief Executive, Friends of Women's World Banking, India

Organisation's key objective:
Nurture start-up microfinance institutions.
One can consider her the mother of the microfinance industry," says Sitaram Rao, a board member of SKS Microfinance, India's largest microfinance company. In 2000, when SKS was still dependent on donors, Das, at FWWB India, gave it its first loan (FWWB India has done this with most successful MFIs). Armed with two post-graduate degrees, Das started off as a management consultant but joined FWWB India in 1989. FWWB India is now deep into issues like social responsibility of MFIs and creation of sustainable livelihoods. She feels microfinance is also about helping the poor take up sustainable livelihoods and create assets.

—E. Kumar Sharma
Jayshree Ashwinkumar Vyas
55, Managing Director, Shri Mahila Sewa Sahakari Bank (SEWA Bank)
Organisation's key objective: To help poor self-employed women with financial services and guidance on building assets and businesses.
Jayshree Ashwinkumar Vyas a.k.a. Jayshreeben has been devising and implementing innovative products for 19 years as SEWA Bank's Managing Director. Ex Examples: an integrated social security scheme for women in the informal sector and a micropension for self-employed women. "Rather than look at pure credit needs, we have taken a life-cycle approach and address all the financial needs of our customers," says Jayshreeben. Her goal: to increase her depositor base in Gujarat to 1 million from 3,50,000 now.
—E. Kumar Sharma
Praseeda Kunam
33, CEO, Samhita Community Development Services

Organisation's key objective:
Innovative provision of economic, primary health and essential social services.
One of the principal architects of SKS Microfinance, Praseeda Kunam joined after picking up an MBA and Masters in information management from the US. From SKS, she moved to ABN AMRO Foundation to work for MFIs and then pooled her savings to set up Samhita Community Development Services in end-2007, at Rewa, Madhya Pradesh. Kunam is using open-source software to track her customer household's performance. Her goal: take microfinance and primary health services to half a million poor households.

—E. Kumar Sharma
Kalpana Sankar
44, Managing Trustee & CEO, Hand in Hand

Organisation's key objective:
Entrepreneurship, capacity building and training.
A double doctorate in theoretical nuclear physics and women's development, Kalpana Sankar laments that India has many highly qualified professionals but few in the field of development. The Tamil Nadubased Hand in Hand, set up in 1988, works in five interconnected areas. "We have so far organised about 326,000 women into 22,613 self-help groups," says Sankar, who joined in 2004 and helped scale up the organisation. Hand in Hand is trying to consolidate its microfinance institutions into a registered company.

—Kapil Bajaj