About time for a brand invasion
Dhiman Chattopadhyay November 13, 2008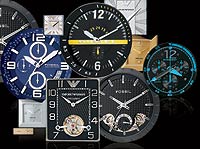 The invasion of India is being planned barely a few thousand kilometres away, in a five-star hotel on the shores of the South China Sea in Hong Kong. It's a watch invasion of gigantic proportions and collectors of luxury timepieces better watch out. Armani, DKNY, Burberry, Fossil and several of the biggest brands from the world of suits, jackets, bags and dresses have discovered that there is oodles of money to be made in the designer watch business—and are launching their Spring-Summer 2009 Collection in India soon. And at less than a 10th of what a Chopard, Patek Philippe or a Cartier costs, these Swiss-made watches may just knock many biggies off the shelves.
I am in Hong Kong, witnessing a pre-launch showcase of thousands of these watches—some with diamonds on their dials, others which are water-resistant up to 50 metres and still others which look like locks, bracelets, sun dials and even one which just has a big hole in the middle (I am yet to figure out how to tell the time in that one). The brands are all big, very big with the likes of DKNY, Armani, Burberry, Marc Jacobs, Adidas and Fossil leading the pack, but amazingly, these watches cost between Rs 4,000 and Rs 50,000 only. The secret of their success is simple—all the watches use Swiss expertise and technologically are at par with the best that Geneva and Basel can throw up. Where they differ is that they don't use rare metals or diamonds and platinum for every spare part, which really pushes up the cost of a Chopard or a Rolex. And with the fashion giants Fossil licensed to market them worldwide—Fossil is the one watch brand that has the licence for all of the big designer brands—the watches are disappearing off the shelves in Hong Kong, Singapore, Tokyo and Dubai quicker than they can be made.
So, what made these fashion giants venture into watches and entrust one mega brand to market and distribute the timepieces? As I go from room to room taking a peek into the designs that promise to take India by storm in less than four months time, I pop the question to Livio Galanti, Executive VP, Fossil.
Galanti thinks before answering: "The fashion world has a long history of licensing their brand names for accessories. In the process, fashion brands expand the number of ways they touch their core audience. Brands like Armani and DKNY realise that the product, design, marketing and distribution expertise of their organisations may not be equally strong across various products, and hence work closely with specialists to complete their portfolios. We work closely with the parent brands to develop watches (and in several cases jewellery as well) in synchrony with the brand ethos, and our success with brands such as Emporio Armani, DKNY, Diesel, Adidas and several others speaks for itself."
He sounds smug and he has reasons to be. In the last 12 months, even as the US market witnessed a slump and the sale of most luxury goods went down—Fossil, Armani, Burberry and Diesel watches recorded a small but significant rise in sales and profit. The big question as the watches arrive in the mega malls of Bangalore (UB City), Delhi (Emporio, Select City Walk, Ambi Mall) and Mumbai (Atria, Infinity) is, will the discerning value-conscious Indian customer ditch Rolex and Omega for an Armani?
Galanti's colleague Steve Woodward, a Senior VP in Fossil, says: "All these brands offer great value for money. For the first time, perhaps, people will think of an Armani as 'affordable'. However, while we have created a space for ourselves that is distinct and I dare say, unique, the big Swiss brands have a place of their own. We can coexist with brands both below and above us in price, and there is space for all of us in the huge Indian market."
He has convinced me that these watches don't just look great but are good value for money. So much so that I try on a chunky Emporio Armani watch with a black dial and it looks so cool that I find out the price and the model number, (it's the AR0579 and it costs around Rs 10,000) since I hope I can save enough to buy it before I leave Hong Kong. But I still have a lot of questions.
I meet Steve and his colleague Mark Parker, another VP with the company, for dinner at a noisy café by the seaside where live music and beer guzzling customers drown out all other noise. Over a few rounds of single malts, I ask Parker, one of the key men behind the new watches coming to India, if the watches score as a lifestyle statement. "Oh yes, totally," he says. "We are at the right place at the right time. The current financial turmoil is a short-term blip in the long-term future of India across categories, whether fashion or luxury or mass market. The watches fit perfectly with our brands— young, dynamic, great international designs and excellent value. The Indian consumer is aware, and hard to please. The success we are seeing already in India is amazing, which means we have hit the sweet spot."
Back home in India, I ask my contacts in some of the biggest names in watch making— Victorinox, Jaeger-LeCoultre, Lange & Sohne and Omega—if the invasion of the fashion labels worries them. They are not willing to go on record and be quoted. Almost all of them, however, agree on two points. First, they say that the market for top Swiss watches is different since no watch is on sale for less than a few hundred thousand rupees. The designer watches are several leagues cheaper, so there is no real competition to fear. But they also feel that a customer who's in two minds about buying a watch for Rs 2 lakh could now end up buying an Armani. The war is on and the best part is that there will be no losers here. The biggies will keep selling a few pieces of their limited edition multi-crore watches and the big daddies of high fashion will fill their coffers as well. And, of course, the discerning buyer, who loves a great watch that sports a designer label like Armani or DKNY on the dial, will go to work and parties in style.
On my last day in Hong Kong, I pay a quiet visit to the Armani store at the watch fair. The AR0579 is there, waiting for me to pick it up. Owning an Armani is something I have always dreamt of. I try it on again and now that I am sporting a cool YSL jacket and a pair of new Levis denims, the watch adds that perfect finishing touch. I am set to rock casinos at Macau now. I look the part. I take out the plastic and do the honours. Buying that Armani just made my day.