Starting up all over again
December 11, 2008
The promoters of Zandu Pharma and Fem Care Pharma recently sold their stakes at attractive valuations. All the deals were struck above the prevailing stock prices of the two companies, an enviable feat considering the depressed economic and market conditions. Business Today's Virendra Verma caught up with four promoters to find out the reasons for sale, their future plans and, more specifically, what they intend to do with their piles of cash, a precious commodity that's hard to come by in these times of a severe liquidity crunch.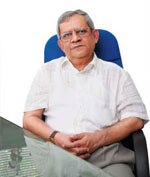 Name: Girish G. Parikh
Age: 62
Company: Zandu Pharmaceutical Works
Stake held: 36% (with family members)
Stake sold: 30%
Reason for sale: Had to compromise with Emami
New area of focus: Not yet decided
This man fought a bitter corporate battle with Emami to prevent the takeover of Zandu Pharma after the other promoter group, the Vaidyas, sold their stake in May. The Parikh family contested the sale by claiming first right of refusal. The hostilities ended amicably in October with the Parikhs entering into a share purchase agreement with Zandu, which, in turn, has included Girish Parikh and his brother D.M. Parikh on its board. So for next one year, at least, the brothers will be busy guiding the company and its new owners especially in research & development. "I'm sad that we parted with a company that is over 100 years old," says Parikh, but is quick to add that the Parikh family had to do so in the interest of shareholders, the company and its employees. "Joint management would not have been a smooth path," says Parikh. The Parikhs have not yet decided on what to do with the money. "There are a lot of members in the family, and so let each of them decide what they want to do with their money," says Parikh. Other than being involved with the affairs of the company, Parikh plans to devote his time to philanthropy and religious activities.


Name:
Dev Kumar Vaidya
Age:
43
Company:
Zandu Pharmaceutical Works
Stake held:
11.8% (with family members)
Stake sold:
11.8%
Reason for sale:
Conflict with the other promoter group
New area of focus:
Winery, specialty plastics
I didn't sell my stake to Emami just for money. I wanted to sell to someone who can manage the company better than the present management." That was Vaidya's excuse for cashing out in May this year, after he was denied a seat on the Zandu board by the other promoters (the Parikhs). Vaidya and his sister sold their combined stake of nearly 24 per cent to Emami at Rs 6,900 per share netting him around Rs 65 crore. He has no regrets that Emami paid the other promoter group, the Parikh family, 16,500 per share (in October) for their 30 per cent stake. Vaidya's financial advisors, Fortune Financial and Anand Rathi Securities, have locked the booty for seven years into venture capital funds and fixed deposits. "I'm lucky—after I sold the stake, the stock market fell sharply," he says. His advisors are working on business plans for setting up a winery and manufacturing special plastics, areas that Vaidya thinks have great growth potential. In addition, Vaidya, along with his wife and daughter, have launched NDS Technology for developing newer technology and intellectual property rights.


Name: Sunil Pophale
Age: 52
Company: Fem Care Pharmaceuticals
Stake held: 39.36% (with family members)
Stake sold: 39.36 %
Reason for sale: No successor for the company in family
New area of focus: Specialty chemicals

I'm going to retire and play golf" pat comes the reply when Sunil Pophale is first asked what he is planning to do after selling his entire 39.36 per cent stake in Fem Care to Dabur India at Rs 800 per share. But on a serious note, he says he plans to get into specialty chemicals that are used in pharmaceuticals industries. He has got the specialty chemicals division of Fem Care to begin with, as Dabur hasn't taken over this unit. Pophale and his sister Sunita Ramnathkar had a unique reason for selling the company that he founded 27 years ago. "There's no one to succeed us," he says. Pophale and his sister have two daughters each and they have no interest in the business. The reality of it dawned upon him two years ago during a presentation on succession in a business family. Pophale says he was not too worried by his decision to sell out as the company has strong brands that are doing very well; besides it has sound growth plans for the next four years. "End move is as good as the opening move in a business," says Pophale, drawing an analogy with chess. Apart from grooming the specialty chemicals business, Pophale plans to give more time to his other passions: trekking and badminton.
Name: Sunita Ramnathkar
Age: 53
Company: Fem Care Pharmaceuticals
Stake held: 27.92% (with family members)
Stake sold: 27.92%
Reason for sale: No successor for the company in family
New area of focus: Taken 25 per cent stake in US-based Mitchell Inc., a firm selling cosmetics to African-Americans
Like her brother Sunil, Sunita Ramnathkar is also very clear about what she wants to do: she plans to devote time towards branding and marketing of cosmetics for Mitchell Inc., a Florida-based company in which she took a 25 per cent stake about a year ago. She bought the stake when Mitchell Inc. approached Fem Care to manufacture cosmetics for them. After the stake sale, Dabur will continue to manufacture the products for the American company. "It's a small company, but has great growth potential," says Ramnathkar, who, however, has yet to make up her mind about what to do with the money that she will get from the sale of her 27.92 per cent stake in Fem Care. Her work for Mitchell Inc. will not be something new as she has done the same for Fem Care over the last 27 years. Incidentally, it was Ramnathkar who chose modelturned actress Sonali Bendre for the "Gori Gori" ad for Fem skin cream, which proved to be extremely popular. Like her brother, she, too, is not worried about the future of Fem Care, which, she believes, will continue to maintain its leadership position in bleach, hair removing cream and liquid soap segment despite the presence of leading multinational companies.