Do-Little Secrets
August 30, 2007
Ritu Dalmia's

Gamberetti Marinati

(Marinated Prawns)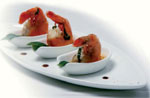 Ingredients:

Prawns 450 gm, cleaned and deveined

Fresh lemon juice ½ cup

Fresh orange juice ½ cup

Garlic 1 clove, minced

Olive oil ¼ cup

Limoncello (optional) 3 tablespoons

Chopped parsley ¼ cup

Salt and pepper To taste
Method:

1. Boil the prawns and place in a glass dish.

2. Combine lemon juice and orange juice and pour over the prawns. Let them stand for at least 30 minutes, turning them over a couple of times.

3. Drain the prawns and discard the marinade, toss the prawns with garlic, olive oil and salt to taste. Sprinkle with parsley and eat right away.

Preparation time: 7-8 minutes, plus 30 minutes to marinade the prawns.
Ritu Dalmia's

Harvest Moon Salad


(Mixed Vegetable and Fruit Salad)
Ingredients:
Mixed greens 1 bowl

Finely sliced apple 1

Chopped oregano 1 teaspoon

Chopped fresh mint 1 teaspoon

Blue cheese 50 gm (or any other sharp cheese like feta or goat cheese)

Orange sections ½ cup, peeled

Pine nuts or walnuts 1 teaspoon, roasted

Dressing:

Extra virgin olive oil 1 teaspoon

Balsamic vinegar 1 teaspoon

Honey ½ tablespoon

Salt and pepper For seasoning
Method:

1. In a salad bowl, toss the greens with the apple slices.

2. Sprinkle oregano, mint and pine nuts into this.

3. Top it with cheese and orange segments.

4. In a small cup beat all the ingredients for the dressing, till you get a nice thick dressing, pour on the salad. Serve cold.

Preparation time: 5-8 minutes.
Sanjeev Kapoor's

Quick Noodles
Ingredients:
Noodles 2 cups (200 gm)

Oil 1 tablespoon

Spring onions 2, sliced

Spring onion greens 2 stalks, sliced

Yellow capsicum 1 small, sliced

Red capsicum 1 small, sliced

Cauliflower florets 10-12, boiled

French beans 4-5, sliced diagonally and blanched

Sweetcorn kernels ½ cup, boiled

Soya sauce 2 teaspoons

Salt To taste

Tomato ketchup 2 tablespoons

Bean sprouts ¼ cup
Method:

1. Boil noodles in salted water. Drain and set aside.

2. Heat oil in a pan. Add spring onions and sauté; add yellow and red capsicums; add cauliflower florets and French beans and toss.
3. Add sweetcorn kernels, soya sauce and mix well. Add noodles and salt and toss.

4. Add tomato ketchup and mix gently.

5. Add bean sprouts and spring onion greens and mix.

6. Serve hot.

Optional: You can add chicken, prawns, fish or eggs to this preparation during Step 2.
Preparation time: 20 minutes.
HOT TIPS
Drink champagne with Indian food. It accentuates the flavour of spices, though not of chillies.
Hot Tips
When ordering a dessert wine, choose one which is sweeter than the dessert.
Ritu Dalmia's

Chicken Breast Stuffed with Onion and Ricotta
Ingredients:
Chicken breasts 4

Sliced onions 1 cup

Ricotta ½ cup

Olive oil ½ teaspoon

Nutmeg A pinch

Pink peppercorn 1 teaspoon

Chicken stock ½ cup

White wine 20 ml

Minced garlic ½ teaspoon

Saffron 3 threads, soaked in water

Fresh rosemary 1 sprig

Salt and pepper for seasoning
Method:

1. Cut the chicken breast to create a pocket, rub with salt, pepper and garlic, keep aside.

2. In a saucepan, sauté onion in olive oil, add ricotta, salt and nutmeg.

3. Add half the pink peppercorn and remove.

4. Stuff the chicken breast with the onion mixture and cook on a non-stick pan till the chicken is cooked and is golden in colour.

5. In the same pan, add the chicken stock, wine, saffron and rosemary, and cook for 2 minutes, till the sauce gets a consistency and a glaze.

6. Place the chicken on a plate, pour the sauce, and top it with the remaining pink peppercorn.

7. Serve with steamed beans or a green salad.

Preparation time: 10-12 minutes.
Sanjeev Kapoor's

Honey and lemon chicken with rice
Ingredients:

Chicken breasts 4 (800 gm), deboned

Honey 4 tablespoons

Lemon juice 2 tablespoons

Olive oil 4 tablespoons

Baby onions 8-10

Carrots 2, thickly sliced

Garlic 5-6 cloves, crushed

Ginger 1 inch piece, finely chopped

Lemon rind 1 teaspoon, chopped

Mustard paste 2 tablespoons

Orange juice 6 tablespoons

Black pepper powder ½ teaspoon

Red chilli flakes 1 teaspoon

Spinach leaves 4

Yellow capsicum ½, diced

Red capsicum ½, diced

Green capsicum ½, diced

Brown rice 2 cups, cooked

Butter 2 tablespoons

Fresh parsley A few sprigs

Salt To taste
Method:

1. Heat half the olive oil in a pan. Sauté baby onions, sliced carrots and crushed garlic for 4-5 minutes.

2. Mix chopped ginger, chopped lemon rind, salt, mustard paste, orange juice, pepper powder, half the red chilli flakes, half the honey and lemon juice. Marinade chicken in this for an hour.

3. Take a baking tray. Spread the vegetables at the base. Put marinated chicken over it along with the marinade. Place spinach leaves under each breast. Pour remaining honey on top and bake in the preheated oven at 200°C.

4. Heat remaining olive oil in the pan. Add all capsicums and sauté. Add cooked brown rice and butter and toss. Add salt and toss.

5. Remove the chicken from the oven and glaze the pieces with the baking juice.

6. Transfer vegetables from baking tray onto a serving plate and place the chicken breasts over them. Sprinkle crushed red chillies on both the chicken and rice. Garnish with parsley and serve hot.

Preparation time: 20 minutes
Ritu Dalmia's

Penne Alla Norma


(Vegetarian Pasta Dish)
Ingredients:

Large tomatoes 8

Extra virgin olive oil ¼ cup

Garlic 3 cloves, peeled and minced

Fresh basil 6 leaves

Eggplant 1 large, cubed and fried

Red chilly flakes A pinch

Penne Rigate 1 packet (or any other short pasta if you don't get Penne)

Salt To taste

Parmesan Grated, to taste
Method:

1. Cut the tomatoes in half crosswise, remove most of the seeds, using your fingers.

2. Cut the tomatoes in quarters.

3. Heat the oil in a large skillet, add garlic and chilly flakes.

4. As soon as the garlic gives off its aroma and becomes opaque, add the tomatoes.

5. Cook over high heat until the tomato begins to thicken and lose its shape. Use a wooden spoon to stir and help break the tomato pulp.

6. Add the basil, either whole or roughly chopped, and salt.

7. When the sauce is cooked, remove it from heat, and put it through a food processor for a minute.

8. Cook the pasta, in abundant boiling water.

9. Drain once the pasta is al dente (i.e., firm but not hard), and place in a serving bowl with the sauce.

10. Add the fried eggplant cubes.

11. Drizzle a little olive oil over the pasta and mix well with sauce.

12. Serve with grated Parmesan.

Preparation time: 10 minutes.
Sanjeev Kapoor's

Kadhai Vegetables


Ingredients:

French beans 10 to 12 pieces cut into quarter-inch pieces

Carrots 2 medium-sized ones cut into quarter-inch cubes

Cauliflower, florets ¼

Green peas ¼ cup

Green capsicums, 2 medium-sized ones seeded cut into quarter-inch cubes

Coriander seeds 1 tablespoon

Cumin seeds 1 teaspoon

Garlic 12-15 cloves

Ginger 2 one-inch pieces

Oil 4 tablespoons

Onions 2 medium-sized ones sliced

Turmeric powder ½ teaspoon

Coriander powder 1 tablespoon

Dry red chillies (whole) 4-5

Green chillies (whole) 3-4

Red chilli powder 1 teaspoon

Tomatoes 3 large, roughly chopped

Garam masala powder 1 teaspoon

Coriander leaves 3 tablespoons, freshly chopped

Salt To taste
Method:

1. Grind coriander and cumin seeds and three red chillies.

2. Grind garlic, green chillies and half the ginger to a paste. Cut the remaining ginger into thin strips.

3. Heat oil in a pan. Add the coarsely ground spice masala. Add onions and sauté till golden brown.

4. Add ginger-garlic-green chilli paste and sauté for one minute. Add the vegetables except green capsicums and stir. Cook covered on low heat till carrots are almost done.

5. Add turmeric powder, coriander powder and red chilli powder. Stir continuously. Add tomatoes, salt and half a cup of water and cook till the vegetables are cooked and the water has dried up.

6. Add capsicums and salt and cook for four to five minutes on low heat. Sprinkle garam masala powder.

7. Serve hot, garnished with ginger strips and coriander leaves.

Preparation time: 25 minutes.
Siddharth's

Assorted herbs and asparagus salad with ginger dressing
Ingredients:

Asparagus 3½ tablespoons

Assorted lettuce 1½ tablespoons

Cherry tomatoes 2 teaspoons

Prunes 2 teaspoons

Walnuts 2 teaspoons

Tarragon ½ teaspoon

Sage ½ teaspoon

Chives ½ teaspoon

Dressing:

Olive oil 1 teaspoon (10 ml)

Lime juice 1 teaspoon (5 gm)

Ginger ½ teaspoon (2 gm)
Method:

1. Peel and blanch the asparagus.
2. Wash the impurities from the lettuce and drain the water.
3. Roast the walnuts in a pan and remove the skin. Mix the diced tomatoes, terragon sage and chives along with the other ingredients and pour the olive oil.
4. Arrange the assorted lettuce mixed with herbs on a plate and place the asparagus on the lettuce with the cherry tomato, prunes and walnuts.
5. Now drizzle the dressing on top of the salad and garnish with the chives and serve.
Ritu Dalmia's

Torta Di Ricotta

(A Sweet Pie)

Ingredients:

Ricotta cheese 1 kg

Fine bread crumbs ¼ cup

Sugar 1½ cups

Eggs 7

Orange peel 1, grated

Semi-sweet chocolate chips ½ cup (optional)

Pine nuts ½ cup

Raisins ½ cup

Flour 2 teaspoons
METHOD:

1. Put the ricotta in a mixing bowl, add sugar and eggs and process in a food processor or a blender till you have a smooth mixture.

2. Add the orange peel, chocolate chips, raisins, pine nuts and flour.

3. Pre-heat the oven to 325 degrees F, generously butter a baking pan and sprinkle with bread crumbs.

4. Pour the ricotta mixture into the pan, and bake for one hour until light golden. The centre should feel slightly firm, and centre will begin to crack

5. Turn off the oven, let the cake cool down

6. Remove from pan and serve with sugar dusting. Preparation time: 10 minutes; 1 hour to bake.
Sanjeev Kapoor's

Zafrani Sevian
Ingredients:
Vermicelli (sevian) 3 tablespoons

Saffron 10-15 strands

Skimmed milk 4¼ cups

Sugar 4 tablespoons

Raisins 20

Green cardamom powder 1 teaspoon

Almond slivers, toasted 1 tablespoon
METHOD:

1. Heat a non-stick pan and roast vermicelli on medium heat till lightly browned.

2. Take milk in a deep pan and bring it to a boil. Lower heat and simmer for 2-3 minutes.

3. Add sugar and cook till sugar dissolves. Add vermicelli and raisins and cook for two minutes.

4. Take it off the heat. Add saffron and green cardamom powder and stir well.

5. Serve hot or cold garnished with toasted almond slivers.

Preparation time: 20 minutes.
Ritu Dalmia is a master chef of all dishes Italian at her restaurant Diva, in New Delhi. Reach her at ritu_dalmia@diva-italian.com
Sanjeev Kapoor is a master chef, author & television host. Reach him at sanjeev@sanjeevkapoor.com
Siddharth is an experienced sous chef with the Taj Group of Hotels
(Compiled by Bibek Bhattacharya and Rahul Sachitanand)