The crown jewel
N. Madhavan April 16, 2009
Just past the 17 rows of machines that build the printed circuit boards (PCBs) and affix microphones, speakers and cameras into a steady stream of mobile handsets, a crude cardboard instrument resembling a clock catches your eye. It's the most low-tech thing at Nokia's manufacturing facility in Sriperumbudur near Chennai.

Ringing success

Volume leader: The Chennai plant is a volume leader among nine Nokia global plants


Fastest ramp-up: The plant clocked 200 million handsets in record time


Exceeding target: Investment and employment have exceeded original commitment


Global output: Handsets made are exported to over 50 countries
"We call it the language wheel. When the operator sets the language, it displays the keypad for that language," explains Sachin Saxena, who heads the facility, commonly known as the Chennai plant. The plant turns out handsets with keypads in 22 foreign and 11 Indian languages. Before this local innovation, the operators had to refer to a manual every time they had a doubt. The wheel, which saves time and eliminates errors, has since become a standard fixture at many of Nokia's nine factories across the world in China, South Korea, Europe and Latin America.

The wheel isn't the only reason why the Chennai plant has caught the attention of Nokia's bosses in Finland. Its scorching pace of growth is the other. Set up in January 2006, the Chennai plant had manufactured over 200 million handsets by mid-October 2008, making it the fastest rampup by any of the Nokia factories globally (see Ringing Success). It has also become the largest in terms of volume, with over half the output exported to over 50 countries across Africa, Asia, Australia and New Zealand. And the volumes did not come at the cost of quality.

"We have achieved this ramp-up at worldclass quality standards in full compliance of Nokia production guidelines," points out D. Shivakumar, Vice President & Managing Director, Nokia India. This did not go unnoticed. Last year, when Nokia Corporation set up its latest production facility, at Cluj in Romania, it chose over 25 employees from Chennai to be the part of the core team that trained the staff there on factory set-up, operations and productivity enhancement.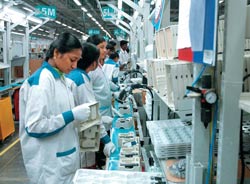 Nokia had landed in Sriperumbudur with a commitment to invest $150 million and employ 1,500 people within five years. Within just two years, it had put in $285 million and had 8,000 on its rolls. That apart, the Nokia SEZ, when fully operational, will employ 30,000 people by end-2009. "We did not anticipate this pace of growth," admits Saxena.
"It is the people (average age of 23; and 70 per cent of them women) who made this possible. Technology and processes are same across all the Nokia plants worldwide," he says. "They proved that when it comes to application of skills, they are the best. Today, in three years, our productivity levels are similar to those plants which (like Hungary) are in operation for 10 years," he adds. He avoids comparisons with factories in China or Latin America as they make different models, but asserts: "We have set the productivity benchmarks for the products we make."
The Chennai plant is also moving up the value chain. From making the 'Nokia 1100—Made for India' model, it has graduated to camera phones, slider phones and music phones. But challenges remain. Keeping the cost low is one of them. "Our cost of production is on the higher side as import content is high. Unlike China, we do not have the entire ecosystem here," rues Saxena.
Meanwhile, the Chennai team's next benchmark: A 100 million handsets in less than 10 months.
"Connect people to their passions"
Some history lessons, tools that help you deal with life and some future-gazing—Nokia India's Vice President and Managing Director, D. Shivakumar, talks about the company's plans and experiences in an interview to Kushan Mitra. Excerpts:

Why is a handset maker focussing on services?
If you look at history, (you will see that) big companies that have refused to change have all died. Nokia has changed before: from a $4-billion company with myriad products in the early 1990s, we are (now) a $70-billion company with one focus: Mobility. I feel that we have done well connecting people to each other. Now what we are seeing is a demand by consumers to connect them to their passions and their information needs "right now", and the mobile phone can deliver that.

What have been the initial reactions to Nokia Life Tools?
We have seen a re-trial rate of 85 per cent among our consumers; that is a very large number for any pilot project.

But do you feel people in urban areas will be willing to pay for services?
That is where "Comes With Music" will figure; there is no burden of payment on the user since the cost of the service is bundled with the handset. I think music will be big in India. But the fact remains that for different types of services, there will be a different value proposition. Some people might pay large sums of money for instant information or entertainment, while others might not.

But with handset makers such as yourself, mobile operators and third-party service providers all jumping onto the services boat at the same time, don't you have any worries?
Nobody will actually end up competing that much against each other because for all services, you will need a collaborative effort between the content owner, the mobile operator and the handset vendor. There cannot be a "solo" play here.

Do you worry about the fact that your market share can only decline?
I wake up every morning thinking how to prevent a competitor from chipping Nokia's dominant market share away. It's a real nightmare.