Mahindra's slam dunk
Anusha Subramanian March 31, 2010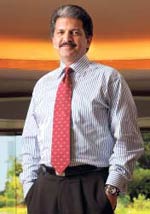 The Mahindras have always loved their sports, with the Mahindra United football team being the most visible sporting face of the utility vehicle maker. The view in the group is that in a cricket-crazy nation, outliers who will promote other sports are the need of the day. Recently, Anand Mahindra, Vice Chairman, Mahindra & Mahindra (M&M) drove home that point when he tied up with the iconic National Basketball Association (NBA) of the US to flag off a multi-city, community-based basketball league. Called the Mahindra NBA Challenge, the league is open to players in the 14-18 age group. It will start in Bangalore in mid-April. Teams will play weekly games leading up to a final tournament at the end of seven weeks.
Before you start comparing the league to the highflying NBA-or even the IPL-the objective here is promotion rather than profit. The Mahindra NBA Challenge will attempt to provide newcomers to the game an opportunity to learn the fundamentals and apply their skills in a fun, competitive environment (that's why it's being termed a "recreational" league).
"Mahindra's tie-up with the NBA is to develop basketball in India from the grassroots level. We feel that basketball has enormous potential in India. The key hurdle to building the popularity and talent level of basketball in India is to provide a large number of youth from a broad spectrum of communities with an opportunity to play consistently in high-quality, organised games," explains Ruzbeh Irani, Executive Vice President, Corporate Strategy, and Chief Brand Officer, Mahindra Group.
As at most companies, sports is a Corporate Social Responsibility (CSR) initiative at M&M, with 1 per cent of the group's post-tax profits (which stood at Rs 1,405.41 crore in 2008-09) used for this purpose. Clearly, sports today is a not-for-profit effort, simply because there are no profits to be made. But as Irani points out: "We would like to grow it (the basketball league) to a point where it becomes popular mass entertainment." It's going to be a long haul but if the Mahindras persist, don't discount the league taking on IPL-like hues 10-15 years down the line.