Sculpt and earn
Rajshree Kukreti March 5, 2008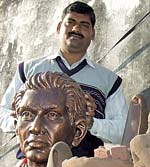 Shiv Kumar
How did you get into sculpting?

I learnt sculpting while doing my fine arts course. After completing my course, I worked with my teacher and mentor P Rajivnayan, now principal, Lucknow Arts College, in creating life-sized statues of famous personalities.
Is sculpting a full-time job?

Sculpting is not a very paying vocation. Coming from a poor family, I needed the security of a regular income first. I found my first job as an art teacher in Lucknow Public School quite satisfying and made teaching my first career. In 2003, I was offered a job as an art teacher with Kendriya Vidyalaya in Moradabad. To me, a government job is any day better than a private teaching assignment.
How much do you get paid for your sculptures?

For busts (2.5 ft), I charge around Rs 7,000 per piece. I recently made a fountain and charged Rs 15,000 for it. My work outside the school fetches me almost twice my salary. I'm also a private tutor. However, it is the security of my salary that is more important to me.
How do you promote your work?

After I moved to Moradabad in 2003, I decided to create a statue of Lord Shiva, which was later installed in the school. It turned out to be the best way to display my talent. My work was immediately recognised and I received requests for creating busts of the area's achievers. Many city-based brassware exporters have asked me create sample designs for them.
How many life-sized statues have you created so far?

A single person cannot make lifesized statues. It has to be teamwork, especially since we use different mediums, such as fiberglass, metal and cement. Till date we have made over 30 statues.
How do you divide your time between your full-time job and your hobby?

Fortunately, school hours are quite convenient. I generally get enough time to concentrate on my hobby after work.
Are you satisfied with your progress?

I have enough artistic work. What's more important is that I derive immense creative satisfaction in doing what I greatly enjoy. At the same time, my monetary needs are met.