The share of
spam in email traffic
was at a five-year low of 72.1 per cent in 2012 after registering a substantial year-on-year fall of 8.2 per cent in comparison to 2011.
Kaspersky Lab, which has collected the data, attributes the fall in spam volume to the overall heightened level of anti-spam protection in email systems and the introduction of DKIM signature policies that verify the domain from which emails are sent. Another factor behind the falling levels of spam is inexpensive advertising on legal platforms, said the release.
However, the fall in the proportion of emails with malicious attachments was marginal. Such emails still account for 3.4 per cent, still a very large.
Interestingly, China became the primary source of spam, accounting for 19.5 per cent of all unsolicited mail. It was not even among the top 20 sources of spam in 2011. India was placed third in this list, behind US with 9.7 per cent. Overall, Asia now generates over half of all the world's spam.
India was also a favourite target for phishing sites and was listed as sixth overall. The top half of this list is mostly populated by developed countries, with Russia (fourth) and India being the only exceptions.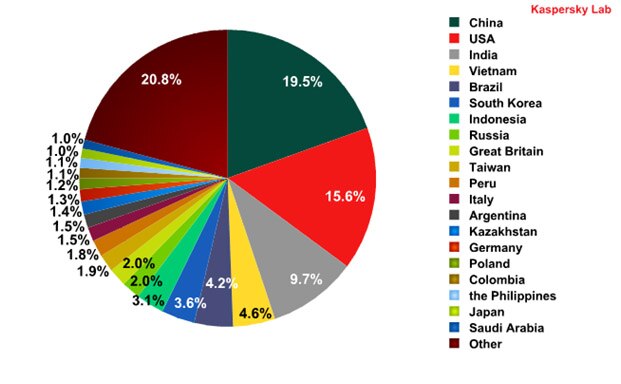 Darya Gudkova, Head of Content Analysis & Research Kaspersky Lab, said the percentage of spam decreased over the course of the year, and remained below 70 per cent during the last three months of 2012. "However, that doesn't mean spam is headed the way of the dodo anytime soon: malicious spam, fraud, and advertising of illegal goods cannot simply or easily migrate to legal platforms, due to their own inherently criminal nature. We expect that the decline in spam volumes in 2013 will be negligible at best."