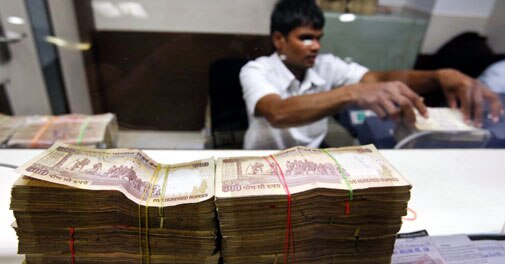 (Photo: Reuters)
Outlining the roadmap for fiscal consolidation, Finance Minister Arun Jaitley has said the government will retain the fiscal deficit target for 2014-15 at 4.1 per cent of GDP and reduce it further to 3 per cent by 2016-17.
The fiscal deficit which had touched a high of 5.7 per cent in 2011-12, was brought down to 4.8 per cent in 2012-13 and further to 4.5 per cent in 2013-14.
Presenting his maiden Budget, Jaitley said the prevailing economic situation presents a great challenge and there was a need to introduce fiscal prudence that will lead to fiscal consolidation and discipline.
FULL COVERAGE:Union Budget
"My predecessor (P Chidambaram) had set up a very difficult task of reducing the fiscal deficit to 4.1 per cent of GDP in current year... the target in indeed daunting. Difficult as it may appear, I have decide to accept this target as a challenge," he said.
Outlining the roadmap for fiscal consolidation, Jaitley said fiscal deficit would be brought down to 3.6 per cent in 2015-16 and 3 per cent by 2016-17.
The reduction in fiscal deficit by the UPA government, he said, was mainly achieved by a reduction in expenditure rather than by way of realisation of higher revenues.
Jaitley said there are challenges to lowering the fiscal deficit as the country had two years of low GDP growth, a almost static industrial growth, a moderate increase in indirect taxes, a large subsidy burden and not so encouraging tax buoyancy.
"The task before me is very challenging because we need to revive growth, particularly in manufacturing sector and infrastructure," he said, adding choice has to be made whether or not to be victims of mere populism and wasteful expenditure.