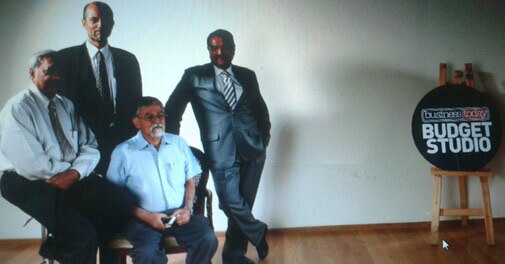 (Left to right) Satya Poddar, partner, EY; Ajit Ranade, Chief Economist, Aditya Birla Group; Arvind Virmani, former chief economic Adviser, Ministry of Finance and Dhiraj Mathur, Executive Director, PWC. PHOTO: Shekhar Ghosh
In the run-up to the annual Budget 2014/15,Business Today put together a panel discussion with some thought leaders in India including Ajit Ranade, Chief Economist, Aditya Birla Group; Arvind Virmani, former chief economic advisor, Government of India; Satya Poddar, Partner, Ernst and Young and Dhiraj Mathur, Executive Director, PwC India.
The topic of discussion for the panel was priorities for the new government. Ranade said that the backdrop of the Budget is not cheerful. "There is high inflation, primarily due to high food prices, manufacturing has registered zero growth for the past two-three years, Iraq flare-up has jacked up the crude oil prices which, in turn, will affect subsidy burden and trade deficit."
FULL COVERAGE:Modi government's first budget
Foreign money coming in and stock markets doing well are the only silver linings in the current environment, according to Ranade.
"In terms of priorities, the government should take anti-inflationary stance and keep in mind fiscal consolidation. Both agriculture and manufacturing sectors are facing issues. In agriculture, supply is not keeping pace with demand. We have to tackle overuse of fertilizers," he said.
Echoing Ranade's view, Virmani said the objectives of the government are quite clear. "Their first priority is to restore sustainable fiscal position."
EY's Poddar said that the government should avoid controversial structural reforms that are going to dampen the enthusiasm which is already reflected in the markets. "Much of the decline in the growth of the Indian economy is because of the government and not global market forces. It is because of policy paralysis and policy which has contributed to the negative sentiment among investors."
Poddar adds that he expect the budget to provide a clear guideline on policy framework. "Government can itself stimulate capital expenditure by investing in railways. I think the government can boost growth rate to 6-6.2 per cent. The increase in the capex can come from increase in direct federal capital spending, increase in spending by the public sector units, increase in spending by state governments, and increase in private spending through appropriate monetary policy and incentive regime," says Poddar adding that "investors are anticipating a clear roadmap for GST (goods and services tax). Also, we expect reversal of tax policy, especially retrospective tax. If the policy is detrimental, they should reverse it."
Mathur of PwC said that it is time to start thinking about the various long term measures. "In terms of long-term measures, there's a need to review the policies that impact manufacturing decisions and manufacturing operations. Other major exercise that the government must undertake is to align tax policies with sector regulations," he said.