A beach-side picnic, a terrace party or a camping holiday are all occasions that could use some great music and the playlist of your favourite songs in the phone. You can play music from your phone, but their small speakers will be a killjoy for sure. This is where the new range of portable speakers, available in all shapes and sizes, will give you uncompromising sound. Most of them are Bluetooth enabled and connect wirelessly.


JBL Flip
Rs 5,990
Rating: 4.5/5
The JBL Flip is a compact cylindrical portable Bluetooth speaker. The name Flip comes from its unique ability to be used in both horizontal and vertical positions. JBL has added rubberised parts on both sides that gives the unit a good grip wherever placed.
The primary mode of connectivity is Bluetooth, but there is also an auxiliary port for connecting through wires. The 40mm drivers and built-in bass port offer superb sound. Be it listening to music or watching a movie, the sound is so powerful that it turns the environment into a personal theatre. At full volume in a small room and even on the terrace, it felt really very powerful. The JBL Flip also has handsfree features.
BAG IT OR JUNK IT:
By far the best music player at this price.
---
Logitech Mini BoomBox
Rs 6,990
This is so compact and lightweight it can be easily carried in a handbag without adding much weight. The music controls are placed on the top with a mini USB port for charging, auxiliary port and an on/off key at the back.
It can be charged once to enjoy a wire-free music experience for up to nine hours. Designed to boost the sound of smartphones, tablets and laptops, it seamlessly pairs with the iPod Touch as well.
---
Elecom Sound Block Speaker
Rs 1,449
Designed for Apple products, this is compatible with the 30-pin connectors. However, it does not have an internal battery and feeds of the phone. Weighing 150 grams and available in vibrant colours, the Sound Block is easy to carry around.
---
Jabra Solemate
Rs 5,990
This mobile speaker has rubber soles and a sturdy front grill. Perfect for camping, this Bluetooth speaker also has a groove to hold the 3.5mm cord. There are volume buttons on the top along with call answering button. The 10-hour backup on a single charge is good enough for a weekend holiday.
---
Moxie Review
Rs 9,995
Rating: 4.5/5
The Moxie has been designed by Kohler for those who enjoy music even in their shower, but don't want to risk taking their phone under the water.
It is a shower with a 1.5-watt detachable Bluetooth speaker. The cone-shaped speaker is made of white plastic and has a magnetic base that attaches itself to the showerhead. There is a button on the front of the speaker to pair it with a phone or tablet.
The sound output was loud and clear; good enough to rise above the din of the running water. We also did not notice much distortion. If you are desperate, feel free to use this as a speaker for a small living room.
BAG IT OR JUNK IT:

Ideal for patrons of bathroom music
---
Bose Sound-Link Mini
Rs 16,200
We were pretty impressed with Bose's SoundLink Bluetooth Mobile Speaker that offers superb sound from a handheld speaker. Weighing 680 grams, Bose has added two new passive radiators along with the custom designed highefficiency transducers to reproduce the entire range of frequencies. The sound is otherworldly, especially when you consider the size.
---
BlackBerry Mini Stereo Speaker
Price: TBA
This portable audio unit can be connected to two devices at once. Used for accessing music as well as for answering calls, it is a U-shaped accessory that can be clipped to a shirt or a belt.
It has a power key and volume buttons along with a key to play/pause or answer calls. The speaker utilises noise reduction and echo cancellation technology.
---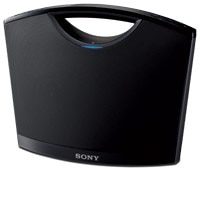 Sony SRS-BT M8
Rs 5,990
The handbag-like design makes this speaker convenient to carry around, also a bit feminine. Powered using an AC adapter, Sony has been thoughtful enough to add the support of powering it through four AA batteries as well.
The sound output of this portable speaker is loud and clear. Overall, good value for money.