A twist in the Kale !
The author is the Executive Chef and Partner of Monkey Bar, India's first gastro-pub brand, and Executive Chef of Olive Beach, Bangalore.
Foreign Invasion
The popularity of Japanese cuisine, heralded by the import of Wasabi by Morimoto three years ago, was followed by Arola, Akira Back, Megu and Le Cirque. Having wowed diners with unabashed authenticity and native style, they played a role in raising a generation of informed patrons who have moved on from pizza, pasta and the ubiquitous kebab. Soon, we may even bid adieu to the Indianisation of cuisines and embrace them for their intrinsic worth. More's the possibility if rumours of Jamie's Kitchen and other Michelin-starred restaurants entering India are to be believed.
Asian is the new Italian

Nowhere is this trend more evident than in big cities, where people refer to har gow, chee cheung fan, bao and the nuances of tamari versus normal soy sauce with easy familiarity - a clear departure from the hot and sour, chowmein and hakka days. Pork belly has become the benchmark of any self-respecting Pan-Asian eatery, and the quality and execution of this particular dish determines whether diners are likely to visit again. Mamagoto, Yauatcha, Kofuku, Crystal Jade, Singkong, Akira Back and Dimcha and Dao are classic examples of this.
Pub Makeover
Our languishing pub culture has got a new lease of life by appealing to the country's youth. Reinventing themselves as gastropubs, dive bars, laidback neighbourhood hang-out spots, microbreweries and speakeasy bars, pubs are going the extra step to capture the imagination of the young of mind and the raucous of voice. Jaded neon lights and glass stained bars are almost on their way to becoming a thing of the past as they get infused with quirky themes and a playful vibe. Get your dose of gourmet burgers, sinful desserts and classy cocktails as you hobnob with the cool and the happening.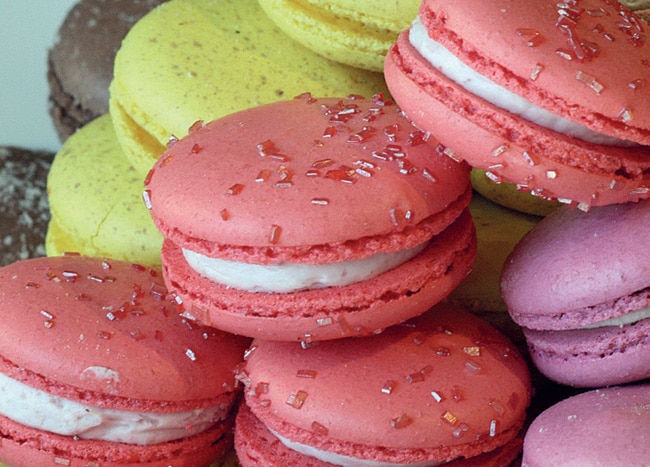 Rise of the Macaroon
Apart from finding a place in the lexicon of the Indian pastry, this delicate, brittle and gooey confection has managed to outshine the cupcake craze that had gripped us briefly. Originally fuelled by Le 15 Patisserie, Amande and L'Opera, these are a favourite with home-based bakers and patisseries who like to experiment and raise the bar. Try Mandakini Gupta's Smitten Bakery in Delhi and Sonya Balasubramaniam's Pate Sucree in Bangalore. Cafe of Joy in Whitefield is notable for its mind-boggling range of German pastry.
A Twist in the Kale!
The modernisation of Indian cuisine crept up on us a few years ago, unostentatiously but firmly. This trend is most manifest in the style of presentation - in a shift from a hearty, family-centric style to edgy nouvelle cuisine. Stepping out of their comfort zone, restaurants are zealously embarking on perfecting their very own unique formula for diners, pleasing hordes of critical gourmands. French bistros and kitschy contemporary cafes have adopted a mish-mash of exotic and quality ingredients, churning out experimental dishes such as fish moily and beetroot chops with elan. For a taste of this transformation, head to Ziya at the Oberoi or Masala Library by Jiggs Kalra in Mumbai. Be assured of gastronomic extravagance at Varq, The Taj and Indian Accent at The Manor in New Delhi. Also, on the anvil are eastward expansion plans of Floyd Cardoz of Tabla fame.
Toast to Indian Wines
If the efforts of wineries like KRSMA and Fratelli, and the introduction of new varietals like Sangiovese are anything to go by, the Indian wine industry is sitting on a brighter future - one that is mercifully quality driven. More notably, Chandon's recent arrival and the latest acquisition of 30% of Sula by Anil Ambani is a strong indicator of an impending boom in Indian wines. Cheers to the vineyards in the country that have made a mark!
From Farm to Plate
This relatively nascent but noteworthy trend is being driven by a handful of passionate farmers in an effort to push quality produce into institutions and homes alike. Trikaya from Pune and First Agro from Bangalore are making terms like heirlooms, organic and pesticide-free more relevant, bringing to our plates a repertoire of ingredients that were previously seen only in fancy recipe books. The natural, 'organic' rage has been dogging us for a while now, but this time we are jumping on the bandwagon!