Before I place my order, the barman bowls me over with a line-up of beverages in different tones of dusk. There is a thin sheen of dew frosting these glasses. He urges me to sample them. "Start from left to right," he instructs, "going from pale to dark." At the end of the spectrum, I am left more confused than I was to start with.

The barman jumps in again, "Would it be the pale ale or the lager for you, ma'am?" I gingerly pick one, "I'll have a glass of the German wheat."

As I sink back into my seat I can't help but mull over my confusion. This is my usual go-to beverage on a warm summer evening. It used to be the simplest thing to order. Clearly, not anymore. Its recent makeover has created a problem of plenty. About four years ago, a fresh business model was brewing in the minds of a handful of Indians. If you were to ask them how it all began, chances are you will be regaled with anecdotes about how they chanced upon the idea during one evening of heavy drinking at a bar; or stories of sipping a fine beer in a brewery abroad when the 'a-ha' experience took place. Since 2008, after the first few boutique breweries started making fresh and delicious 'craft' beer, there has been no looking back.

Here's the story of the Indian microbrewing industry, its challenges, what drives it, and what goes into the making of a good beer.

The Sponsoring Need
Till recently, Indians were exposed to only one kind of beer-the commercial lager. It is a fairly competent product till such time it leaves the brewery and hits the supply chain. When the bottled beer finally gets to the consumer, it could be as old as five months and may have faced fluctuating temperatures, poor storage and transportation. "It is only in India that bottled beer is chilled just before consumption," says Suketu Talekar, co-founder of Doolally Brewing, a microbrewery in Pune.

It was a desire to skip this tenuous supply chain that gave rise to the notion of 'independent' breweries in India. Known as microbreweries, they began by producing limited quantities of beer each day. In a commercial format, they are better known as brewpubs. These are essentially resto-bars where one can consume fresh-off-the-tap beer that has been brewed in-house. These microbreweries produce between 5,000 and 50,000 litres of beer, a day. None of it is bottled and there are no preservatives added in the process.

Craft Brewing
Most brewers began as beer lovers who wanted to enjoy a better product. Consider the case of Satish Kumar Kohli. Almost 49 years after he began practicing the craft, he is still fascinated by beer's versatility. Currently the brewmaster at Howzatt, India's first commercial microbrewery at Gurgaon's Galaxy Hotel and Spa, he explains why a craft beer tastes far better than the bottled one available in the market. "Creativity is the key component here. Industrial brewers are driven by a mass-merchandising mindset where profits matter the most," says Kohli.

Talekar believes, "There is a possibility of creating about 2,000 different varieties of beer. Indians are now seeking a wider choice and better quality that only craft brewers can offer. And since experience leads to education, Indians, especially in the metros, now have a better understanding of beer than ever before."

However, Meenakshi Sagiraju, coowner of The Biere Club in Bangalore believes there's some way to go. "Beer drinking is still restricted to the 'bottled' concept and there is very little awareness about the beverage," she says. That's why many brewpubs offer a tour of the brewery to help consumers understand the various stages of brewing. "Not only does it gives a fresh perspective to beer but also builds a brewer-client relationship," says Sagiraju.

So what is a good beer, one may ask? Andreas Lindauer, expat brewmaster at 7 Degrees Brauhaus in Gurgaon says there's no perfect beer. According to him, "A great beer, simply put, is fresh and flavourful". Beer is best when consumed within 15 days after the end of the conditioning process (see diagram above). Mass-produced beer is often treated with glycerine as a preservative to stretch its shelf-life for up to six months but the product suffers in the bargain. "A glass of good beer should display the complexity of its ingredients and creativity of its maker," says Lindauer.

"There are four primary factors to judge the profile of a beer: appearance (colour, foam stabilisation, and clarity), aroma, taste, and finish," says Ishan Grover, brew-master at Lemp Brewpub & Kitchen, Gurgaon. "One that is perfectly balanced and has all these characteristics, is a beer you enjoy drinking," he says.

Ingredients & Flavouring
When it comes to ingredients, most craft brewers prefer imports. "Microbrewing is a fresh concept and most barley suppliers only have the kind of grain that's used by industrial breweries. Once the demand for a better bouquet of barley increases, it will be profitable to the suppliers to cater to the growing need," says Talekar. He is optimistic that over the next two years barley used for craft brewing will be sourced domestically. Another key import is the hops. These are a special kind of flower endemic to temperate-zone countries. Hops are the all-important ingredient that give a beer its distinctive bitterness and also act as a stabilising agent.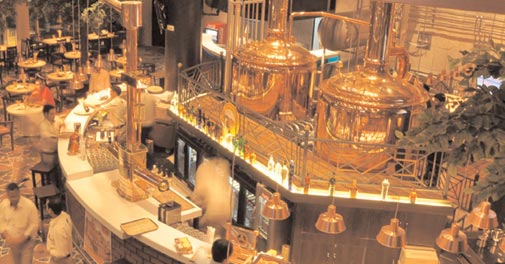 In terms of flavouring, there are two primary pursuits for most brewers. The first involves infusing local flavours (such as mango wheat beer or jaggery ale served at Doollaly); the second is introducing iconic international brews to local clientele (think, Irish stout or the Belgian witbier served at Lemp Brewpub). "There are as many patrons of a brew infused with, say coriander, as an international recipe that one may have savoured while travelling abroad," says Suketu Talekar. So he updates his beer menu every few months to keep up with newly-discovered brew flavours.
Sustainable Growth
The brew bubble is seemingly growing but owners of these businesses are still struggling with operational and external challenges. These range from stringent state liquor laws, licensing issues, restriction of funds and lack of skilled labour for the highly technical job of brewing. "Presently there are just three schools that provide a degree in brewing technology," Talekar says adding that "it takes two years to train a student of microbiology to get a granular understanding of brewing." In such an environment, it is difficult for small brewing companies to predict growth.
Despite this, a bevy of microbreweries have mushroomed in areas where residents have large disposable incomes (Gurgaon, Pune, Bangalore and even Chandigarh and Panchkula). Notably, these areas are also close to metros, like Delhi and Mumbai, where liquor laws are too strict for a microbrewery to flourish. These cities are demographically blessed with young professionals who can afford to spend a bigger buck for a product that goes the extra mile.
In his book Hops and Glory, author Pete Brown, recounts the journey of shipping barrels of 'strong October beer' to Indian shores. The hoppy brew that survived the long voyage south was named India Pale Ale or IPA. It is ironic that India had a beer named after it way back in the 18th century when even today the country consumes less than two litres of beer per person per year. The once exotic India Pale Ale fizzled out over the course of history but today, thanks to the 20-odd microbreweries in India, IPA and many such historic brews are awaiting a revival. So ditch the mass-produced bottled beer and hop to your nearest brewpub to savour such brilliant brews.
MILLING
Whole-malted grain is milled (portioned and cracked) to allow it to absorb water. This in turn helps to extract sugars from the malt.

BREW WATER PREPARATION
Large copper tanks are used to delicately prepare and store treated hot and cold water which are essential components in the later stages of the brewing process.

MASHING
The milled grain is then added to hot water where it is mashed and stepped to extract the soluble goodness from the grain and create the character of the beer.

WORT BOILING
The mashed liquid is then transferred to the second copper tank where the spent grain is filtered from the still hot liquid to obtain the wort. Here, hops are added to the wort and it is boiled further.

COOLING
The wort, once brewed, is cooled rapidly to the ideal fermentation temperature (16 - 22 degrees celsius) the cold water prepared and stored earlier is used as a coolant in this process.

FERMENTATION
The cooled wort is transfered into a sterile fermenter filled with fresh yeast. The yeast cells quickly metabolise the sugars into alcohol, natural CO2 and flavour esters transforming the wort into beer.

CONDITIONING
The beer is filtered from the yeast and transferred to the serving tanks where it is conditioned for a couple of days for flavour improvisation and the optimum level of carbonation.

FINISHED BEER
About 60 days after the start of the conditioning process, the beer is ready to be served. Ideally, it should be drunk at seven degrees celsius.