Every February, the Port of Versailles in Southwest Paris plays host to an annual motoring event-the Retromobile Vintage Car show that celebrates some timeless European automotive masterpieces. This year, the event notched up some $13.7 million (Rs61.7 crore) in sales, double of last year's figures. The stars of the event were two Bugattis that went for a modest $1.3 million (Rs5.8 crore) each. There was also the 1961 Cadillac, named 'The Jacqueline,' after America's beautiful former first wife Jacqueline Kennedy. The Cadillac- custom-made by iconic Italian design house Pininfarina-went for $290,404 (Rs1.3 crore). Closer home, vintage cars have always been the insignia of the rich and royal, and India boasts of some of the finest. The home-nurtured beauties-Diljeet Titus' 1957 Chevrolet Bel Air; Rajiv Kehr's 1934 Packard Super 8; and Harshpati Singhania's 1947 Bentley Mark VI-graced the pebbled driveway of The Aman, New Delhi, as a part of Cartier Travel with Style Concours d'Elegance in March this year but sans a price tag. Apart from the fact that the Indian law forbids the import and export of these valuable wheels, the owners too, having restored them from a dilapidated state to their previous glory, are justifiably reluctant to put a price tag on them.

Till a few years ago, collecting vintage and classic cars and restoring them was a nascent business (read hobby) among enthusiasts with deep pockets and a good understanding of car mechanics. But in the last decade, clubs such as Vintage and Classic Car Club of India (VCCCI) and Heritage Motoring Club of India (HCMI) began spreading awareness among budding antique car enthusiasts by conducting workshops and imparting knowledge on car restoration. These clubs today serve as a platform to buy and sell old cars, their workings somewhat similar to the 'autojumbles' held in countries such as the UK, Australia and the US to trade in vintage and classic cars.


VINTAGE VENTURE
Vintage or classic?
Vintage Cars are those produced before 1939 while Classic cars are those that are at least 30 years old. Currently, there are just about 5000 such cars in India.
.. Clubs such as Vintage and Classic Car Club of India (www.vccci.com) and Heritage Motoring Club of India (www.hcmi.org) help in imparting knowledge about these cars to potential collectors and also serve as a platform to buy and sell vintage and classic cars.
.. Export and import of a vintage or classis car is prohibited by law in India to save these national treasures from being shipped out for their 'spare parts'.
..Vintage and classic cars can fetch up to 20-50 per cent of capital gains, depending on their lineage, antiquity, make, and rarity.
.. Bottom-level vintage or classic cars can be bought for a modest 5-15 lakh. Mid-segment cars are available at 20-30 lakh and the luxury-segment models can range anywhere upwards of 30 lakh.
"The car-makers of that time reveled on design, unlike today where fuel-efficiency, power, and functionality are the prerogative of automotive engineering" says Diljeet Titus, lawyer, general secretary of HMCI, and collector extraordinaire, as he takes us through his 25,000-square-foot vintage car museum in Mehrauli, New Delhi.
Owner of 56 classic cars, he says, "Collecting vintage cars is a passion that allows me to indulge in and savour the glamour and finesse of these timeless machines." That it is a good investment comes only as an added advantage. The trick is to salvage a car that is in a dilapidated state, buying it off at a relatively cheaper price, and finally restoring it to its erstwhile glory.
"It takes years of learning about car mechanics, heritage, and an understanding of one's own preference (a liking for sports car, convertible, fourdoor sedan or a limousine,) to finally start collecting cars. Most people begin with bottom to mid-level vintage cars and then go on to rare antiques," says Titus. Bottom-level antiques such as Vauxhalls, Sunbeams, Mini Coopers are available between Rs5-15 lakh while midsegment vintages like Chevrolets, Volkswagens, Buicks and Lincolns, are priced around Rs20-30 lakh and make for good investment options. The big league retro wheels like Minervas, Bugattis, Rolls Royces, Jaguars, Cadillacs, can set you back by upwards of Rs50 lakh. While mass-produced vintages are cheaper and easily available, the limited edition or custom-made classics are pricey and are often acquired by veterans like Pranlal Bhogilal, founder of VCCCI; Vijay Mallya, Sharad Sanghi, Nitin Dossa, and Vivek Goenka, who are also its prominent members.
Currently, there are just 5000 vintage cars up for grabs. The sale of these national treasures is prohibited abroad by Indian law and that is what saves these from further declining in number. Not that it has stopped celebrated cars like 'The Brooke Swan Rolls Royce' that once belonged to the Maharaja of Nabha, from being spirited away from Indian shores-possibly as 'spare parts'-but the strict law has largely helped investors. Fueled by this imperfect market, the interplay of luxury and rarity is what makes them coveted collectibles.
This means that for a neo-classic car collector, it might be challenging to procure a rare machine. Tarun Thakral, general manager, Le Meridian, Delhi and founder of Heritage Transportation Trust (HTT) says, "Seasoned collectors constantly improve their collections by selling off the relatively common vintages and procuring rare ones." HTT currently owns 45 cars, 10 commercial vehicles, and 20 non-mechanised modes of transportation. He adds, "This finetuning of one's collection results in some cars coming out of the stables of existing collectors. Added to this, is the odd 'junk' that occasionally comes out of the garage of a certain haveli. Such a chanced encounter of a gem is most rewarding for a collector."
The capital gains on such an investment can range anywhere between 20-50 per cent, depending on its lineage, antiquity, make, and rarity. "There are two factors that determine a collector's car value: supply and demand, and condition," reiterates Titus. Cars that were custom-made for Maharajas to suit their sensibilities and function-like his 1935 Seven Passenger 'Purdah' Limousine Buick, used by the womenfolk of a royal household-can be worth a fortune. Such a rare classic promises to bring unparalleled returns and pride of ownership.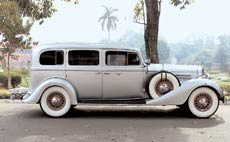 But the real fulfillment, albeit an expensive one, lies in restoring a rickety and rusted classic becuase the primary reason why these get passed on to worthy investors is that their upkeep is costly and parts, difficult to find. Also, a rare beauty deserves expert hands and ample time to be rebuilt. "It takes a year or two to fully restore a car, so one should be prepared to devote as much time as the car deserves," says Titus who dedicates at least two days in a week to his cars for their restoration.
Restorers like Indore-based Manvendra Singh Barwani, Mumbaibased Rishad Kundanmal, and Delhibased Tutu Dhawan, are vintage car connoisseurs who have salvaged many-an-erstwhile beauty. The entire process is not only expensive but also intricate and requires dismantling the vehicle completely and restoring it with the original design in mind.
Each part is worked on with much attention to detail. The workshop has special teams of mechanics working on different parts of the vehicle. Apart from the engine mechanics and body crafters, there are electricians, carpenters, painters, and upholstery designers at work. The challenge lies in ensuring that even the wire work inside the engine panel is as close to the original as possible. The owner can choose to restore an antique in two ways: either restore the car to its original (factory) condition, or modify it to introduce modern technology.
The next important step is insurance. Vintage cars often don't have modern safety features, and are thus prone to damage. This makes them expensive to insure. "The insurers generally accept values stated by owners as very high values cannot be certified in India due to lack of a proper certifying authority concerning classic car insurance valuation. So comprehensive insurance at actual prevailing market values is difficult as the prices of such cars only keep going up," says Titus.
Consequently, Third Party insurance, which is the basic minimum requirement under the Motor Vehicles Act and is generally taken by collectors for their cars. Insurance companies like National Insurance Company Ltd and Tata AIG provide insurance for such cars. So whether it's a modest 1968 Mini Cooper or a flamboyant 1952 Cadillac Coupe de Ville, these classic cars that are the sentimental remnants of a bygone era, have now become the cynosure of well-heeled, keen-eyed aficionados.