If you are a rival operator's customer, Bharti Airtel will buy your dongle for Rs 1,000, sell you its own 4G Wi-Fi hotspot for Rs 1,300 with a competitively-priced data plan, and then destroy the rival's dongle. With that, it may have fired the first salvo in the great 4G war that is in the offing. Rivals may have been taken aback by Airtel's aggressive move, and don't have a response yet, but don't expect them to take this lying down. Still, Airtel has made its intentions clear. India's largest telecom operator will not cede an inch of its turf. If you have to fight it, be ready for a long-drawn battle - and a lot of blood on your balance sheets.
But before they go live with their networks, they have to overcome some difficult technological and logistical challenges as the two competing technologies offering 4G - Mobile WIMAX and LTE - are still evolving. For instance, while RIL bought 4G spectrum in 2010, the first LTE handsets were launched a year later, in 2011. Besides, telcos have to enable their mobile towers with 4G equipment. While Bharti, Vodafone and Idea can strap the equipment to their existing towers, Jio has a bigger task at hand, as it has to start from scratch.
They also have to ensure that they don't disappoint the customer yet again with poor, patchy and untrustworthy networks, as they did with 3G services. Despite the massive demand for Internet across the country, in seven years that 3G services have been available, telcos managed to add just 82 million 3G subscribers as against the total subscriber base of nearly 990 million.

Even after acquiring 4G spectrum more than five years ago, Jio continues to struggle with the commercial launch. Since 2013, the launch date has been postponed multiple times. The most recent statement from RIL says that the launch will take place by the end of 2015/16. Analysts expect it to happen around April 2016.
Jio has already lost the first round to arch-rival Bharti Airtel, which began rolling out its 4G services in April 2012, starting from Kolkata. Jio's initial delay, as experts put it, was due to technological issues with the network. The recent postponement, however, is a result of the company taking an integrated approach under which it will offer not just telecom but also entertainment, financial, chat, health care, education and e-governance services.
BLOODIER...AND NASTIER
When these investments will translate into profits is a big question mark, especially as fear of competition has already pulled down 4G prices in India to the lowest in the world. Airtel's offer of Rs 500 per month for five mbps is almost one-eighth of what Verizon charges in the US or one-fifth of what O2 charges in the UK. Jio's entry is expected to take this to Rs 300-500 per month.
At this rate, telcos will have to get on board tens of millions of subscribers to generate economies of scale. But for that, the network, offerings and services will have to be far superior to what we have in 3G. In fact, the network has to be as omnipresent as today's voice network. But that isn't the case even with the only 4G network of Airtel.
Alarmed at the low 4G average revenue per user, or ARPU, Fitch Ratings has slashed its outlook for the telecom sector from stable to negative for 2016 as it expects the Jio launch to intensify competition and bring down data tariffs by 15-20 per cent, especially as existing 3G players such as Airtel, Vodafone and Idea will cannibalise their 3G customer base to add 4G subscribers.
"Data' contribution to revenue will rise to 25-27 per cent [from 18-20 per cent in 2015]...we expect blended monthly ARPU to fall 5-6 per cent to Rs 160 [from Rs 170 in 2015] due to a decline in data tariffs?," it says.
While the economics of 4G are still being worked out, analysts expect negative returns from 4G investments for years. Morgan Stanley predicts that Jio's revenue will grow to $6,699 million by 2019/20. It expects Jio to make losses of $300-1,000 million every year during this five-year period.
But how big is the 4G opportunity that the players are making huge investments despite zero visibility on profitability? Analysts say that a large investment from one operator (Jio) is forcing others to also invest. As consumers will gravitate towards operators that will offer 4G, no player wants to miss the 4G bus.
As per an IAMAI-IMRB survey, there were 277 million mobile internet users in India in October. The number of mobile subscribers was 988.69 million in August. A substantial chunk of these mobile internet users is on 2G networks. The first potential users of 4G will be the 82 million 3G users.
According to a report by telecom regulator Trai, the use of mobile data is growing at a scorching pace. For instance, in quarter ended March 2014, the total data usage per subscriber - for both GSM and CDMA services - stood at 61.66 MB per month. In quarter ended March 2015, the comparable figure was 99.46 MB, a jump of 61 per cent.
For telcos, contribution of data to revenues is also showing a steady increase. For every Rs 100 earned by GSM providers, Rs 67.38 is coming from voice and Rs 25.05 from data.
Still, the biggest challenge for telecom operators would be to increase ARPU from data. At present, a big chunk of Airtel 3G is used by customers who have taken the one-GB plan. The 4G speeds are higher but eventually consumers will need to spend more on data. "We think approaching it mathematically doesn't work. We think of it as providing customers a great experience. They will decide how they upgrade with time," says Srini Gopalan, Director, Consumer Business, Bharti Airtel. He is the man in charge of the company's 4G rollout.
Analysts say that Jio, which will start the game from zero, will have a daunting task of convincing 4G users to get new handsets considering that 95 per cent subscribers are still pre-paid with an ARPU of Rs 160 per month.
ARPUs in India have shrunk due to cut-throat competition. Recall that this was the primary reason that Bharti Airtel went on an acquisition drive in Africa. In fact, ARPUs in Asia are among the lowest in the world - roughly 50 per cent below global average, even lower than in Africa. This means slim margins.
AND HERE GOES THE FIRST SHOT?
As they lose money initially, this battle will be about staying power. In the interim, however, expect it to get nastier as more players join in. As the Airtel offer for rival operators' dongles proves, this is just the beginning. "In almost every country that has deregulated spectrum, market share battles have been epic and profits have been difficult to sustain. Consider the battles in countries such as Brazil, much of Africa and South America to see what happens. India is probably the most competitive market among all emerging countries right now," says Kannan Ramaswamy, William D. Hacker Chair Professor of Management, Thunderbird School of Global Management, Los Angeles.
Airtel has already launched the 4G service at 3G rates. So, all existing 3G subscribers can automatically upgrade to 4G. But Goldman Sachs expects Airtel to reduce prices by 25 per cent in 2016/17 in response to Jio's launch. It, though, is assuming that increased consumption will offset the impact of price cuts on revenues.
Everything boils down to affordability. Jio wants to lure a large crowd of consumers. For that, the cost of 4G service and devices should be low. Chairman Mukesh Ambani had indicated in June that he plans to offer 4G services for Rs 300-500 per month.
Besides this, Airtel and Jio will face off in many other areas. Take, for instance, customer ease. Typically, moving to 4G requires a new SIM. Airtel is making the transition simpler by promising delivery of 4G SIMs within four hours of request, though several customers say they did not receive theirs within the stipulated time. "Customers are not going to take six extra steps just to try out new technology. The more pain we take out of the transition, the more the ecosystem is going to develop," says Gopalan.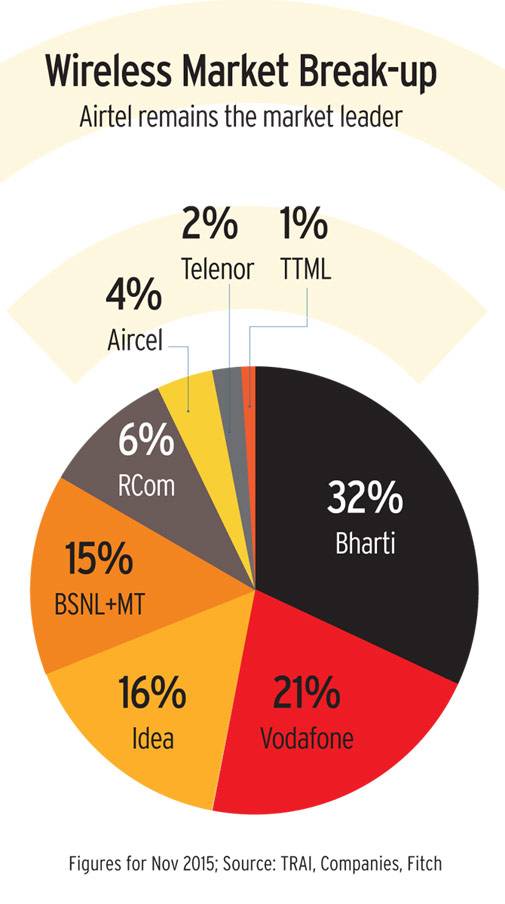 Similarly, Jio has developed an app - Switch N Walk - that lets users transfer their entire data from one phone to another in about five minutes. "Jio is not built like any other telecom operator. It is a true internet age company. You should have the agility of Internet and at the same time the infrastructure of telecom companies which internet companies miss," says a Jio executive. It has created different teams for each of its applications, and its total workforce is around 25,000. "The network infrastructure is ready and going through extensive tests to ensure a seamless experience for subscribers. Business platforms, too, are being tested in a limited use environment. A large team of testers has been deployed across the country to facilitate extensive validation of the services," says Sanjay Mashruwala, Managing Director, Reliance Jio Infocomm.
It seems that in the big Airtel-Jio fight, Idea and Vodafone are likely to play smaller roles. Both realised the importance of 4G late. Idea, for instance, started acquiring 4G spectrum last year and so far has the spectrum in 12 circles - Maharashtra, Kerala, Madhya Pradesh, Punjab, Haryana, Andhra Pradesh, Tamil Nadu, Karnataka, North East, Orissa, plus Gujarat and UP West, which it acquired from Videocon for Rs 3,310 crore this month. In February last year, Vodafone won 4G spectrum in five circles: Delhi, Mumbai, Kolkata, Karnataka and Kerala.
---
What is 4G?
Stands for fourth generation. It's a mobile network which is intended to replace 3G, allowing wireless broadband access at superfast data download speed.
How is it different from 3G?
Average download speed on 3G network is 14.4 Mbps with upload speed of 5.76 Mbps. On a 4G network, the download speed is 100 Mbps with upload speed of 50 Mbps.
The pioneer
Sweden was the first country in the world to commercially launch 4G in late 2009 in the cities of Stockholm and Oslo.
The global user base
ABI Research estimates that there will be nearly 1.37 billion 4G LTE subscribers worldwide by end 2015, up from 650 million in 2014.
---
In fact, Vodafone continues to bet big on 3G. "The relatively low proliferation of smart phones and LTE handsets in India and the nascent stage of the ecosystem make us believe there is still huge headroom for 3G to grow even as a select set of customers migrates to 4G," says a Vodafone India spokesperson.
Himanshu Kapania, Managing Director, Idea Cellular, accepts that India's third-largest telecom operator could not anticipate the 4G scenario. "We made an initial announcement that we will do it [4G launch] in late 2016-early 2017, for the reason that we believed that both capital prices of 4G equipment as well as handset prices were not right for a country of our income levels. However, the market has moved very fast. China has installed a billion base transceiver stations, or BTS, which has brought down 4G handset much faster than we anticipated in 2014, and that's why this June we took a board approval to advance our 4G launch to the first half of 2016," he says.
Kapania believes that it is a long journey, "and in a long journey whoever takes the first two steps is not going to be important," he says, hinting at Airtel's August launch and Jio's impending entry.
Sceptics argue that tall claims for 4G are in stark contrast to the 3G story. The 3G experience across the country is far from satisfactory. Telecom Minister Ravi Shankar Prasad says that one operator has rolled out [4G], let others also come. "Let there be fair competition in terms of quality of service and other deliverables. Ultimately, it's the quality of service which will drive consumer base," he adds.
Taking eyes off the customer may spell doom. Take the case of Bangalore-based Avijit Ghosh. He bought a 4G Mi-Fi device and 10 GB monthly plan for Rs 999 from Airtel six months ago. In October, the device stopped working. He tried using it at various locations but failed. He also got the device checked. The customer care told him that they are facing network problems, and that he will not have to pay for 15 days. Ghosh says Airtel failed to honour its promise and he paid the entire amount. "While the network problem has been resolved now, the incident has affected my perception about Airtel," he says. His account though could not be independently verified.
Romal Shetty, Partner and Head (Telecom), KPMG, says that smaller telcos and telcos with less 4G focus will get marginalised in the big 4G battle. "India is the only country where 2G, 3G and 4G rollouts are happening simultaneously. Airtel has set the ball rolling but 4G still has a long way to go," he says.
THE WALLED GARDENS
On the content side, while Vodafone's and Idea's strategies aren't known yet, both Airtel and Jio are taking a 'walled garden' approach where they have developed proprietary apps for movies, music and mobile payments. In August, Airtel, Reliance Industries, Vodafone, and Aditya Birla Nuvo (associated with Idea) received licences for payment banks from the Reserve Bank of India.
Airtel has introduced Wynk Movies, an online marketplace for videos, which has various partners such as Hooq, Eros, YouTube, Sony Liv and Dailymotion that bring their content on the platform. So, in one app, there's Hollywood (Hooq), Bollywood (Eros), and other forms of video entertainment. In order to hook users to Wynk Movies, Airtel is giving free access to five movies a month to customers where they pay for the data usage and not the movies.
Jio has a more comprehensive content strategy. It has created a bouquet of services that will include digital commerce, media & entertainment, cloud and payment services. The application kitty includes Jio Chat (Indian version of WhatsApp with conferencing facility), Jio Drive (enabling cloud capability), Jio Play (catch-on TV), Jio Beats (Music), and Jio Money (mobile wallet and payment service). Jio has operationalised nearly half a million square feet of its own cloud data centres.
For each of these apps, Jio is building its own ecosystem. In the case of Jio Play, for instance, the company is tying up with various TV channels to provide their content on its app. It already has Network 18, owned by RIL. For Jio Money, it is bringing merchants on board to enable cashless transactions between them and customers. But why Jio has decided to develop its own apps when there are already similar apps in the market is not clear. For instance, Paytm and MobiKwik are already providing online payment solutions.
Jio says that Jio Money will take away the pain from online transactions, and Jio Play will have a much larger number of channels that what's being offered in the market today.
All the 4G players believe the way to grow data ARPUs - and revenues - is through consumption. Take, for instance, music streaming apps. When Airtel launched Wynk Music in September last year, there was not much traction happening on music apps. Today, listening to music online is the third most preferred activity of urban Internet users in India, followed by accessing e-mails and social media, according to market research firm JuxtSmartMandate.
Shetty of KPMG says that astrology, Bollywood, cricket and ecommerce are going to drive data consumption in India. "As far as tariffs are concerned, telcos will keep prices low for a year to get people onto 4G. The idea is to increase the share of a [existing data] customers wallet that the company receives because once people get high speeds, their data consumption goes up. Also, it's about getting new data users," he says.
HOW THEY STACK UP
Airtel has already taken a lead in what looks like the biggest telecom battle in years. In the case of 4G services, the first-mover advantage is crucial.
In India, the 4G ecosystem is developing around three bands - 800 MHz, 1,800 MHz and 2,300 MHz. The three are also the most preferred spectrum - in that order because of their ability to transcend concrete buildings easily, leading to better coverage. Globally, the most widely used spectrum in LTE networks is 1,800 MHz.
Take Jio. It holds the maximum 4G spectrum consisting 2,300 MHz band across all 22 circles, 800 MHz in 10 circles and 1,800 MHz in 18 circles. Airtel, on the other hand, has spectrum in nine circles for 2,300 MHz band, and in 15 circles for 1,800 MHz band. In comparison, Vodafone has 4G spectrum in five circles and Idea in 12 circles. According to the telecom minister, the licence has been granted to Jio and Airtel for 4G. "Anyone else also applies depending upon satisfaction of the eligibility condition, we are okay with that. Our insistence would always be that the service has to be good," he says.
The minister's statement raises questions on the launch dates given by Idea and Vodafone for 4G. Vodafone, however, confirms it's ready for launch in December this year. Idea plans to launch in the first half of the year and hopes to cover 750 cities. It is likely that the two operators have not yet got the final nod from the Department of Telecom (DoT). "We have applied and demonstrated the capabilities of the network in various circles. We are waiting for the DoT clearance," says an Idea spokesperson.
Both Jio and Airtel are taking different approaches. Take, for instance, the strength of their network. Jio has installed more than 30,000 towers, and tied up with around eight tower companies, including Indus Towers, ATC and Viom Networks, for taking 70,000 towers on lease. Airtel, on the other hand, doesn't share specific details on the towers. At the time of the August launch, it had reportedly 35,000 BTS for 4G. Typically, one tower has one BTS. In March this year, Bharti Airtel Chairman Sunil Bharti Mittal had said that Airtel has 20,000 BTS and, by March 2016, will have another 20,000.
---
WHAT ANALYSTS SAY
"India's smartphone penetration of 19 per cent is still very low, but the market is seeing an expanding range of both affordable and high-end devices...While the current 4G handset population is estimated at around 10mn (majority not VoLTE-enabled), we expect this to increase to nearly 180mn by FY18." - CLSA Indian Telecoms report, November 2015
"Rural India accounts for 70 per cent of the population but still has mobile telephony penetration at sub-50 per cent levels, and we see this as a sizeable opportunity for the top three operators." - BNP Paribas India Telecoms report, September 2015
"Over the past few quarters, the overall contribution of voice revenues has continued to shrink. On an incremental basis, data accounts for over 70 per cent of all revenue growth and increasingly the incremental revenues from voice are shrinking." - Barclays India Telecom Services report, November 2015
"We believe that the Jio launch could help further bring down any price differential between 3G & 4G tariffs as well as 3G & 4G smartphone prices. This, coupled with declining 4G smartphone prices, will likely make it easier for consumers to switch from 2G to 4G directly." - BofA Merrill Lynch Telecom - India report, October 2015
---
Nevertheless, telecom operators are leaving no stone unturned when it comes to providing last-mile connectivity. Jio, for example, has laid out an optic fibre network across the country measuring 2.5 lakh km. Airtel's network is shorter at 1.99 lakh km. Jio is now in the process of wiring up commercial and residential locations in key markets such as Delhi and Mumbai to meet the internet, telephone and cable TV requirements of high-end consumers. The company is also preparing for JioTV, which will replace DTH and cable TV.
"It will be tough for rivals to compete with Jio when they come up with a network comprising towers, optical fibres and submarine cables," says Rishi Tejpal, Principal Research Analyst, Gartner.
When Jio formally launches 4G next April, Airtel will face its biggest test. So, how's it going to differentiate itself from Jio? "In our minds, it's less about differentiation and more about creating the ecosystem. We are in such early days of 4G," says Gopalan. "We are a child of competition. We believe we become better, consumers benefit and the industry grows as a result of competition. We are in a competitive market and we will respond," he adds.
Airtel claims its 4G network is underpinned by two levels of circuit switch fallback which enables each of its 4G SIMs to fall back on either 3G or 2G network for data or voice where 4G network is not sufficient.
Till recently, Jio's capabilities were seriously questioned because it didn't have a fallback network. But with Reliance Communications Chairman Anil Ambani announcing a possible tie-up with Jio last month, it's likely that Jio could make RCom's network its fallback option.
'As far as tariffs are concerned, telcos will keep prices low for a year to get people onto 4G. The idea is to increase the share of a [existing data] customer's wallet that the company receives because once people get high speeds, their data consumption goes up. Also, it's about getting new data users'
Romal Shetty
Partner and Head (Telecom), KPMG
With the amount of spectrum that each player holds, it is becoming increasingly clear that the 4G market will largely be divided between Jio and Airtel for the next few years. Idea and Vodafone will launch 4G services in some circles but their ability to compete with Airtel and Jio on a pan-India basis will be restricted by the limited spectrum that they own.
According to a Bank of America Merrill Lynch report, the big three operators - Bharti Airtel, Vodafone and Idea - will gain if the Jio launch is delayed. "With the big three telcos expected to have rolled out 4G selectively...before March 2016, we expect their top-end consumers to migrate to 4G... These customers are unlikely to switch to Jio given the comfort these customers would have with their existing operators and general laziness to switch unless there is a very compelling proposition," the report said pointing out that Jio's expected lower pricing strategy can be a sustainable offering in poaching subscribers.
Jio says that its USP will be the HD voice quality in calls on its 4G network since it uses Voice-over-LTE (VoLTE). Airtel does not have VoLTE. It is banking on a fallback network. VoLTE technology, an advanced version of Voice over Internet Protocol calls, is quite nascent though. According to brokerage CLSA, the number of 4G handsets is 10 million, most of which are not VoLTE-enabled. Most 4G devices that are shipped in India today don't naturally support VoLTE. In fact, there are reports that Samsung has decided to not join Jio's platform for its VoLTE handsets over concerns related to its distributors.
The report estimates that Reliance Jio will be the market leader in terms of 4G subscriber base from 2017 onwards till 2025, followed by Bharti Airtel, Vodafone and Idea Cellular. According to sources in Jio, the company is looking at building a subscriber base of 100 million in a year. The figure is out of sync with BoA-Merrill Lynch's projections that says that India is expected to have nine crore 4G subscribers and 18 crore 4G smartphones by 2018.
That may be so. But in the world of technology, leaders get dethroned with the advance of technology. And today's 4G leaders will have to keep a watch on the proliferation of Wi-Fi networks being rolled out, besides the call for government-run free Wi-Fi in many parts of the country. Not to forget the Internet via space projects being planned by Google and Facebook, which promise high speed Internet free of cost to the consumer exactly like all other Google products such as search, e-mail and Android. Finally, there is 5G on the horizon, too.
(Additional reporting by Nevin John and Alokesh Bhattacharyya)