For Vineet Jain, a 173-year history is just that - the past. Bennett, Coleman & Company Ltd, like any business which is that old, should be a treasure trove for anecdote bounty hunters. The Managing Director of BCCL, the publisher of newspapers such as The Times of India and The Economic Times, is focused on the present. "Sure you can trace us back, but I am more concerned about what people want today."

That is the cue for this correspondent to quickly sift through the chronology. The Rs 5,500-crore empire that BCCL is today started as the twicea-week The Bombay Times and Journal of Commerce, owned by a set of 11 British firms, two barristers and a doctor, and aimed at the business community in Bombay. Information made for a buzzing industry those days in India's trading capital and the paper went through two buyouts, two amalgamations (the second resulted in The Times of India in 1861), and one restructuring in about 50 years.


History lesson
1838 DuPont unveils a new synthetic yarn and calls it nylon. The earliest use of nylon is in replacing animal bristles in toothbrushes
By 1902, with a strong national character embedded in The Times of India, BCCL - the name was taken 10 years earlier - moved into an office at Bori Bunder, opposite what is today the busy Chhatrapati Shivaji Terminus. The company's history records this as its third office after starting off at Parsi Bazaar, a busy street in the Fort area, and a Churchgate building that the company decided to move from after the ceiling fan collapsed in partner and editor T.J. Bennett's office.
The Jain family came into the ownership of BCCL long years later in 1948 when Sahu Shanti Prasad Jain, current managing director Vineet's grandfather, bought the firm from his father-in-law Ramakrishna Dalmia, who had paid Rs 2 crore two years before to buy out BCCL's owners. The paper was distinctly nationalistic those days, reflecting the euphoria after India's independence.
It was not until 1987 that BCCL, a sleepy company like most Indian media businesses of the time, was shaken up: when Samir Jain, Vineet's elder brother by 11 years, took charge as Vice Chairman; their mother Indu Jain chairs the company.
Samir took a leaf out of the consumer goods business - "a newspaper should be sold like a bar of soap" - brought smarts into marketing TOI, as
The Times of India
is popularly called, never before seen on the Indian print media landscape. But his invitation price of Rs 1.50 daily (most papers sold at twice that), which punched rivals where it hurt in 1992, can be traced back in BCCL history books. In 1907, just after the newspaper decided to extend news deadlines to midnight from 5 pm earlier, the management cut the newspaper's price to one anna from four annas (16 annas made a rupee). Circulation rose five times. Samir's decision in 1992 resulted in home subscriptions jumping five-fold, too.
Established in 1838

1838: The Bombay Times and Journal of Commerce starts as a bi-weekly newspaper and becomes a daily 12 years later

1890: After a few mergers and name changes, The Times of India is born, and is bought by Henry Curwen in partnership with Charles Kane

1892: After Curwen's death, T.J. Bennett becomes editor. The Bennett, Coleman and Co. Ltd, or BCCL, is formed

1907: In the first of its price wars, The Times of India cuts price from four annas to one anna. Its circulation rises five times


1934: Seth Ramkrishna Dalmia buys out BCCL for Rs 2 crore; sells it to son-in-law Sahu Shanti Prasad Jain two years later

1940: For the first time, TOI publishes news items on its front page

1961:

The Economic Times

is launched


1987: Samir Jain takes charge as Vice Chairman of BCCL

2004: Launches Times Private Treaties, an equity initiative for ad inventory. Enters TV business with lifestyle and entertainment channel

2006: Launches TV news channel Times NOW; follows with business channel ET NOW in 2009

2010: Launches ET Wealth; Movies NOW, India's first HD-only premium movie channel; relaunches the Sunday ET as a tabloid


Other tactics, which rivals sourly call guerilla ambushes, were discount coupons for classifieds, realigning space selling departments to sharply focus on advertiser interests, "combo offers" both for advertisers and newspaper buyers, and product sampling. In expanding its reach, BCCL has been panned by the intelligentsia on two decisions: "dumbing down" the content of its flagship newspapers to reach to a wider audience and violating Chinese walls between advertising and editorial.
Medianet, a vehicle that offered advertising-like rate cards for editorial content in lifestyle supplements of TOI, and Private Treaties that bartered advertising space in return for equity in client companies (typically, start-ups or mid-cap firms) came in for a good deal of flak. "Almost all publications indulge in it," says Vineet about the Medianet deals. "We were upfront about it, and this is reserved for lifestyle. At no point is our editorial judgment swayed.''
Admire it, or hate it, BCCL has made itself virtually invincible. "You have to hand it to them for thinking, behaving and acting like leaders in every sphere," says Nitin Jain, former director, Times Group, whose mandate was also to drive Medianet as head of the group's division called Optimal Media Solutions. "Call them bullies, perpetrators of monopoly, shrewd manipulators… whatever, but fact is that everyone follows standards set by them in print.'' Nitin, not related to the Jains of BCCL, today runs Domor Communication, a consulting outfit.
Its ability to set prices for advertisers comes from its dominance in virtually every product it runs.
The Economic Times
newspaper, for instance, brings in revenues of over Rs 500 crore for BCCL. In comparison, Mint - ranked No. 2 by audited readership among financial dailies and part of rival HT Media, the publisher of Hindustan Times - makes under Rs 80 crore.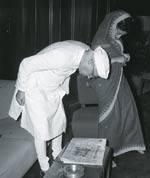 And that is just the print play. BCCL, as a group, has been an early mover online and in radio too. A late entry in television has seen it miss out on opportunities that others have captured in general entertainment, but it has clawed its way into electronic media with its channels Times NOW and, more recently, ET NOW and Movies NOW.
So what could be a worry for the company in the coming quarters? The immediate future could be challenging for BCCL, which is setting a target of doubling its revenues in about four years, according to Ravi Dhariwal, CEO, Times Group. It is early days yet, but the English newspaper market will saturate, especially in big Indian cities. The growth will come from smaller cities as advertisers look for a media vehicle to reach consumers there, but running smaller print-runs is a less-profitable proposition.
The group is yet to fully take on the might of
Dainik Jagran
and
Dainik Bhaskar
in the vernacular media market. Still, some like Rajesh Sawhney, President, Reliance Entertainment, believe the alarm bells are not going off yet. "But if they need to remain uncontested, then at least 50 per cent of their revenue has to come from non-print areas,'' he says, up from the current one-quarter. Sawhney was earlier the chief operating officer of Times Internet.
Vineet, 45, who has been driving BCCL's online business, has some answers. "I keep telling my people that you may be earning your revenues from print, but it is actually the digital space that you are here for, it will be your salvation,'' he says. A global footprint, while attractive given how media businesses are bleeding globally, is not a worthwhile pursuit yet for the group. "We have to focus here, where there is demand. We can always scale up later and consider inorganic options such as acquisition if there is a need,'' he says.