At the Bombardier Transportation factory near Vadodara, five robots, towering 15 feet and more, and dozens of workers are at work on the newest assembly line of the world's biggest trainmaker.


Work that begins each morning with a structural frame and wheel assembly ends the day with clinical efficiency in a new metro rail coach ready to be shipped. The Bombardier factory, at Savli, has reasons to be fast: it is scrambling to complete a 424-coach order by Delhi Metro by October 2011. Savli, the company hopes, will be a production hub for India and the region - Thailand, the Philippines and Indonesia - as more cities opt for urban rail networks.
Bombardier's pace of work in Gujarat predates its factory, when it was scoping Indian locations for a factory site. It had factories in Qingdao and Changchun in China but they were joint ventures. Bombardier wanted full ownership of a unit in India, which would the 25th on its global network of manufacturing locations.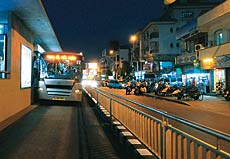 Competing with Gujarat were Uttar Pradesh and Haryana, followed by Hyderabad, where the Canadian major had been present with an engineering unit for about seven years. Gujarat was on the list as Bombardier had been running a software centre at Vadodara since 2003.
As discussions started on infrastructure and the possibility of making the plant a production base for other markets, the land-locked states around Delhi went off the drawing board. Andhra Pradesh did not score high on critical parameters. "The balance finally tilted in favour of Gujarat. Apart from the (Mundra) port, the railway track connecting Delhi was right behind the proposed factory area," says Rajeev Jyoti, Bombardier Transportation's Managing Director in India. What sealed the deal was the local vendor ecosystem - the company today has about 60 suppliers near Savli.
The decision made, Bombardier saw the Gujarat administration swing into action. It allotted the land in a week and the company built a 160,000 sq. m. factory in 18 months flat. When Bombardier noticed that the road connecting the factory to the Ahmedabad highway was uncomfortably narrow for transporting coaches, the government widened it in quick time. "It was a record breaking experience in Bombardier's 100-year history," says Jyoti.
The Gujarat Buzz
Asutosh Shah, India Managing Director for Duravit, a German luxury sanitaryware brand, says environment clearances for its Tarapur plant in Anand came through registered post in eight weeks. Such approvals in other states can take months despite active lobbying and follow-ups.
Industries Minister Saurabh Patel recalls how Tata Power Managing Director Prasad Menon called on him a year ago without an appointment. Menon, who was meeting Patel for the first time, had come to thank the . minister for the government's support in moving ahead with the Mundra ultra mega power project. "'Nowhere in the country has it happened that we have not had to meet an industries minister or chief minister to move on a Rs 15,000 crore project,' he told me," says Patel. Menon did not reply to requests for comment.
The secret ingredient, says Shah, is a state administration that methodically divides investment proposals from its biennial Vibrant Gujarat summits region-wise and follows up with regular meetings with the local collector and industry department.
The state has received proposals worth $370 billion (Rs 16.65 trillion) at the summits to date, with some $240 billion (Rs 10.8 trillion) coming in 2009. Others such as Karnataka have hopped on to the schmooze bandwagon with the Global Investors Meet in June 2010 netting some $85 billion in investment proposals. Other states such as Haryana, Uttar Pradesh and Uttarakhand, too, are not behind in the competitive investment game.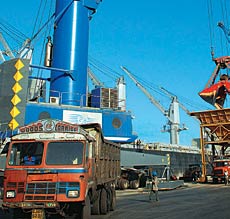 Boardrooms across Corporate India are buzzing with what many call the Gujarat experience. Tyremaker Ceat has set up a plant in Halol to make radial tyres. Says Anant Goenka, Ceat's Deputy Managing Director, "You just can't take your eyes off Gujarat." So much so that some of Gujarat Chief Minister Narendra Modi's most bitter critics have set up shop in the state. Next to Bombardier's factory is a Thermax plant, and the Pune-based boiler manufacturer is thinking of another one at Jhagadia, north of Surat. Thermax Director Anu Aga, whose family controls the company, was one of the few from Indian business to criticise Modi after the Godhra riots early in 2002.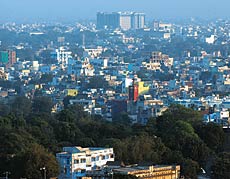 The speed of government inThe speed of government in Gujarat and continuity of policy - Modi is the longest serving chief minister of the state - and its infrastructure has the state accelerating on new investments. "Gujarat scores over other states because of reliable power supply, availability of natural gas, water from the Narmada canal and proximity to ports for importing raw materials as well as exporting finished goods," sums up Goenka.
Modi's critics grudge the attention his government is getting, labelling it marketing spiel. "Gujarat has always been prosperous and on the top of the investment charts," says the Congress Party's Saktisinh Gohil, Opposition leader in the state legislature, citing groups such as Reliance Industries, Essar and General Motors investing in the state much before Modi became chief minister in 2001.
Advantage of Centuries
Gujarat has always been a relatively prosperous and economically progressive state. For centuries, it was home to some of the world's richest traders. As a state, it has had the benefit of being close to Mumbai, host to oil and gas pipelines and private ports, home to a dairy movement, and getting remittances from Gujaratis overseas. The high growth in agricultural output can be argued as one of lucky timing for Modi. The push for check dams, water harvesting and micro irrigation, which has resulted in an increase in arable land and agriculture productivity, was seeded by previous administrations. It is also not incorrect to argue that Modi is just doing what every administration should to: create infrastructure, lay out transparent procedures and live by them, be accountable, be a market maker for jobs, judge bureaucrats by performance and minimise mandays lost to strikes.
Even by those yardsticks, what works for Modi - and splendidly for Gujarat - is the proactive nature of government. Take the much-written about Tata Nano project. In the weeks running up to October 2008, when Ratan Tata decided to pull a half-built Nano factory out of Singur in West Bengal, Modi and his team were preparing a strong pitch for a shift to Gujarat. No sooner had the company made its decision to leave West Bengal official, than Modi sent a one-word text message to Tata's mobile phone.
Suswagatham, or welcome in Sanskrit, it read. It took just 14 months for the first Nano car to roll out from a new factory at Sanand, 40 km west of Ahmedabad; the Singur project had been in the works for 28 months. A joint venture Bharat Forge has with France's Alstom for power equipment has shifted to Mundra from West Bengal, too. "The process is very straightforward and transparent," Baba Kalyani, Chairman of Bharat Forge, says of Gujarat.
Still, the Nano experence showed the Gujarat government a big gap in its value proposition to businesses: missing skills in its people. Tata Motors wanted local manpower as one of the conditions to set up shop in Sanand, says a state official. The government offered a guarantee if the Tatas would partner in training.
Those riding the Gujarat wave
Ford Motors is scouting for a location near Sanand where Tata Nano has a facility
Motorcycle major Hero Group has its eyes on the state for setting up its fourth plant
Korean carmaker Hyundai Motors is scoping locations for its next plant in India
Maruti Suzuki is toying with the idea of setting up an export factory in the state
Hospitality majors Hyatt and Kamat Hotels want to set up hotels and resorts
The missing picture
No presence of software and back-office companies or financial service firms
Domestic market not big enough vis-à-vis other states
Petrochemicals still dominates the state's output
Not rich in minerals such as iron ore, aluminium, uranium etc
Lacks higher education institutes, R&D and innovation
Migration of Gujaratis continues to Mumbai and abroad
A missing second line of political leadership after Chief Minister Narendra Modi
Today, 870 youth from a 10-km radius work at the Nano factory. In industrial area Dahej, the government is training 150 young locals whose families had their land acquired. It is spending Rs 70,000 person for two years along with a monthly stipend and accommodation. "We are replicating this model elsewhere in the state," says Arvind Agarwal, Vice Chairman and Managing Director of Gujarat Industrial Development Corp. Gujarat next is working on what Maheshwar Sahu, Principal Secretary for Industries and Mines, calls "industrial responsive manpower".
The government wants to work with corporates setting up plants to train youth in welding and fittings, besides mechanical and electrical works. "This increases the comfort of a corporate house," says Sahu. In the state budget for 2010-11, the government earmarked Rs 24 crore to train 100,000 youth through 150 village-cluster training centres.
But, for all the mileage the mediasavvy Modi and his team gives the state, Gujarat cannot shed the image of a state in which businesses don't offer equal opportunity to minorities. A dominant Hindu majority runs almost every business, with Muslims pushed to the economy's fringes. Muslims make up 9.1 per cent of the state's population of 50.7 million. There are no consolidated reports, but anecdotal evidence suggests high levels of exclusion in the private sector, especially at entry- and mid-level white-collar jobs.
Hanif Lakdawala, founder of Sanchetna, a human rights organisation that works on urban issues, says it is very difficult for young Muslims to get jobs in the private sector in Gujarat today. "In many of the new malls that have come up, you will see boys and girls with Dalit backgrounds being employed, but not Muslims," he says. The minority is pushed to jobs such as door-to-door sales agents and roadside vendors.
If one reason for this is low literacy levels in the Muslim community, Lakdawala points to how businesses owned by Chiliya Muslims, an enterprising sect owning shops and restaurants, were virtually wiped out in the Godhra riots. Bank loans to Muslims are disproportionately small compared to the deposits they hold, he adds. The effects of such exclusion of minorities from the workforce are difficult to map but does dim the shine of Gujarat's achievements.
Cuts both ways
As land for industrial use becomes scarce across India - from Orissa to Haryana, from West Bengal to Karnataka - Gujarat sees an opportunity to overtake other states and, in November, unveiled a new land acquisition policy. It factors in market prices for land, consent of farmers, a share of profits of industry for farmers, a small commercial plot, and employment to a member of each family from which land has been acquired. "It becomes much easier to attract investments if the fruits of industrialisation are shared with landowners and farmers," says minister Patel.
The policy dovetails with Gujarat's ambitions for its special investment regions - Godzilla-sized industrial sprawls spread over 100 sq. km that will dwarf traditional industrial estates with incentives like zero income tax and excise duties thrown in. Think Shenzen or Hainan special economic zones in China for scale. The government plans 13 such regions, several lying along the proposed high-speed Delhi-Mumbai Dedicated Freight Corridor.
More than one-third of the corridor passes through Gujarat and the government is making big bets that it will power its industrial economy. Business leaders across India agree that manufacturing will be the next big wave in the Indian economy. Gujarat, among Indian states, is best positioned to be on the crest.
Additional reporting by K.R Balasubramanyam