In 1993, Ajit Gulabchand emerged from a bruising eight-year war within the Walchand Hirachand family with control of Hindustan Construction Company (HCC). With a turnover below Rs 125 crore and profits of less than Rs 5 crore, it was a company few in the extended family wanted. Everyone wanted Premier Automobiles, which made the Padmini brand of cars, now out of production.

Over the past 19 years, the tenacious Gulabchand has built HCC into the successful arm of the crumbling Walchand Hirachand empire, which was once spoken of in the same breath as the Tatas and the Birlas. And HCC is successful because Gulabchand has been able to surprise everyone time and again.


Along the way, he has delivered several iconic projects, including the Kolkata Metro, India's first metro network, and the Mumbai-Pune expressway, the country's first with "access control". And he has not shied away from taking on even bigger challenges.
Still, when HCC took on the
Bandra-Worli Sea Link
in October 2000, a few believed the company was being too ambitious. It was the first time such a project would be undertaken in India, and the first time an Indian company would take on such a project. It took HCC a decade, but the company eventually pulled off the engineering feat, overcoming protests from fishermen and the green lobby, and the tough geology of the Arabian Sea.
Dressed in his favourite blue jeans, his silver mane flying in the wind, Gulabchand called a press conference on the bridge on June 29, 2009, and showed it off like a proud father. He had proven the sceptics wrong once again.
Today, at 64, Gulabchand faces a different kind of challenge. His dream project, the hill city of
Lavasa
, near Pune, threatens to jeopardise the future of the mother ship, HCC. It does not help that HCC is already buried under a mountain of debt. So, can he spring another surprise?
There is a lot going for Gulabchand. He has the benefits of old money. He received a bit of mentoring from Dhirubhai Ambani and enjoys the personal friendship of people such as Sharad Pawar and Rahul Bajaj.
There is a lot going against him, too.
The second phase of the Bandra-Worli Sea Link has gone to Anil Ambani. Another project, the hill city of Lavasa, has caused him even more sleepless nights. And Sharad Pawar? Many believe Lavasa's troubles have something to do with their friendship.
This time the challenges are far bigger. Over the last 15 years, as HCC diversified and took on bigger projects, it accumulated debt amounting to Rs 4,300 crore. Servicing it has taken a heavy toll on the balance sheet. In addition, it has non-fund liabilities of Rs 4,100 crore, including bank guarantees and letters of credit.
In its latest results, for the first quarter of 2012/13, ended June, HCC registered a loss of Rs 30.9 crore as against a profit of Rs 2.87 crore during the same period a year ago. Turnover fell to Rs 969.4 crore from 1,059.6 crore. The company's stock price, which was around Rs 230 in December 2007, has crashed 90 per cent to below Rs 20. The BSE Sensex has fallen 20 per cent during the same period.
Keeping pace, its market capitalisation has dipped to Rs 1,050 crore, a fifth of its value two years ago. In comparison, L&T'S market value is at Rs 81,000 crore. This has left HCC vulnerable to a hostile takeover though Gulabchand still owns a comfortable 40 per cent.
In March, the company knocked on the doors of banks, seeking to restructure its debt. Restructuring, a common practice globally, provides relief to distressed borrowers through measures such as extension of loan tenures and a moratorium on interest payments.
After four months of negotiations with a consortium of 27 banks, Gulabchand got approval to restructure HCC'S term loans of Rs 3,200 crore. The original tenure of the loans ranged from one to three years. Under the terms of the restructuring scheme, there will be a moratorium on the principal for two years and repayment will happen thereafter, over a period of eight years. In addition, the lenders have made interestrate concessions for the first few years. The terms required the promoters to contribute Rs 64 crore, of which Rs 32 crore has already been paid.
Gulabchand says that he has also managed to get additional funding from the banks. To be fair, Gulabchand isn't the only business baron facing a debt crisis today. He has company in ADAG'S Anil Ambani, Future Group's Kishore Biyani, Kingfisher's Vijay Mallya, Suzlon's Tulsi Tanti, and others. "We got hurt a little more because we raised more money to finance various projects, including Lavasa," says Gulabchand in an
interview with Business Today
.
HCC'S troubles truly began in Lavasa, in the Western Ghats, near Pune. In 2006, Gulabchand unveiled plans for a grand township in the region, over 12,500 acres, seven hills and 60 km of lakefront. Its total cost was estimated at Rs 50,000 crore and the deadline was 2021. Lavasa would have five towns, complete with homes, offices, schools, colleges, hotels, hospitals, sporting facilities, clubs, and a theme park. A new subsidiary, Lavasa Corporation, was set up to execute the project in two phases. HCC roped in Avantha Group and Venkateshwara Hatcheries as partners.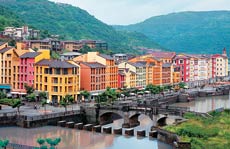 It started out well, with customers lining up. The subsidiary, in fact, earned higher profits than HCC for two consecutive years. Lenders loved it. They subscribed to Lavasa's deep discount bonds, which would be convertible in 2013/14, and which the company valued at Rs 10,000 crore. Axis Bank, for instance, subscribed to bonds worth Rs 250 crore with a coupon rate as low as 3.52 per cent. The equity conversion clause made the bonds appealing. An ebullient Gulabchand decided to take Lavasa public. When that happened, the lenders stood to make a killing.
The initial public offering (IPO) was set for November 2010. But just two weeks before that, Gulabchand's world turned upside down when Environment Minister Jairam Ramesh ordered all work at Lavasa to stop. He said the project flouted environmental regulations and much of it was unauthorised. The pressure began to tell on Lavasa's balance sheet. Sales fell from Rs 576 crore in financial year 2010/11 to a mere Rs 75 crore in 2011/12, and it posted a loss of Rs 137 crore in 2011/12.
The deep discount bondholders started knocking on Lavasa's doors, seeking to redeem their bonds. The IPO was shelved. The contagion of the Lavasa meltdown spread to the parent company. HCC had issued corporate guarantees of nearly Rs 1,200 crore to its subsidiaries, of which Lavasa alone accounted for nearly Rs 700 crore.
Last month, the Reserve Bank of India put paid to HCC'S hopes of a corporate debt restructuring scheme for Lavasa's Rs 850 crore debt by refusing to accord the project infrastructure status.
Gulabchand says Lavasa has now managed to get in-principle approval from banks for debt restructuring, as well as some additional funding. Not that there are too many options. "Lavasa's value is about Rs 700-800 crore based on the book value of HCC," says Amit Srivastava, a senior analyst at Nirmal Bang Equities. Dilution of equity is not an option now.
Over the last few months, Lavasa has managed to convince banks to convert their deep discount bonds into non-convertible debentures, though at a higher interest rate of 12 to 13 per cent. The silver lining is that work on the Lavasa project restarted in November 2011 after getting the green light from the environment ministry. However, the approval has come with many riders. These include environment restoration initiatives, regular monitoring by the ministry, and a stipulation that five per cent of the project cost be set aside by the company for corporate social responsibility initiatives.
HCC'S other subsidiaries also face challenging times. Debt financing of infrastructure projects at high interest rates took a toll on HCC Infrastructure, which handles highway development. Today, the subsidiary has a debtequity ratio of 7:3. HCC Group CFO Praveen Sood says the ratio is ideal, but in an situation where interest rates are high and input costs are rising, it will be far from ideal.
Steiner AG, a Swiss construction specialist acquired by HCC in 2010, has accumulated losses of Rs 160 crore on its books. It will take the company a while to turn profitable. In the prevailing environment, HCC will find it hard to raise funding through the equity route because of low market valuations.
"Earlier, any bid, howsoever stretched, was eventually financed," says Manish Agarwal, Executive Director (Infrastructure), at PWC. "Now, the situation is reversed and only the safest projects, with strong promoters, are getting financed."
HCC executives say there are no immediate plans to approach the market, though the company has approval to issue new equity shares worth Rs 1,500 crore. "That is just an enabling resolution," says Sood.
The negative economic sentiment has also made Gulabchand cautious. Despite a funding crunch, he steered clear of the external commercial borrowings route. Instead, HCC repaid its existing foreign currency convertible bonds of $133.03 million, raised five years ago, in April 2011. "We were afraid of the currency risks. Wisely, as it turned out," says Gulabchand. The rupee has plunged from Rs 44 against the dollar in April 2011 to nearly Rs 56 now.
One option before the company is the sale of non-core assets. But although news reports have stated that HCC has offered to sell its real estate assets, a few road projects and even two helicopters to repay lenders, Gulabchand dismisses them.
Instead, he is looking to generate resources internally. For instance, HCC can generate Rs 1,500-2,000 crore by recovering money due from clients. A year ago, Gulabchand noticed that these dues had risen from Rs 500 crore to Rs 2,000 crore in two years. That's half of HCC'S 2011/12 turnover.
Claims on the Bandra-Worli Sea Link alone totalled Rs 600 crore. "These are all financed by bankers and if the money doesn't come the interest burden goes up," says Gulabchand. He has formed a team to recover the dues.
HCC may also be willing to dilute a stake in the infrastructure subsidiary. The group had done this earlier, too. In September 2011, HCC Infrastructure mobilised Rs 240 crore by diluting 14.5 per cent in HCC Concessions to the Singapore-based Xander Group. If all these measures pay off, HCC could turn profitable again. "We expect HCC to report a net loss on a standalone basis in the next two years. But we expect positive EBITDA during that period," says Kumar of KJMC Capital.
While debt restructuring, claims recovery and asset monetisation will bring in cash, HCC is also going in for some organisational realignment. Its four verticals - hydro power, transportation, water solutions and nuclear power - have been collapsed into one. "With the growth rate slowing, there are not enough visible orders... so, we have to become leaner," says Gulabchand. There is also a sharper focus on cash flow management.
On the project front, the focus will be on large contracts, especially in the private sector. In that it hopes to ride on its record. But it won't be a cakewalk. While the long-term prospects are intact, we expect credit quality for the sector to be under pressure in 2012/13 on account of the subdued investment scenario," says Sudip Sural, Director, CRISIL Ratings. This will result in a low intake of fresh orders, slower than expected execution, pressure on credit quality of end-use segments such as power and roads and elongation of working capital cycles.
But HCC now has a new jewel in Steiner, the Swiss acquisition, which has delivered projects such as Terminal 3 of the Geneva airport and the headquarters of Nestle, Google and the World Economic Forum. "We wanted to be in the building sector. Factories, airports… Steiner helps us do that," says Gulabchand.
The approval for restructuring of its own debt could not have come sooner for HCC. But Gulabchand knows that it is just a temporary reprieve and that it is imperative for the company to generate sufficient profit to service its interest burden. "There is a lower interest rate, ballooning over the years. In the end, there is no concession," concedes Gulabchand. And until the day HCC exits the scheme, he will have to live with all the controls and scrutiny that come with restructuring.
Once out of the debt restructuring scheme, industry watchers say Gulabchand will concentrate on charting out a succession plan. His sonin-law, Arjun Dhawan, who is currently President of HCC Infrastructure, may get a bigger role. Dhawan led the divestment of the 14.5 per cent stake in HCC Concessions to The Xander Group. He also executed the acquisition of Karl Steiner AG, as the Swiss company was known then. Gulabchand's daughter Shalaka, who is Vice President of business development, could also be given greater responsibility.
Gulabchand's immediate priority is to exit the debt restructuring scheme, bring Lavasa back to normalcy and have an IPO. Only time will tell if that turns out to be the seventh line of defence of the infamous Chakravyuha (maze) in the Mahabharata. On the other side, there is glory.