Between 2009/10 and 2013/14, the debt on the books of Reliance Industries, India's largest private sector company, more than doubled - from Rs 64,000 crore to over Rs 1.38 lakh crore - as it expanded petrochemical capacity, ramped-up oil and gas fields, and invested heavily in the retail, telecom and shale gas sectors.
During the same period, Sesa Sterlite's debt moved up from Rs 1,961 crore to Rs 80,568 crore as the Vedanta group's holding company for Indian assets went on an acquisition spree. It picked up Cairn India, mining assets of Dempo Mining, Bellary Steel and Goa Energy, among others.
Adani Enterprises also saw its total debt rise from Rs 17,439 crore to Rs 71,980 crore as it embarked on an expansion overdrive in power, ports and edible oil refining, and bought coal mines in Indonesia and Australia.
Essar Steel, JSW Steel, Tata Power, Idea Cellular and many other big companies were also raising big sums as debt during this time, either for project expansions or for acquisitions.
It was not just the big boys with big balance sheets who were raising debt. Small and mid-rung companies with ambitions to get into the big league also went on a borrowing binge. Even companies with sales below Rs 500 crore nearly doubled their debt in the four-year period.
Call it irrational exuberance, herd mentality or anything else. Even as signs of the economy slowing down became clearer, corporate India continued borrowing merrily - and banks were lending easily - to get into hot sectors and projects and to finance their gargantuan ambitions. Promoters had little option but to turn to debt because equity markets had scared off investors and were already in the bear phase. Between 2009/10 and 2013/14, India Inc more than doubled the total debt on its balance sheets - from Rs 20 lakh crore to over Rs 41 lakh crore. That is roughly $690 billion - bigger than all global economies, except 19.
Revenue growth had turned anemic but the debt size kept growing. An analysis of 18,820 companies in the CMIE Prowess database shows that in the past four years, while aggregate revenues grew merely 77 per cent, their debt doubled and interest payout went up 146 per cent. Little wonder, net profits decreased by 32 per cent in the four years.
In the final days of the UPA-II government, as the economy slowed, companies like Reliance Industries and Sesa with their strong balance sheets and healthy cash flows continued to service their debt. But a vast majority of companies - both big and small - ended up in a debt trap. What's worse, while a fair amount of debt was taken to build long-gestation projects that would yield results only later, there was also a lot of debt taken which did not go into building commensurate assets. And their debt burden is today not only putting enormous pressure on the banking system, it is also threatening the nascent economic recovery.
"The corporate debt situation is very bad. In many cases the debt is very high but the assets created are very low. I don't know how the banking system gets into that. There are no inventories, no working capital available but there is debt," says Siby Antony, MD and CEO, Edelweiss Asset Reconstruction Company, who has been picking up assets being hawked by banks in distress sales.
BANKERS' SCARE
Nobody is more worried than the banks which lent heavily - and investors in bank stocks. Effective April 1, 2015, the Reserve Bank of India (RBI) withdrew a crucial forbearance allowed to banks in corporate debt restructuring (CDR) cases. Banks will now have to provision 15 per cent for bad loans as against 5 per cent allowed till March 31, 2015. Given the growing pile of bad loans and about-to-turn-bad loans, the banks would be hit hard. They were hoping that the RBI would extend the forbearance but that was not to be.
Investors have been hammering down bank stocks. In the two months since their lifetime highs in the run-up to Budget 2015, bank stocks have been on a steady decline. India's largest bank, the State Bank of India's share price is down 20 per cent; Bank of India's 36 per cent, Punjab National Bank's 34 per cent and Canara Bank's over 22 per cent.
In these two months the S&P BSE Bankex has fallen 9.1 per cent from its peak and the Bank Nifty 9.4 per cent. Equity research firm CLSA's technical analyst Laurence Balanco predicts the CNX Banks Index will decline another 15 per cent.
THE NON-PERFORMERS
Bad or doubtful loans - or stressed assets as bankers like to call them - are everybody's worst nightmare. "We have been concerned about the way the asset quality has been deteriorating," says RBI Deputy Governor R. Gandhi. "Luckily, in the last two-three years further deterioration has been arrested."

"We have been concerned about the way the asset quality has been deteriorating. Luckily, in the last 2-3 years further deterioration has been arrested"
R. GANDHI
Deputy Governor, RBI
Of the Rs 63 lakh crore of advances by the banking system, nearly Rs 10 lakh crore are "stressed assets". "There is one set of assets that has clearly been non-performing (NPAs), as per regulations, accounting standards, etc. There's another that can slip off into non-performing," says Gandhi.
It would be worse if companies hadn't made a beeline for the corporate debt restructuring cell for relief. "Rather than a post-mortem, if companies do a prognosis, a lot of the problems can be avoided," says Ravi Sud, Senior Vice President and CFO, Hero MotoCorp. According to the RBI's CDR cell, as of December-end 2014, 647 cases with aggregate non-performing advances of Rs 4,52,940 crore had been referred to the CDR cell. Of this, 520 (Rs 3,80,885 crore) had been approved for action.
Loans advanced to companies such as ABG Shipyard (Rs 11,000 crore), Pipavav Defence & Offshore Engineering (Rs 7,000 crore), Bharti Shipyard (Rs 5,800 crore), and Hotel Leelaventure (Rs 4,000 crore) were sold off by the lenders to asset reconstruction companies.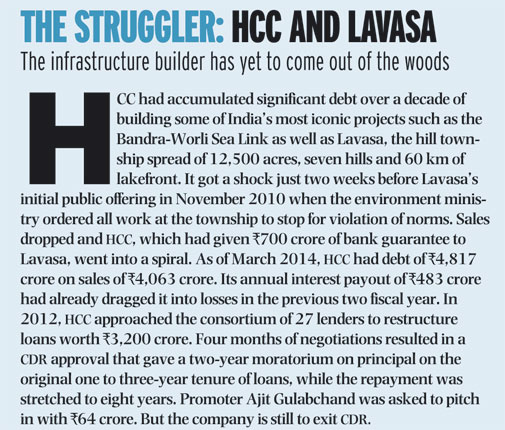 But Lavasa Corporation, HCC, Gammon India and IVRCL continue to struggle under CDR while Kingfisher Airlines (Rs 13,750 crore at last count) has imploded. Others such as Essar Oil (Rs 9,100 crore) and Wockhardt (Rs 3,000 crore) made a dramatic recovery after debt restructuring. Suzlon Energy (Rs 9,500 crore) is on the verge of exiting.
"... In debt restructuring you have to be very selective; that the cause of restructuring is genuine; that there is no case of diversion of funds; that it is not a case where even if you give a lease of life, the project does not provide the cash flows," says Ashwani Kumar, Chairman and Managing Director, Dena Bank.
THE DEBT TRAP
India Inc's debt woes in the midst of a slowing domestic economy and a global recession have far-reaching consequences.
For one, high corporate debt combined with a slowdown acts like poison. At a time when the top line is reporting near-zero growth in real terms (excluding inflation), just the cost of servicing debt is pulling down companies' profit and loss accounts, affecting their ability to invest in future growth.
Two, debt-laden companies will find it tough to ride any uptick in the economy whenever the slowdown relents. While most sectors are experiencing capacity under-utilisation, the level of under-utilisation (between 15-30 per cent) will get bridged within a year of GDP growth returning to healthier levels. But companies typically need between 24 and 60 months to set up new capacities, provided their balance sheets can still absorb more debt.
At that point, says Ajit Ranade, Chief Economist, Aditya Birla Group: "There is a great risk that India's growth may get harvested by the excess capacities in China."
Three, an unintended consequence of high debt is the sacrifice of new economic activity. In many ways, high debt sets off a vicious self-perpetuating cycle. For instance, distress sale of many assets in economic slowdown merely amounts to a change of hands from cash-strapped companies to cash-rich companies. This often leads to a transfer of debt from one company to another. That's fiscal prudence but bad for economic activity. In better times, cash-rich companies would be creating new assets triggering economic growth and employment across all downstream industries.
THE DEBT WISH
The big problem confronting corporate India is that many companies took on enormous debt and couldn't service interest payouts with cash flows. For instance, Essar Steel's debt grew by more than Rs 20,000 crore in the past four years to Rs 38,379 crore. Its interest payout ballooned from Rs 737 crore to Rs 4,076 crore, dragging it into the red with a net loss of Rs 805 crore in 2013/14. GMR Infrastructure's interest payout of Rs 2,829 crore in 2013/14 was higher than its EBITDA of Rs 2,597 crore, resulting in a net loss of Rs 356 crore. (EBITDA is short for earnings before interest, tax, depreciation and amortisation.) As India's largest real estate firm DLF's interest payout grew from Rs 972 crore in 2009/10 to Rs 2,211 crore in 2013/14, its net profits fell more than two-third to Rs 583 crore. Power and infrastructure firm Lanco Infratech's interest payout shot up from Rs 186 crore to Rs 2,254 crore in the four-year period, dragging it down from a healthy net profit to a net loss of Rs 1,061 crore.
Some companies are trying to swap high-cost debt for lower-cost ones, but that is generally offered only to those with strong balance sheets like Vedanta. "We are working on refinancing our debt due in 2015/16. The focus of the group is to de-leverage and the debt is largely obtained for refinancing for cost reduction or extending the debt maturity profile," says Tarun Jain, Whole Time Director, Vedanta Resources, whose holding company for India businesses - Sesa Sterlite - has total debt of Rs 80,568 crore.
It was the exuberance of corporate India that got them to this state as it ignored the global economic crises post 2008 and continued to raise debt as if there was no tomorrow. India Inc's debt grew by 27 per cent a year for three years after the Lehman crisis, when the global economy had come to a standstill.
"The international practice is to give 30-year finance for infrastructure. In telecom, for instance, a project is in losses for 10 years. It starts earning money from the eleventh year onwards"
V.N. DHOOT
Chairman, Videocon Industries
Its hopes lay in India's consumption-targeted economic stimulus announced in December 2008. The surprise 'mini-budget' as it was called, just months before the Union Budget of 2009, effected an across- the-board cut of 4 per cent in Central Value Added Tax to make textiles, cars, cement and other consumption goods affordable. The package also set aside another Rs 20,000 crore for infrastructure, exports and industry. It set back the government by Rs 8,700 crore in terms of revenue generation but was expected to buoy auto, housing, textiles, SME and the export sectors, besides others.
That was not to be. When the slowdown hit, corporate top line, which was growing at a healthy 22-23 per cent a year crashed to 10 per cent (zero in real terms, excluding inflation) growth in 2012/13. Companies slashed expenses but could not prevent the shock effect on the bottom line. Profit after tax slid 32 per cent in the past four years.
PRUDENCE SACRIFICED
This was also the phase of a definite regulatory eclipse, such that the banking system remained oblivious to several corporates raising their debt to unsustainable levels of debt-equity ratios.
It's for banks to decide the company's debt-equity ratio they are comfortable to lend at. Prudence demands the ratio be between 1:1 and 1:3. However, several companies, such as Kingfisher Airlines, still notched up outrageous debt-equity ratios going up to 1:10 or more. How?
RBI's Gandhi says that was due to lack of information sharing between banks as one bank didn't know what another bank was lending to a company. The RBI has since mandated information sharing through large credit repository where every bank has to report all advances of Rs 5 crore and above so that other banks have information about a company's or group's full debt exposure. "Downstream, ratios may have increased because of additional funding but upfront if they knew that the ratio was 1:5 or 1:10, no banker would have ever touched it. It was refinancing and more financing that led to those ratios," he explains.

"My corporate book has come down by Rs 5,000 crore over one-and-a-half years. It's not that we are not financing but the focus is more on retail and MSMEs to rebalance our books"
ASHWANI KUMAR
CMD, Dena Bank
THE SECTORAL SKEW
About the time the government was preparing to launch the Ultra Mega Power Projects (UMPPs) in 2006/07, India Inc. went into a mad rush to set up power plants. The power sector slipped into chaos right after for a variety of reasons: unrealistic bidding in UMPPs; the government's inability to supply gas and coal to plants; and land acquisition and environmental delays. But by 2013/14, debt to the power sector had trebled to Rs 9.5 lakh crore (see Bundle of Woes on page 63). Till date, that remains the biggest bugbear of the banking industry. State-run NTPC has the maximum debt of Rs 81,506 crore, followed by Jaiprakash Associates (power, roads and real estate) at Rs 72,593 crore, Adani Power Rs 44,150 crore and Tata Power Rs 40,309 crore.
Gandhi says five sectors form the bulk of the stressed assets list: infrastructure, iron and steel, textiles, chemicals and petroleum. The RBI is paying special attention to the infrastructure sector, especially power. Of the Rs 63 lakh crore of total advances, infrastructure accounted for nearly Rs 10 lakh crore. "The infrastructure sector is very weak because of delays in government decision-making, cost increases, slow economy, and environmental clearances," says R. Govindan, Vice President, Corporate Finance and Risk Management, Larsen & Toubro (L&T).
The second most indebted sector, metals and mining, is being pulled down by steel, which has been hit by imports. Even though steel demand in 2014/15 has grown at 3 per cent against just 1 per cent in the previous fiscal, the uptick in demand has been clouded by a 67 per cent (8.5 million tonnes) imports surge while exports have fallen by 11 per cent.
"It is showing the external economy is not doing well. Also, the competitiveness in terms of the rupee being stable and other currencies depreciating against the dollar together have hurt domestic exports," says Seshagiri Rao M.V.S., Joint Managing Director of JSW Steel, which has a total debt of Rs 35,527 crore.
BRAKES ON CAPEX
India Inc. had to do something more drastic than just tightening its belt. So 2012 was the watershed year when all hopes of a quick recovery died and corporate India began bracing up for a long haul in a rapidly slowing economy. It's at this point that growth in debt raising slowed from 27 per cent in 2011/12 to 18 per cent in 2012/ 13 and 17 per cent the year after.
In fact, the deterioration in investment cycle began in 2010. Between 2002 and 2008, India's investment as a percentage of GDP went up from 25-26 per cent to 36-37 per cent. "That was 24-25 per cent year-on- year growth. That part of growth has completely gone missing," says L&T's Govindan.
This was also the period when those who had to prepay debt, did so. For instance, domestic oil and gas producer Cairn India reduced its total debt from Rs 3,401 crore in 2009/10 to nil in 2012/13. Real estate major DLF, whose debt pile had peaked in 2007/08 when it was buying massive land bank, also managed to reduce its debt marginally from Rs 27,597 crore to Rs 24,210 crore in the past four years.
THE LIFELINE
When the RBI got around to the task of deciphering the cause of the problem, it zeroed in on the most stressed sector first - infrastructure. Besides over-leveraged balance sheets, the sector had a unique problem.
When banks financed infrastructure projects with a lifespan of 25 to 30 years, their loans were structured for a maximum of seven years. That front-loaded the financial cost of a 30-year asset. And every time the project schedule was disrupted by delays, the project was already an NPA in banks' books. "Nobody told them so but banks had assumed that being banks they cannot have exposure past seven years," says RBI's Gandhi.
While the government has now decided that all future UMPPs will be bid out only after acquiring land and securing all clearances, on its part, the RBI has extended a lifeline that could be a game-changer for the infrastructure sector.
The RBI's guidelines, popularly known as 5/25 norms, explicitly permitted banks to structure loans for 25 years while giving them the flexibility to revise rates or sell the asset to another bank every five years.
"The international practice is to give 30-year finance for infrastructure. In telecom, for instance, a project is in loss for 10 years. It starts earning money from the eleventh year onwards," says Venugopal Dhoot, Chairman of the diversified Videocon Industries, which had a total debt of Rs 40,783 crore as of March 31, 2014.
RATIONAL EXUBERANCE
But guess why did some companies got into trouble while others didn't? These are those that kept their cool. Take Mahindra & Mahindra (M&M), for instance, which fueled most of its growth through internal accruals even in times when money was easy to come from banks. "It was never adventurism. We won't take $2 billion and wait for something to turn up," says V.S. Parthasarathy, Group CFO, M&M.
Hence, despite 60 acquisitions in the past six years, M&M's debt equity ratio stands at 0.3. The ceiling the company set for itself was 0.5. That has been possible by inviting private equity players to participate in acquisitions. M&M offers up to one-third of equity - in rare cases, even higher - to PE players. "Alone, our money can only go so far but with partners it can be extended," says Parthasarathy.
At engineering major L&T, "We were able to perceive a 4 per cent GDP growth in 2010 when it was 9 per cent. We had scenarios for 4-4.5 per cent GDP growth," says Govindan. It's not as if other companies do not discuss the worst-case scenario or the fabled 'Plan B'. Almost all of them do. But the trick lay in keeping that at the core of the strategy.

"There are very stressed balance sheets out there but there are also those with a pile of cash to start investing"
V.S. PARTHASARATHY
Group CFO, Mahindra & Mahindra
M&M also actively works on two financial metrics, margin of safety and return on capital employed (ROCE). In both cases, the benchmark is 50 per cent. In margin of safety, the business must target resilience where it must be profitable even if demand falls 50 per cent. In the last quarter when domestic tractor demand fell 25 per cent and the auto market fell 11-12 per cent in revenue terms, M&M reported a 12 per cent EBITDA margin. In ROCE, it targets a nearly unrealistic level of 50 per cent. "It's a North Star for people to look at. There are businesses in my group which do that," says Parthasarathy.
It wasn't just the borrowers who exercised caution. Some lenders were prudent, too. At HDFC Bank, corporate term lending was largely restricted to companies with whom the bank had a working capital relationship. "We understand the customer better, we understand the nature of his business and we understand his cash flows far better. That gives us a very good insight into?the customer," says Kaizad Bharucha, Executive Director, HDFC Bank.
THE UNRESOLVED
But despite the RBI's 5/25 lifeline, India still remains at sea about how to fund infrastructure, which is the only hope to revive stressed assets. "Infrastructure is a sticky issue that we haven't been able to solve. If you use conventional bank credit, you are heading for trouble because of the asset liability mismatch," says Aditya Birla Group's Ranade.
And though Budget 2015 has proposed a Rs 20,000 crore equity funding to an infrastructure fund, it's only a fraction of the $500 billion infrastructure funding needed over three to five years. In the 12th plan the aspiration was to reach 9 per cent of GDP as investment in infrastructure every year to meet India's needs in telecom, railways, power and other sectors. We are not even at 5 per cent.
The credit flow also has to increase. Ideally, it should be from special purpose long-term contractual savings. In developed markets it's long-term bond financing. But India doesn't have a well-developed bond market.
China, for instance, has gone as far as ignoring the NPAs arising out of infrastructure financing. "It's the other extreme and I am not advocating that. They have decided they need infrastructure and in the policy making framework they have completely violated this aspect," says Ranade.
STRUGGLE FOR VIABILITY
So how should stressed assets be made viable? A suggestion that bankers scoff at is a relaxation in the NPA accounting norms until the economy improves. But analysts question whether the RBI needs to obsess over reporting NPAs on the 181st day. Because the moment an asset is declared an NPA, it begins to attract penal interest rates and penal provisions, which, in turn, is counter-productive when the project requires nurturing.
"It's possible to work with the banking system so that you take care of the next 180 days or 270 days," says Ranade. "Hopefully, by then demand would pick up and the asset will start earning cash."
"Regulatory oversight must keep in mind the difficulties in the real economy. If we become too tight in terms of Basel norms, we are forcing situations of closure," says L&T's Govindan.
For instance, infrastructure lending by the banking sector has already hit the 16 per cent ceiling prescribed by the RBI. Hence, banks are in no position to take fresh exposure.
"If growth takes off, the big question is where will the money come from? Today that debate is not there because investment cycle has not started," says JSW's Rao.
CDR CHALLENGES
If that's any solace, one of the big positives of corporate debt restructuring is that just 32 cases were brought before the CDR cell in 2014/15 versus 101 in 2013/14. Pipavav Defence (since approved), Concast and Orissa Manganese and Minerals , among others, were referred for CDR.
But the CDR mechanism itself is prone to delays. Since most corporate debt is through consortium lending, all agreements among lenders and borrowers facilitated by the CDR cell still go to their respective boards for sanctions. While the idea of CDR was to get the project going, new caveats delay loan restructuring.
"Are we happy with the CDR mechanism? It cannot be said fully that we are happy. Every new regulatory arrangement we bring on, the system tries to beat it: BIFR, SICA, SARFAESI, DRT. CDR has its own lacunae. That's why we had to bring in JLF (joint lenders' forum) to build incentives and disincentives," says RBI's Gandhi.
Under JLF, borrowers and lenders have to reach a conclusion about the prompt corrective action plan. Should they agree under JLF, banks are incentivised in provisioning. If they don't, there are disincentives built in.
About a fourth of the sacrifices in restructuring have to be brought in by the promoters. And that is where most CDR proposals fail. As of December 31, 2014, 155 cases with aggregate debt of over Rs 50,000 crore had failed either because the promoters could not bring in more money through equity, the industry deteriorated, or interest rates didn't reduce as per plan.
But the RBI insists CDR cannot succeed unless promoters bring in more money. "Corporates will have to raise additional capital, which they have been shunning for long. They are not raising capital from the market at all," says Gandhi.
CAUTION AHEAD
The net effect of the collateral damage is an over-cautious banking system that has substantially tightened due diligence.
Banks have introduced several covenants: Where will you bring in equity from? What type of project? What will you do with vendors? How will you deal with project cost increase? Earlier you could do proportional promoter equity. But now, banks require the promoter to bring in equity upfront.

"The regulatory oversight will have to keep in mind the difficulties being faced in the real economy"
R. GOVINDAN
VP, Corporate Finance & Risk Management, L&T
Banks have also introduced a governance architecture, an escrow mechanism and are also over-securing assets. Most of these norms may not be new but they are a lot tighter now. And while earlier the assumption was that regulatory approvals will happen along the way, now banks insist on approvals upfront before releasing funds. "Earlier, there was a lot more trust. Now, you have to prove it legally to the lawyers," says Govindan of L&T.
The RBI is, in fact, set to tighten promoter and corporate group exposure limits. Banks are currently allowed to lend up to 15 per cent of their capital funds to an individual company and 40 per cent (which can be enhanced by the company board to 50 per cent) of capital funds to a group of companies owned by the promoter.
New group exposure limits have no distinction between a promoter and his group. Instead, banks will now have to cap the combined exposure at 25 per cent of its capital. In an additional step, banks will now have to consider any "economic inter-connect" in its exposure to the individual or group as against the previous norm of including only majority equity holding that gave a promoter or group absolute control over another entity. "Economic dependence is the international norm," says Gandhi. Hence, if a firm is economically dependent, exposure to that firm would also fall under the group exposure limits.
GETTING OUT OF THE HOLE
Clearly, the infrastructure sector has to extricate itself. And there, says Aditya Birla Group's Ranade, "The public sector will have to lead the way."
The good news is that even when the central fiscal deficit has risen, for the state governments the fiscal deficit as a percentage of GDP has contracted by 1.5 per cent over 15 years. Their primary source of revenue comes from liquor taxes and real estate stamp duties - both businesses have grown in strength. Buoyed by the new 42 per cent share of the Centre's revenues and the likely implementation of the Goods and Services Tax, if state governments can play a more significant role in infrastructure development, the Centre will have that much less to worry about.
And some industries believe they are seeing green shoots of recovery. "Two years back if you met a customer, you only asked for money/receivables or sorted out a dispute with him. Now, there are a lot more discussions on newer projects," says Govindan. "It's a big illness. You need time for recovery."

(Research inputs by Jyotindra Dubey)