If there is one electoral promise that the Indian voter is unlikely to pardon the Narendra Modi government for non-fulfilment by the next Lok Sabha elections, it will probably be 'power for all by 2019'. It's an emotive issue. It evokes anger when it affects children's preparations for exams or is the cause of 'dark' weddings of brethren and that botched surgery because of power failure - all very harsh realities. Four years down the line, the electorate will assess the government not on whether the target has been achieved on paper, but on ground. Rhetoric will have to give way to reality and targets to execution.
Successive governments have played with these emotions of the electorate without actually delivering on the promise. India - the world's third largest producer and consumer of power - continues to remain incapable of supplying 24x7 power to its citizens, even 68 years after Independence. Even though 98 per cent of Indian villages have at least a power line, only 80 per cent of households have access to power. There are still 28 crore people who are without electricity. The country's per capita power consumption stands at only 1,010 KWh, which is one-third of China's and less than one-tenth that of the US.
But there is hope. With India now sitting on a 31 per cent higher power generation capability than its peak demand of 164 GW (a legacy of the preceding UPA government) and the Piyush Goyal-led power and coal ministries working in tandem to ensure sufficient coal supplies to all power plants (an achievement of the current NDA government), the country is half way there to realise its dream of 24x7 power.
The other half remains a gargantuan task - both politically unpalatable and financially debilitating. It involves fixing an enormously inefficient and bankrupt power distribution system that has accumulated losses in excess of Rs 3.19 lakh crore. This explains, why in the last 12 years of reforms, governments considered it too much of a hot potato and left it to be dealt with by the next one.
Its root cause lies in the inability of state governments to muster up courage and raise power tariffs as power generation and distribution costs continued to rise. That has laid 21 of India's 29
power distribution companies ailing
; preventing modernisation of equipment and networks, and creating a vicious cycle that they are now struggling to get out of. According to a study by rating and research firm ICRA, the state discoms likely consumed subsidy worth Rs 72,000 crore in 2014/15. In 2015/16, this is expected to be more than Rs 80,000 crore, expanding the total accumulated losses to nearly Rs 4 lakh crore.
Reforms would require states to swallow the bitter pill. But, will they?
A Mountain Of Losses
Nearly 70 per cent of the Rs 3.19 lakh-crore losses are incurred by eight states (Rajasthan, Uttar Pradesh, Haryana, Jharkhand, Tamil Nadu, Andhra Pradesh, Telangana and Bihar). The NDA government believes that the discoms of the first four states are in dire straits while the situation in the other four is reasonably challenging.
The biggest culprit is Rajasthan where the BJP came to power in 2013, after five years in the opposition. Rajasthan Chief Minister Vasundhara Raje Scindia is in a Catch-22 situation. Her state may be the investors' new favourite destination, but Raje must find a way out for the state's power distribution companies that continue to bleed profusely. So far, however, she has failed to break the shackles.
The state's three distribution companies had accumulated losses of Rs 77,453 crore by FY14/15. Today, the losses have crossed Rs 81,000 crore - roughly 15 per cent of Rajasthan's gross state domestic product (GSDP) at current prices. Between 2005 and 2011, the state did not raise power tariffs, resulting in a financial loss to discoms. Losses mounted despite the state opting for a financial restructuring plan in 2012, only to witness a marginal fall in 2014/15 (Rs 13,100 crore) against the previous fiscal's Rs 15,643 crore. This year, it is expected to come down to Rs 10,000 crore. Rajasthan's plight is no different from the others, and the discoms are threatening to rein in India's reignited growth story.
The PM Modi-led NDA government is working on a plan to push the states for financial and technical restructuring. Finance Minister Arun Jaitley clarifies this would not be a bailout plan like the previous two attempts by the UPA government. Instead, bureaucrats at his ministry say that if the states fail to cut losses and abide by the financial restructuring, they will have to cope with punitive action in the form of curtailed funds from the central pool.
Though the Centre's plan is expected to be unveiled in the second week of October after the PMO and cabinet vets it, BT pieced together information from various quarters about how the government is planning this rescue mission.
The government has constituted a distribution reforms committee under the power secretary, along with secretary (Banks), chairpersons of Power Finance Corporation and Rural Electrification and representatives of Torrent Power, Tata Power and CESC. But the assistance may not come easy as the distribution companies are been asked to go through a list of must-dos.
The Centre is likely to push the respective state governments to transfer the debts of their respective discoms on their own books, and raise bonds against a part of the debt every year until most of the loss is wiped out from the books of the power distribution companies. "States will have to finance losses made by their distribution companies. The states must not expect public sector banks to fund the deficits faced by power distribution companies," says Jaitley. These provisions are stringent but Deepak Amitabh, CMD of Power Trade Corporation says: "These are the best solutions at the time with the given scenario (mounting losses)."
To give these states some elbow room, the finance ministry may also allow an additional 25 basis point margin under the provisions of Financial Responsibility and Budget Management (FRBM) Act which would limit the states' fiscal deficits to 3 per cent of their GSDP. The new norms may also extend the states' debt ceiling to 10-20 per cent of GSDP. The government is also working out norms for restructuring loans from financial institutions. However, the states do not have the financial wherewithal to absorb or service this enormous debt. For instance, in the case of Rajasthan, the losses are equal to 12 per cent of its GSDP - something that could cripple its economy. And, it may not have the bandwidth to transfer the loans on its books. For instance, even after accounting for the 25 bps extension, Rajasthan would be able to take barely Rs 1,750 crore of additional debt against its accumulated losses of over Rs 81,000 crore.
The Centre wants the states to transfer most of these losses over a period of five years. However, given that the states' own finances continue to be fragile, the new proposal might suffer the same fate as the previous government's failed financial restructuring plan introduced in 2012. The other troubled state is Uttar Pradesh, where the total losses of distribution companies stand at around 10 per cent of its GSDP.
But, states really don't have an option. "There is a feeling among the leadership in these states that they have reached a point of no return," says PTC's Amitabh. In fact, even the Reserve Bank of India has put the governments of Rajasthan, Uttar Pradesh, Haryana and Jharkhand on notice.
A Bitter Pill To Swallow
Eventually, however, it will all boil down to whether the state governments have the political capital to swallow the bitter pill and raise tariffs to finance the losses and pay back the bonds. In the last three years, some states have increased tariffs, but the hike has been sub-optimal. In 2012/13 Tamil Nadu raised the tariff by 37 per cent after a gap of almost seven years. In fact, this year, too, the state raised the tariff by 15 per cent, but is yet to cover the cost of supply. "The political leadership needs to take a call on this, and they are left with no other option," says Bakul Dholakia, noted academician and director general of the Delhi-based International Management Institute.
While Business Today's issue was being put to bed, power ministry officials were in hectic parleys with states to convince them to adhere to the terms and conditions of revising the tariff regularly and cutting Aggregate Technical and Commercial (AT&C) losses. "Some states were not charging adequate money for power, which was affecting the health of these discoms," Goyal laments.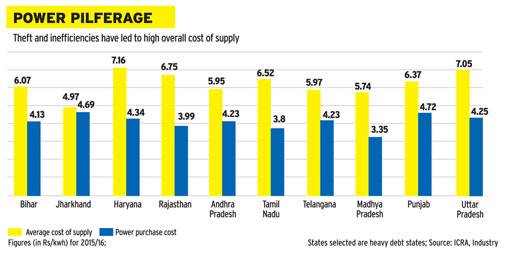 In November 2011, the Appellate Tribunal of Electricity asked all the state regulators to be more proactive in tariff determination. Subsequently, the all-India tariff correction was 12.3 per cent. The worst eight worst performers revised their tariff by 20.9 per cent. But, subsequently, they lost steam. In FY14/15 tariff rationalisation came down to 8.9 per cent and in the following fiscal it was just 7.6 per cent. "Annual tariff hikes of 10 per cent over the next three years and a reduction of at least 200 basis points in AT&C losses are necessary for discoms to break even in the medium-term," says Sudip Sural, Senior Director, CRISIL Ratings.
Punjab and Madhya Pradesh decided not to opt for the financial restructuring plan (FRP), but they continue to reel under huge debt. Yet, this year Punjab avoided increasing tariffs as it prepares to go for polls in February 2017. Its average cost of supply is Rs 6.37 per KWh, whereas the average tariff is Rs 5.62 per KWh. This would require a 13 per cent revision in tariff. Punjab's distribution company is expected to incur a loss of Rs 3,269 crore this year. It already has accumulated losses of Rs 8,049 crore.
Banking On Goyal
The biggest criticism of the new plan is that it may turn out to be another version of the previous government's failed FRP which was grossly ineffective in persuading the states to fall in line. After all, the two plans have a lot in common.
In 2012, the erstwhile UPA government's FRP had restructured short-term liabilities of distribution companies and states were asked to take up half of them through state-guaranteed bonds in a phased manner. The other half was converted into long-term loans with a guarantee from the respective states. But the scheme failed miserably. Only eight states took up the proposal, but could not adhere to the terms and conditions, as the total accumulated losses rose from Rs 2.5 lakh crore in 2013/14 to 3.19 lakh crore in 2014/15 and are projected to add another Rs 60,000 crore, annually. "This scheme provided the much-needed liquidity for these companies, but states could not curtail commercial and technical losses, resulting in higher financial losses," says Sural.
According to RBI Governor Raghuram Rajan, careful decision-making is key to put the power distribution companies back on track with healthy capital structures and to absorb the debt that has been created over time with the right sort of interest rates. Piyush Goyal's ministry is already working with states on technical and distribution sector reforms to fund the segregation of feeders for agriculture and other use, setting of new feeder stations, and transforming last-mile connectivity.
Habitual Offenders
Goyal's success or failure will depend on whether he is able to convince the habitual offenders to mend their ways. In 2013, for instance, when states such as UP were busy negotiating the terms of FRP and had promised to reduce power theft and other commercial losses, miles away in Germany, budding documentary makers Deepti Kakkar and Fahad Mustafa premiered Katiyabaaz at the Berlin International Film Festival. The 80-minute documentary captured the ground reality, where a professional Katiyabaaz or illegal connection vendor brings the entire distribution company in Kanpur to its knees. The documentary also focuses on why and how the big ideas to curtail the inefficiencies of distribution companies fail on ground.
UP continues to fare badly on collection efficiency. In 2013, it reported 78 per cent collection against the national average of 94 per cent. Its AT&C losses were around 37 per cent versus the national average of 25.4 per cent. In the first week of September, after a presentation at Delhi, the Uttar Pradesh Chief Secretary Alok Ranjan asked his power secretary Sanjay Agarwal to prepare an internal assessment report of Uttar Pradesh Power Corporation's line losses. The results were startling. For example, losses in PM Modi's Lok Sabha constituency, Varanasi, had increased from 43.18 per cent to 50.13 per cent, while in Azamagarh, a new pocket borough of Mulayam Singh Yadav, it had risen from 56.84 per cent to 63.78 per cent. Both districts are getting 24x7 electricity because of their new VIP status.
"This is the problem. 24x7 supplies are assured only because of political considerations, not because of efficiencies. This is a reality in most jurisdictions of the loss-making distribution companies. If they continue to do this, losses are bound to increase," says Shailendra Dubey, Chairman of All India Power Engineers' Federation. Meanwhile, various states, including UP (in mid-September) have issued directives to ensure increased power supply in districts. This shows a consistent improvement in line losses. But there are many like Dubey who remain suspicious of the situation on ground.
In comparison to the national average of approximately Rs 0.76 per KWh difference in tariffs, states such as Tamil Nadu, Rajasthan, UP and Jharkhand will still have to bridge the 1.5 per KWh gap. In 2013, it was Rs 1.63 per KWh.
Madhya Pradesh Chief Minister Shivraj Singh Chauhan told BT that it requires political willingness to cut down power theft. Madhya Pradesh, in 2012 had accumulated losses of Rs 20,000 crore, but did not opt for FRP. "We asked all applicants who came for renewal and issuance of fire arms and mining licenses to get a no-due certificate from distribution companies. We also changed the law for panchayats, local bodies and co-operatives. All the contestants now need to clear their dues," the CM said, adding: "You have to be tough to deal with power theft." Haryana has also modified its local body laws along these lines.
Friends In Need
A friend in need is a friend indeed. At least that's what Goyal must be hoping from chief ministers of the BJP-led states. Four out of the eight worst-performing states have chief ministers from parties that are part of the NDA. "Even states governed by parties not aligned to the BJP's ideology are today working towards 24x7 supply," says Goyal. He is referring to UP and Bihar.
But has Goyal's plan incorporated the lessons learnt from the failure of FRP? "One of the lessons is poor execution. Today, electricity is a huge political issue. Every CM wants to ensure 24x7 electricity before he goes to poll," says the power minister.
Since banks are not playing ball with the troubled distribution companies, they are also finding it difficult to buy electricity. Instead, states, including Delhi, are asking the power ministry to allow revision/cancellation of power purchase agreements, or PPAs, so that they can buy power at a lower price in the spot market. Today's spot market price is at Rs 2.82 per KWh as against Rs 3.67 per KWh two years ago.
So, discoms would rather surrender the unfavourable PPAs of the past. Delhi's discoms, for instance, want to surrender the 2,255 MW provided by 11 NTPC-owned plants, including 693 MW from APPCL Jhajjar (Aravali) and 735 MW from Dadri-II. "The cost from Jhajjar is Rs 10 per unit. The Dadri II power sells at Rs 5.4 per unit," says the CEO of a Delhi discom. The state may save up to Rs 500 crore a year if it can surrender these PPAs. Similarly, in UP, Reliance Infrastructure's Rosa plant sells at Rs 6.05 a unit.
For now, Goyal has started with discoms that are in a relatively better financial state. On September 22, it signed an agreement with three states - Meghalaya, Goa and Uttarakhand - that have been asked to cut losses and inefficiencies and revise tariffs accordingly. "These states can ask for financial support but only when their generation, transmission and distribution utilities abide by the rules of the respective state electricity regulatory commissions," a power ministry statement said after the agreement was signed.
CRISIL is preparing a similar roadmap for 11 other states, including Uttar Pradesh, Chhattisgarh, Madhya Pradesh, Karnataka, Tripura and Puducherry. While Deloitte has been appointed consultant for Jharkhand, Assam, Maharashtra, West Bengal and Tamil Nadu, Mecon will suggest a roadmap for Bihar, Telangana, Gujarat, Punjab and Delhi.
Subsidy Maze
The scheme in the works also pushes state governments to rationalise the subsidy payment mechanism. "Tariff is a state subject. Subsidies need to be paid upfront. Delays only add to the inefficiencies of distribution companies," says a senior officer in the power ministry who is privy to these discussions. This is a political hot potato. Every big state gives subsidy support of 20-25 per cent to distribution companies. Some, like Andhra Pradesh and Punjab, provide free power to farmers. Once the amendments in the Electricity Act, 2003, become law, these states would not be able to continue with these freebies. The amendments were tabled in Parliament last year and were referred to a select committee. The report was submitted on May 7. Fresh amendments based on the committee's recommendations will be tabled in the winter session of Parliament.
The current tariff rules allow distribution companies to cross-subsidise consumers. For example, domestic consumers pay less and the revenue shortfall is met through higher tariffs on institutional users. The proposed amendments seek to make way for segregation of distribution and transmission businesses. Also, multiple distribution licences could be issued, which means consumers will be able to choose their discoms. But the flip side is that states may have to undergo another round of losses. "The incumbent suppliers, which will be state-owned distribution companies, will have to supply to the rural segment and other low-paying consumers. But there are no provisions for subsidies in the Bill," says Dubey of AIPEF.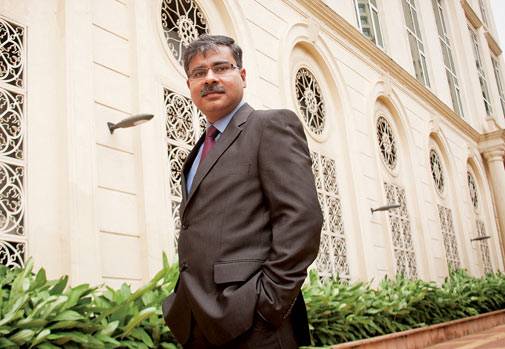 "Today a handful of distribution companies have been privatised. Barring some exceptions, state-run companies are unable to run the distribution business at levels comparable to the best-run utilities anywhere in the globe," says Tata Power CEO Anil Sardana. He cites the example of his company's subsidiary distributing power in North Delhi that reports profits. Rajasthan, too, is in the process of privatising three of its discoms.
Meanwhile, it's a tough balancing act for the Centre as it pushes to realise the dream of supplying power 24x7. Though there is always a slip between the cup and the lip, where there is a history of slips, it's anxiety that overwhelms confidence in the system.
Research inputs By Niti Kiran